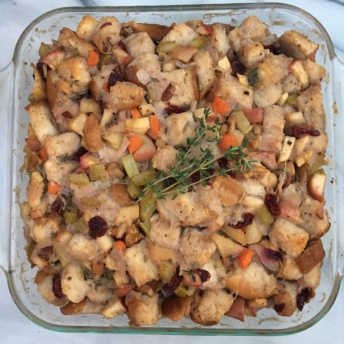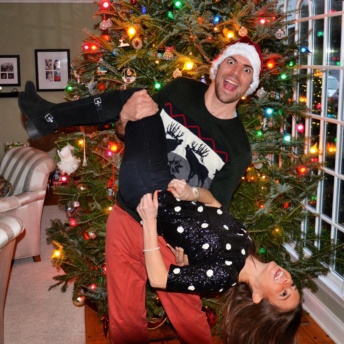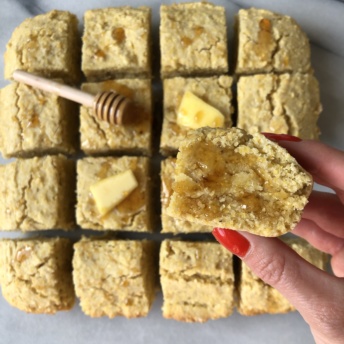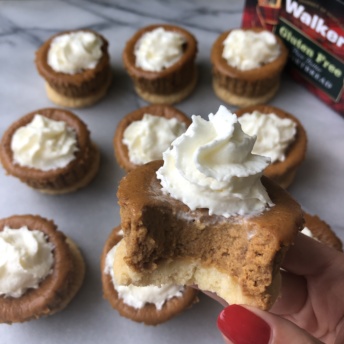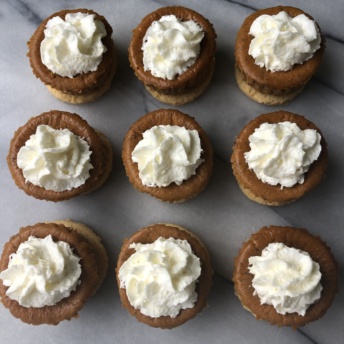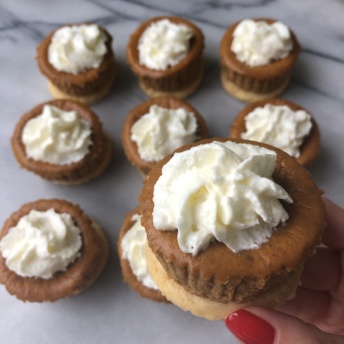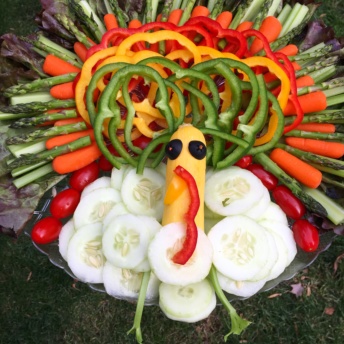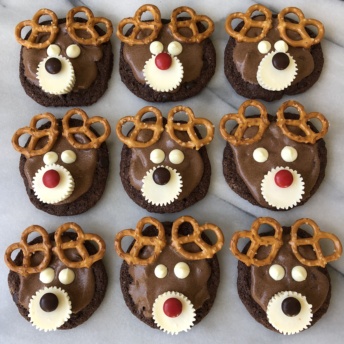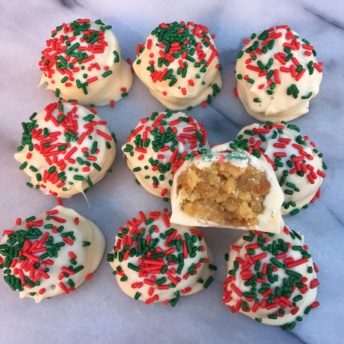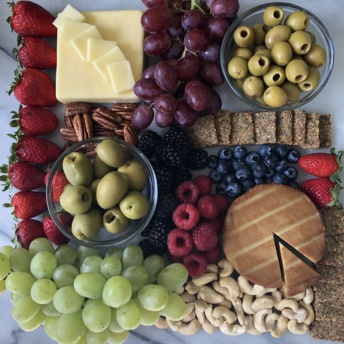 When I think of the holidays, two words come to mind – family and food! The holiday season can be stressful, and it can be even more overwhelming if you have celiac disease, gluten intolerance, or a food allergy. I want you to able to enjoy the holidays and feel at ease during such meals, events, and parties.
Tips for Thriving While Eating Gluten-Free Over the Holidays:
Be the Host:
The easiest way to ensure that everything is gluten-free is to make it all in your gluten-free kitchen. It's definitely a big undertaking but can be fun if you enjoy cooking. If guests offer to bring something, ask them to bring a naturally gluten-free dish such as a vegetable and fruit platter or a bottle of wine. This way they feel included and you don't have to worry about a gluten-containing dish becoming a part of the menu.
Talk to the Host Ahead of Time:
Depending on where you are in your gluten-free journey, your family and friends may or may not know about your need to follow a gluten-free diet. The host wants their guests to have a good time and to be able to eat the food. It's better to say something ahead of time than to feel awkward during the meal because you aren't able to eat anything. It's usually easier when Thanksgiving or Christmas is at your parents' house since they most likely understand your gluten-free diet. If the meal is hosted by your extended family or friend, then it can be trickier. You shouldn't expect the entire meal to be 100% gluten-free but you do want to make sure that at least part of the meal is safe for you to eat.
Focus on the People, Not the Food:
Enjoy your time with family and friends rather than solely focusing on the food! Take the time to catch up with your loved ones. Think about what the holidays are really about rather than what's on the menu.
Be Aware of Typical Gluten Culprits:
Stuffing
Gravy

Gravy often contains flour to act as a thickening agent.

Turkey

Plain turkey is gluten-free but if the turkey has been stuffed with gluten stuffing or gravy, then it is not gluten-free.

Mashed Potatoes

Some people add flour to their mashed potatoes.

Cornbread
Sauces and Dips

Many sauces and dips contain gluten. Even if the dip itself is gluten-free, other people may have dipped gluten crackers or chips in the dip which then lends itself to cross contamination.
Bring a Gluten-Free Dish:
I recommend that you bring a gluten-free dish or a couple dishes that you know you can eat. This way you will have something safe to eat no matter what. If you're not a big baker or don't have time to make something, then consider purchasing a gluten-free dessert to give to the host. A great option that I love is Walkers Shortbread – their gluten-free shortbread cookies are so delicious! And then you know that there will be something for you to eat for dessert. If you haven't tried Walkers Shortbread yet, then you have been missing out! Whether you're looking for a delicious dessert to serve guests, or the perfect party favor, Walkers Shortbread is an amazing choice. Their gluten-free shortbread is so tasty. There are six gluten-free flavors: pure butter, chocolate chip, ginger & lemon, oat & cranberry, and chocolate chunk & orange. My favorite flavors are the chocolate chip and pure butter but you can't go wrong with any of them 🙂 You can use the code GFFM for 30% off until 12/4! These gluten-free cookies are certified gluten-free, non-GMO, and certified kosher. They don't use any hydrogenated fats or artificial flavoring/coloring. Walkers has a gluten-free shortbread assortment which makes a great holiday gift. It includes the pure butter and chocolate chip shortbread cookies!
Mini Pumpkin Pies:
I highly recommend bringing at least one gluten-free dish to your holiday meal so you can comfortably eat it! As we all know, I believe that dessert is an integral part of the meal 😉 May I suggest making my mini pumpkin pies?! I made mini pumpkin pies with Walkers Shortbread gluten-free pure butter shortbread cookies – so easy and delicious!
Ingredients:
1 can (15 oz) pumpkin
1 can (12 oz) evaporated milk
½ cup granulated sugar
3 eggs
2.5 tsp pumpkin pie spice
½ tsp salt
12 Walkers Shortbread gluten-free butter shortbread cookies
whipped topping
Preparation:
Preheat oven to 350 degrees.
Line a muffin tin. This will make 12-15 mini pumpkin pies.
In a large bowl, make the pumpkin batter by combining the eggs, sugar, pumpkin, evaporated milk, pumpkin pie spice, and salt.
Fill the muffin tin with pumpkin batter so that they are nearly full.
Bake for about 28 minutes or until the batter doesn't jiggle and a knife goes cleanly thru.
Remove the muffin tin from the oven, and let the pumpkin filling cool. Once cool, carefully remove the liners from the pumpkin filling.
Lay the shortbread cookies on a surface. Top each shortbread cookie with the pumpkin filling.
When ready to eat/serve, garnish with whipped topping.
Store in fridge.
Contact Restaurant and Use My Restaurant Guide:
Call ahead to make sure that they can prepare a gluten-free meal and/or use my restaurant guide at glutenfreefollowme.com/Restaurants. Ask the restaurant if they offer gluten-free options such as gluten-free bread, pasta, pizza, and dessert. I've found that many restaurants offer gluten-free options but don't always list them on their menu. This is one of the reasons I detail the gluten-free options on my website and include any nuances. Each restaurant profile on my website says if the eatery offers a gluten-free menu, bread, pizza, and/or pasta so you know before dining.
When I get to the restaurant, I immediately tell my waiter that I am gluten-free. Do not be embarrassed to say you are gluten-free. It's much worse if you order something you think is gluten-free, and it isn't. You then face the risk of getting sick. You can never assume something is gluten-free because menus typically don't include all of the ingredients for each dish. I've even run across scenarios where chefs add flour as a thickening agent without disclosing it on the menu. For example, crème brûlée, panna cotta, and chocolate mousse are naturally gluten-free desserts, but some chefs add flour to them.
Eat Before You Go:
Between Thanksgiving and New Year's Eve, there can be lots of social holiday gatherings. If you know the venue or restaurant, you can call ahead like I said above. I recommend eating ahead of time. If there is safe gluten-free food available, then it's a bonus. I would rather enjoy a couple dinners than eat nothing for dinner. Or enjoy the party and plan on eating afterwards. I prefer to eat before so I'm not envious of the food and just thinking about how hungry I am but it's up to you! Don't give into pressure from other people to try the food that's being served. You don't want to hurt anyone's feelings, but you also need to do what's best for your body. Do not cheat, and eat gluten! You always have the choice to opt out of a meal all together if you don't feel comfortable.
Holiday Recipes:
I have 300+ recipes on glutenfreefollowme.com/Recipes and you can filter by Thanksgiving and Christmas to find holiday-specific recipes as well.
Thanksgiving Recipes:
Christmas Recipes:
This is a Walkers Shortbread sponsored post. All opinions are my own.