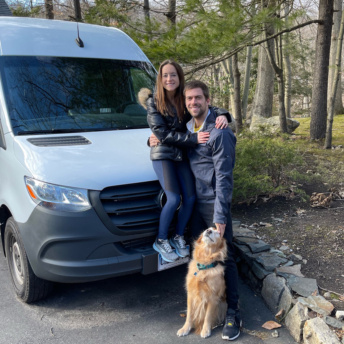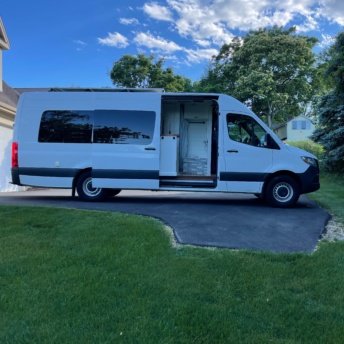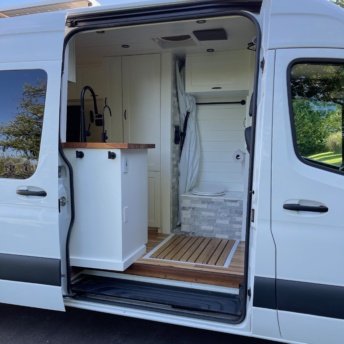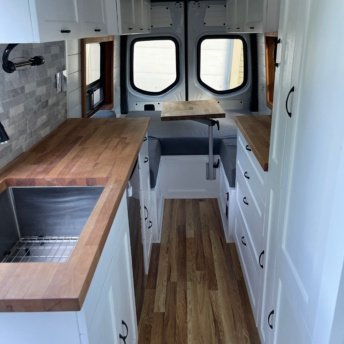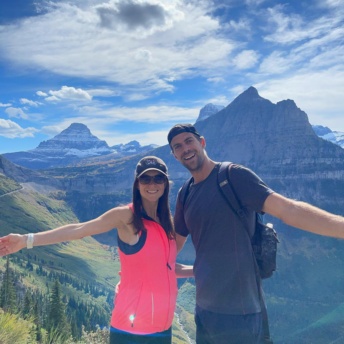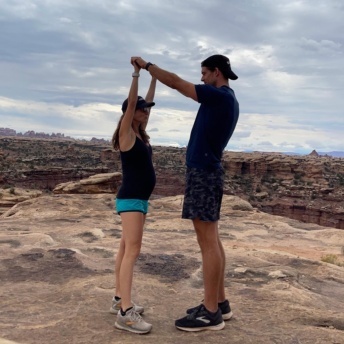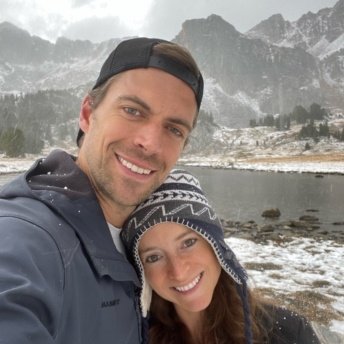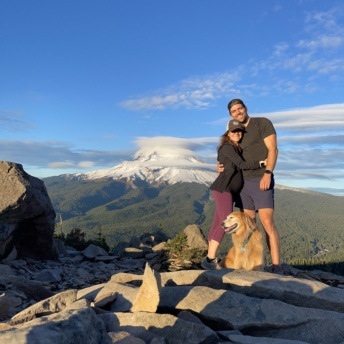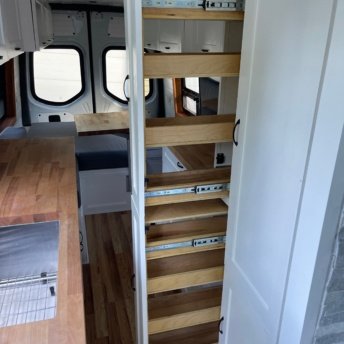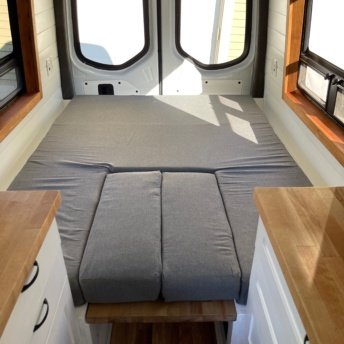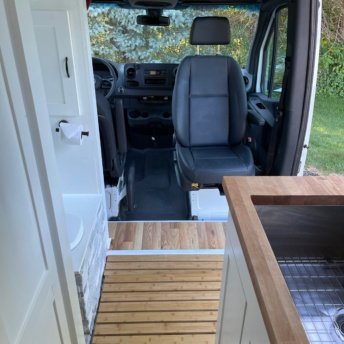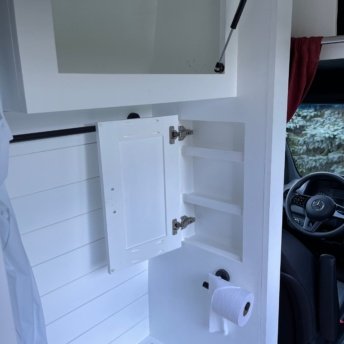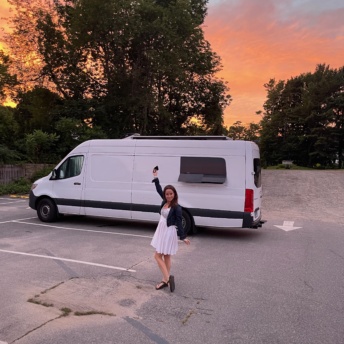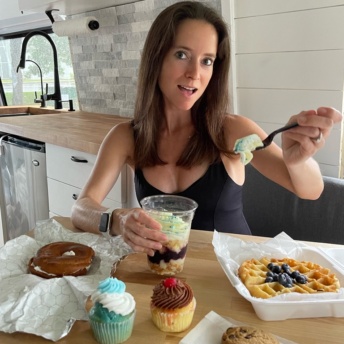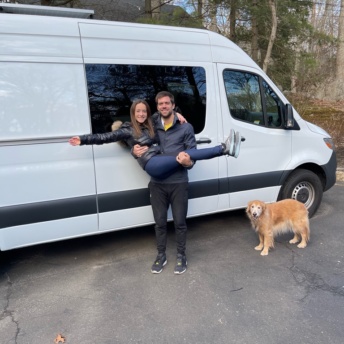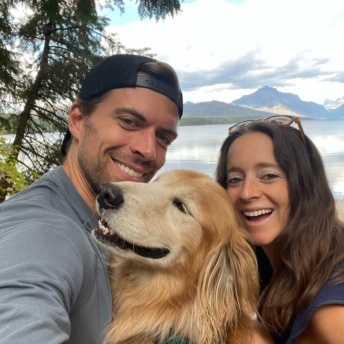 We lived in our amazing converted sprinter van for six months as we travelled around the US! It was the best adventure, and I'm so glad that we got to do this. Keep reading to learn more about our decision to do vanlife, building out the van, where we travelled, the perks & cons of vanlife, parking overnight, food, and supplies. And now we are saying goodbye to vanlife as we sell our beloved sprinter van 🙂 Here's the video tour of our finished van!
Our Decision to Do Vanlife:
We love to travel and always wanted to explore more of the US! When Brendan discovered vanlife a few years ago, it seemed like a great way to see a lot of the country. Vanlife is an economical way of traveling, and you see more driving place-to-place than if you flew to certain destinations. Typically, we travel the traditional way where we flew to certain locations, stay for a few days or a week to explore, and then fly home. Vanlife has allowed us to travel more and travel flexibly on our own schedule.
Building Out the Van:
In August 2020, we bought our 2020 Mercedes Sprinter van. It took Brendan about 8 to 9 months to build out the van. He worked SO hard on nights and weekends – it was quite the quarantine project! Everything was custom built by Brendan. He watched videos on YouTube to guide him through the process.
Our van is modern farmhouse vibes with white cabinets and shiplap on the walls & ceiling. It's decked out with a bed that converts into a couch and table. We bought a foam mattress that Brendan cut into and then we had it professionally upholstered. The tiled bathroom has a shower and toilet. The kitchen has tiled backsplash with a large sink, fridge, smart oven, pantry, and lots of counter space. We have a TV which doubles as a second monitor, plus a closet, drawers, safe, full length mirror, and lots of storage. We made the van sustainable with solar panels on the roof and a compost toilet. The van has electricity, running water, and heat including heated floors. It's well-insulated using wool, thinsulate, and XPF board so it's easy to keep the temperature inside the van moderate compared to the outside temperature.
Where We Travelled:
The best part about doing vanlife is being able to travel whenever and wherever! It's amazing how many places we explored in the six months that we did vanlife. I have blog posts on most of the places that we visited, linked below:
Southwest:
Northeast:
Maine: Kennebunkport, Kittery, Ogunquit, Wells, Acadia National Park, Bar Harbor, Booth Bay, Cape Elizabeth, Portland, Freeport, Eliot
New Hampshire: Portsmouth, Lake Winnipesaukee
Massachusetts: Boston, Cambridge, Salem, Cape Cod
Rhode Island: Newport, Watch Hill
Connecticut: Stonington
New Jersey: Princeton
Maryland: Annapolis
Midwest:
West:
Southeast:
Perks of Vanlife:
Being able to travel comfortably and flexibly is the best part about doing vanlife! We love being able to go wherever we want, whenever we want. It gives us so much freedom. If we like a place, then we stay longer. If there isn't much to see at a place, then we keep on moving. Vanlife takes away the need to follow a tight travel schedule since we don't need to book hotel rooms or flights. We love the outdoors, and we love hiking. We walk or hike somewhere new nearly every day! It's an incredible way to explore many of our country's national parks and of course Odie loves it! We also enjoy being able to explore cities and other places that we've always wanted to check out.
Living in a van is much more affordable than paying rent or owning a home. It's an inexpensive way to travel and live. It's a simple way of living. You can only bring so much with you which makes you realize how little you actually need.
It's very convenient to always have our stuff. Everything you bring is at your disposal. If it ended up being warmer or colder than we thought, we would just go back to the van and change clothes. Most vans don't have too much storage, but Brendan built SO much space for storage that we ended up having more than enough room for the things we wanted to bring. We still packed thoughtfully and made sure that everything we brought was stored sensibly.
The drives really weren't that bad because we have a bathroom in the vehicle, and it's much more comfortable than a typical car. I always have to go to the bathroom so having a toilet right there was clutch for me, especially since I was pregnant for most of vanlife. If we got tired while driving or just wanted a break, then we would pull over and take a nap or relax on the bed/couch. We enjoyed our long drives by talking about where we had been and where we are going, listening and singing along to music, and listening to audio books. The van truly feels like home! Our bed in the van is so comfortable that we don't see any difference from our "real bed."
Cons of Vanlife:
For us, the perks of vanlife outweigh the cons but they're definitely worth mentioning. Most people find it challenging to adjust to living in a small space with someone else. You definitely need to get along with your van partner if you're doing this with someone! We didn't really have issues with this but I can see why you need to get along with your partner WELL if you want to enjoy vanlife!   
Finding water can be hard at times. If we're low on water and filling up our gas tank, then we ask the gas station if they have a spigot so we can fill up with water. Not all gas station attendants know what a spigot is or if they have one so that can be an issue. Sometimes they wouldn't let us fill up with water even if they have a spigot which happened to us in Miami. We must have gone to a dozen gas stations before someone finally let us fill up with water. This was unusual though, and most places had no problem allowing us to fill up. Having water is essential because we use it for drinking water (we have a double filtration system), doing dishes in the sink, and showering.
It can be challenging to find a place to sleep. I go into more detail on where to park overnight below. You will probably get woken up at some point in the middle of the night. I thought that this would happen more than it did. In the six months that we did vanlife, it only happened once! We parked at a 24-hour fitness center in Charleston which would usually be fine but this parking lot was also a mall. A security guard came around at midnight and woke us up and told us we couldn't stay here. There were a few other vans doing the same thing, and he told us that we could park at Red Lobster down the street so we did that and then went back to bed.
If you don't have a toilet or shower in your van, then you will have to rely on public restrooms and showers. Even though we had a shower in the van, we showered at the gym whenever we had the chance since it's easier and saves our water supply. Some vanlifers maintain a gym membership just to use the shower. Truck stops usually offer showers for $5-$10.
We bought a brand-new van so we didn't have any issues with reliability. If your van is older, then you may run into issues with the van breaking down. If you need to bring your van to the mechanic, then you could be without your home for some time.
Parking Overnight:
There are places that allow overnight RV parking such as Walmart, rest areas, park & ride lots, Bureau of Land Management (BLM) land, and certain national forest land. Not all Walmart's allow overnight parking so you can check this website to see if they do, or go into the store and ask the manager if they allow it. I've also googled Walmart + city/state + overnight parking and a couple sites will pop up to say if they allow it, along with reviews on how the stay went.
Other chains allow it depending on local and state laws. If they don't allow it, it's usually because the city has laws against overnight parking. Good websites to find free camping are freecampsites.net and ioverlander.com. Our van was fairly "stealth" looking (it wasn't obvious that it was an RV), so we were also able to park along most streets as long as there wasn't a "No Parking" sign. We only did this on quiet streets so it wouldn't be loud while sleeping. We also made sure to park level and not on a hill so that we weren't sleeping tilted.
Here is a list of places that tend to allow overnight parking depending on the area:
Rest areas
Park & ride lots
Street parking
Free camping
Bureau of Land Management (BLM) land
Certain national forest land
Casinos
Walmart
Sam's Club
24-Hour Fitness Centers such as Planet Fitness, Anytime Fitness, and 24 Hour Fitness
Home Depot
Lowe's
Costco
Camping World
Cabela's
Bass Pro Shop
Cracker Barrel
Even with all of these options and resources, there are still areas where it can be difficult to find free parking. That's part of the reason we decided to build out a van instead of buying a RV and leave it looking relatively discreet from the outside. We always park the van where a car is legally allowed to park overnight. However, these areas don't always technically allow for overnight sleeping in vehicles. We always make sure to leave no trace. We have custom-made window covers for all the windows in the van. When they're up, you can't tell that anyone is in the van, even with our interior lights on. When nighttime comes, we go into stealth mode! We feel like we're in our own cocoon 🙂
Food:
We have a dorm-size fridge in the van. It actually is the same fridge that Brendan and his sisters all used at college! This fridge is large enough to fit a decent amount of produce and perishable food. We kept it stocked with lettuce, eggs, veggies, berries, salad dressing, condiments, pickles, olives, yogurt, cheese, jam, deli-meat, chicken, and cold water. Brendan built an amazing pantry with multiple shelves so we have a lot of room for snacks! In the pantry, we had apples, pears, peaches, nectarines, popcorn, cookies, chocolate, mixed nuts, bars, peanut butter, chips, collagen, protein powder, cooking spray, and spices/seasoning. We went to the supermarket every couple of days to restock.
Supplies:
Other supplies we kept on hand include paper towels, toilet paper, cleaning spray, cleaning wipes, garage bags, sponges, dish soap, toiletries, towels, first aid kit, medicine, tools, and laundry detergent.
Saying Bye to Vanlife:
We now have our darling Chloe and are settled in Connecticut so we are saying goodbye to vanlife! Our van is officially on the market! Here is the listing with more info 🙂 Our current van only has our two seats so we wouldn't be able to safely bring our baby girl with us. I'm SO glad that we were able to go on this incredible journey and enjoy vanlife for six months. It completely surpassed my expectations, and it was easier and more enjoyable than I expected. Brendan prepared me for certain things that could happen so I knew that it could be challenging at times but I adjusted really well to vanlife. After not being able to travel in 2020, we definitely made the most of traveling to what seemed like everywhere in 2021!