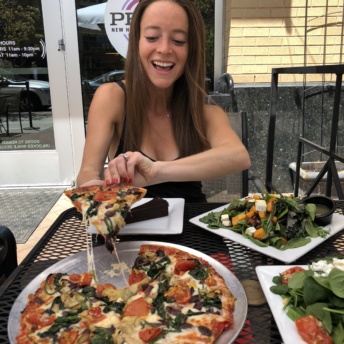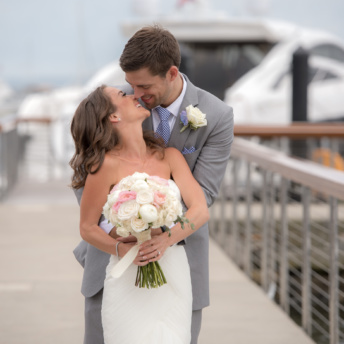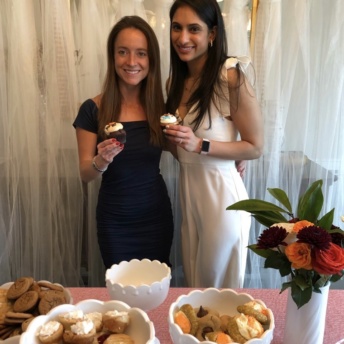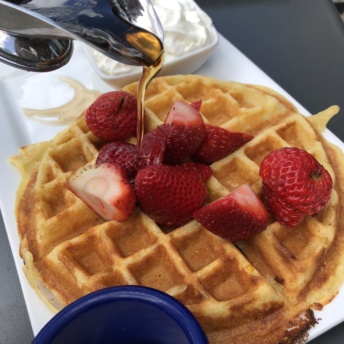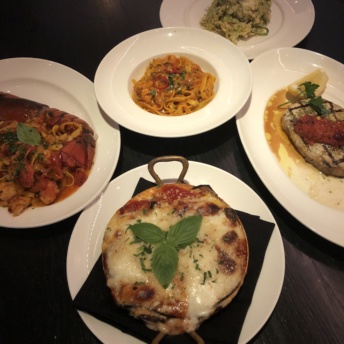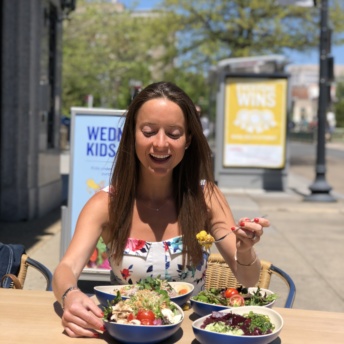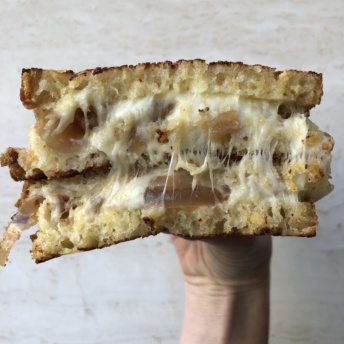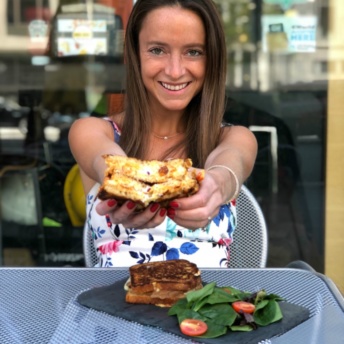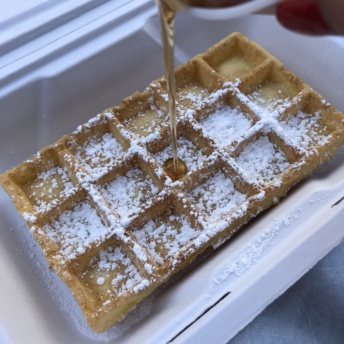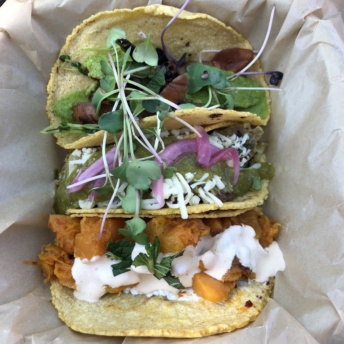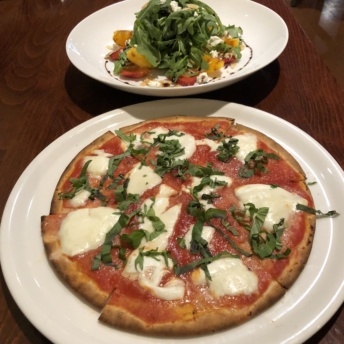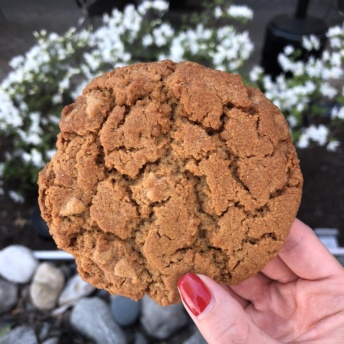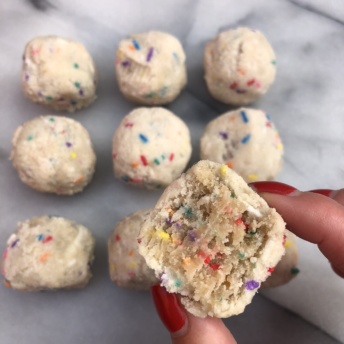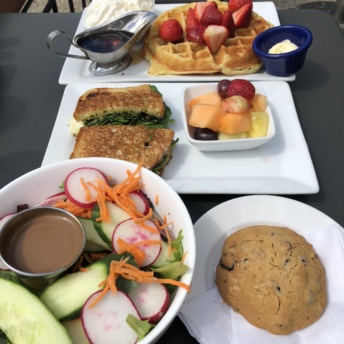 Washington DC will always have a special place in my heart. I studied at Georgetown University and absolutely loved it! The last time I was in DC was three years ago when Brendan proposed to me! We both went to Georgetown, and he gave me the perfect proposal.
Our Georgetown Proposal:
On the weekend of May 2, 2015, Brendan planned a trip for us to travel to Georgetown. He used the excuse that we hadn't been there in awhile and wanted to visit. I knew that something was up especially because we had just moved into a new apartment a day earlier 😉 Brendan brought me to a spa to get a massage that Saturday so that he could coordinate all the final touches of his proposal.
That night, he led me to the front gates of Georgetown. As we walked up, the student a cappella group Georgetown Phantoms began to sing "Can't Take My Eyes Off of You." Brendan slowly turned to me, knelt down and asked me to marry him! After I said yes, applause erupted. It was only then that we noticed the crowd around us. The Georgetown Phantoms were so excited to be a part of a proposal that they told all of their friends and a large crowd came to watch. That night, we had dinner at Paolo's Ristorante, the same place where we had our first date in September 2008. His proposal is another reason why Georgetown is so special to me!
My Friend's Bridal Shower:
For the last few months, I knew that I would be in Alexandria, Virginia for one of my best friend's bridal shower. Since I'm flying across the country, I figured that I might as well add on a couple of days to eat and explore DC! There was so much happening on campus and in Georgetown that I didn't get the chance to explore DC too much. This would be my chance!
At the bridal shower on Saturday, my friend Sangam had a gorgeous display of cupcakes and other desserts. She also ordered half a dozen gluten-free cupcakes from Georgetown Cupcake for me! Their carrot cake and chocolate peanut butter flavors were amazing. We lived on the same block as Georgetown Cupcake for our senior year at college. I would stop by after working out to get one of the free "secret" cupcakes 😉
Sunday Lunch:
On Sunday, I headed into DC, ready to feast! My first stop was Tryst in Adams Morgan. I ordered the gluten-free corn waffle with strawberries and whipped cream, and it was out of this world! Tryst has gluten-free bread so I had to try one of their sandwiches! I got the Linda sandwich with basil pesto, mozzarella, spinach, goat cheese, and guacamole, and it was delicious. I also got a salad and a cherry almond cookie. It's a fun coffee lounge with communal tables and outdoor seating.
Sunday Desserts:
I walked a couple blocks to get to Rise Bakery. It's a 100% gluten-free bakery, and I was most excited about this stop! It's the only 100% gluten-free bakery in DC that I know of. There are several dessert options, in addition to fresh bread and sandwiches. I decided on the:
cinnamon roll
carrot cupcake
red velvet cupcake
Nutella brownie
vegan chocolate chip cookie
It was all deeeeelish, but the cinnamon roll was unreal! I tasted everything but had to finish that one 😉 Next time, I want to try the chocolate croissant and everything bagel.
I headed up to Columbia Heights to stop by Sticky Fingers. They offer a few gluten-free options:
chocolate chip cookie
chocolate cupcake
mocha cupcake
mint cupcake
silly bonez which is chocolate cake with peanut butter frosting and chocolate coating
All of their GF cupcakes are made with a chocolate cake base. So how much dessert is too much dessert?!
Sunday Dinner:
I took the most direct route to get to dinner, and I'm so glad that it ended up being via 14th Street! It's a pretty street with lots of fun eateries and stores. I ate dinner at RPM Italian in Mount Vernon which has an amazing gluten-free menu. They make their own gluten-free fettuccine pasta, and it is delicious. My two favorite dishes were the:
shredded Brussels sprouts with avocado
lobster fra diavolo with fettuccine and spicy pepperoncini
I also enjoyed the:
spicy king crab with fresno chili
grilled swordfish with red pepper tapenade
eggplant parmesan with fresh mozzarella
Our waitress surprised us with a variety of gluten-free desserts, and wow were they amazing! The chocolate budino with salted caramel and cocoa nibs was unreal. I also liked the other two desserts they brought out – one was with pistachios and the another was with refreshing citrus. I definitely recommend RPM Italian if you're looking for a business dinner, dinner with your parents, or a nice date night.
Saturday Veggies:
You guys know that I love having a big lunch of salads and veggies so I was excited for my first stop of the day: Beefsteak Veggies! They have a few locations in the area – I went to their DuPont Circle location. It's a fast-casual restaurant that specializes in vegetables. I tried the:
Beet Poke with rice, toasted seaweed, sesame marinated beet poke, scallions, cucumber, and seaweed salad
Kimchi-Wa with rice, sweet potato, carrots, cabbage, edamame, garlic yogurt sauce, kimchi, scallions, corn nuts, sesame seeds, and soy ginger dressing
Lime After Lime with cilantro-lime quinoa, leafy greens, roasted edamame, scallions, cherry tomato, roasted pumpkin seeds, tossed in a chili lime vinaigrette
Cauli-Power with leafy greens, red onion, curried roasted cauliflower, mushrooms, fresh milk mozzarella, fig balsamic, cherry tomato, chickpea salad, sprouts, and corn nuts
Everything tasted delicious together but if I had to chose then the Cauli-Power salad was my favorite dish. That curried roasted cauliflower was too good!
Saturday Sandwiches:
Next, I went to GCDC Grilled Cheese Bar which is DC's only grilled cheese bar. They offer gluten-free bread for the grilled cheeses, and all gluten-free grilled cheeses are managed separately. Everything is gluten-free except for the mac and cheese. There is a separate fryer for gluten-free tots so those are safe. They do have a Gluten-Free Takeover once a month where everything is GF, even the mac & cheese! I had the:
The French Onion with gruyere blend and caramelized onions
The Buffalo Blue with cheddar blend, blue cheese, buffalo chicken, red onion, and Frank's Red Hot
Poutine tots with cheese curds, house mushroom gravy, and chives
These are probably one of the best grilled cheeses I've ever had, and I loved their unique combinations! I want to come back to try more of their options.
Wicked Waffle was a couple blocks away so I stopped by for a waffle. They have a dedicated gluten-free waffle iron, and most of the waffles can be made gluten-free. I opted for the sweet waffle dusted with powdered sugar but I recommend getting one of the sandwiches. My waffle was a bit hard to cut into, and it would taste better with toppings on it. I'll have to go back to try a waffle sandwich next time!
Saturday Dinner:
Next, I headed to Georgetown which made me nostalgic! I had to go back to Georgetown University, and it looked even prettier than I remembered! If you follow my Instagram Stories, then you know that I did a video in the spot where Brendan proposed 🙂
I was told by several people that I had to eat at Chaia so I did! Chaia is a plant-based fast casual restaurant, known for their tacos. Everything there is gluten-free except for the beer. I got the:
Creamy kale + potato taco with pepperjack, poblano crema, green sauce, and pickled onions
Rainbow carrot + pea shoot taco with lemon ricotta, salsa de tomatillo crudo, and fresh mint
Butternut squash taco with goat cheese, caramelized onions, chipotle yogurt, and mint
Cinnamon coconut cookie
My favorite taco was definitely the butternut squash taco. And the cookie was so soft and good!
To get to my dinner in Downtown, I happened to walk by The White House and other historical buildings. I like that DC is a clean and walkable city. Before dinner, I quickly stopped by Red Velvet Cupcakery because I heard that they had a couple gluten-free options. I got the black velvet cupcake with sweet vanilla buttercream, and it was tasty.
I chose Ella's Pizza for dinner because I knew that they had gluten-free pizza. Their pizza wasn't as good as my pizza the next day, but it's a solid option for when you're in Downtown. I ate their:
Margherita pizza
Orange & strawberry salad with arugula, goat cheese, candied almonds
Double chocolate pudding with fresh whipped cream
Monday in Virginia:
If you cross the Key Bridge, you go from Georgetown into Arlington, Virginia. Pete's New Haven Style Apizza has a couple of locations in Virginia, and they make one of the best gluten-free pizzas in the area! I was so impressed with their pizza, and they have several salad options. Their decadent chocolate torte was unreal, and they also offer a few gluten-free gelato flavors. I got the:
The Green Pizza with Artichoke Hearts, Sautéed Spinach, Kalamata Olives, Slow Roasted Tomatoes
Baby Kale & Squash Salad with Baby Kale, Honey-Cider Vinaigrette, Roasted Squash, Taleggio and Red Wine Walnuts
Spinach Olivada Salad with Goat Cheese, Oven-dried Tomatoes, Pine Nuts, Olivada Dressing
Decadent Chocolate Torte
Buzz Bakeshop also has a couple locations in Virginia, and I knew that they had a few gluten-free options. I got the peanut butter cookie which was delicious. They also have macaroons, a couple cupcakes, and a brownie. They offer gluten-free bread for sandwiches as well.
Other Recommendations:
A few other amazing bakeries with gluten-free options are Baked & Wired, Milk Bar, Sprinkles Cupcakes, and Thomas Sweets. You have to get the caramel blondie with peanuts, peanut butter chips, chocolate chips at Baked & Wired! And you need to try the new gluten-free birthday truffles which are made with vanilla rainbow cake, vanilla infused milk, white chocolate, and rainbow cake crumbs from Milk Bar. I love the GF red velvet cupcake and chocolate chip cookies from Sprinkles Cupcakes. And Thomas Sweet has the best frozen yogurt – I went there all the time when I was at school!
For fast causal eateries, I recommend The Little Beet which is 100% gluten-free. I like their veggie sides, poke rolls & bowls, and baked goods. I love Luke's Lobster – they offer gluten-free rolls so you can enjoy a lobster roll, shrimp roll, and crab roll. I also recommend Chop't and Sweet Green for salads, and &pizza for pizza.
If you're looking for a sit-down restaurant, I recommend Rosa Mexicano for Mexican food, Pizzeria Paradiso for pizza, and Ocean Prime for seafood.
DC Restaurants:
Here's a direct link to a list of the DC Restaurants I've been to and reviewed:
I'm excited to come back to DC with Brendan, and check out more restaurants next time! Which places am I missing?!