Christmas Tree Cupcakes
Ingredients
FOR THE CHOCOLATE CAKE:
2 ¼ cups GF all-purpose flour
1 ¾ cups granulated sugar
¾ cup cocoa powder
1 ½ tsp baking powder
½ tsp baking soda
½ tsp salt
8 tbsp butter, softened
⅓ cup oil
1 tsp pure vanilla extract
1 cup milk
½ cup water
4 eggs
FOR THE GREEN FROSTING:
3 to 3.5 cups powdered sugar
12 tbsp butter, softened
½ tsp vanilla extract
1 tbsp milk
green food coloring
Preparation
Preheat oven to 350 degrees, and line a muffin pan with cupcake liners. Makes about 24 cupcakes. 
In a large bowl, mix together the flour, granulated sugar, cocoa powder, baking powder, baking soda, and salt. 
Add the butter to the bowl, and then add in the oil. 
Add the pure vanilla extract, milk, and water to the bowl, and mix well. 
Add the eggs to the bowl, and mix well. 
Divide the batter evenly among the cupcake liners.
Bake for 18-20 minutes.
Let the cupcakes cool.
While the cupcakes are cooling, make the frosting. In a medium-sized bowl, combine the powdered sugar, butter, vanilla extract, and milk to make the buttercream frosting. Mix well. Add green food coloring to bowl of frosting. Mix well, and add enough until you like the color. Or you can buy ready-made green frosting.
Add the green frosting to a frosting decorator tool or a zip lock bag. If using a zip lock bag, then seal the bag and use scissors to cut off a smaller corner of the bag. 
Frost the cupcakes, making them into Christmas trees. The frosting should be decently high. 
Carefully place plain M&M's on the green frosting in 2 rows so they're like colorful Christmas lights. Repeat with all cupcakes.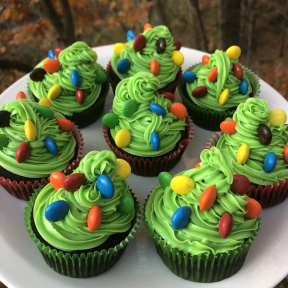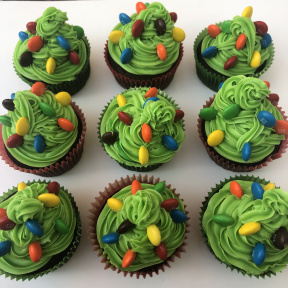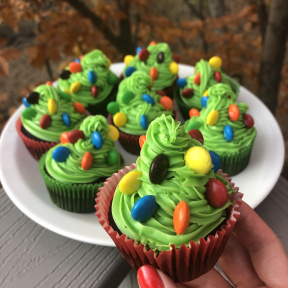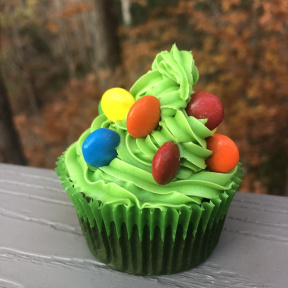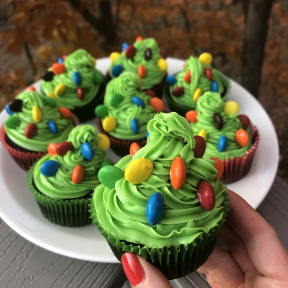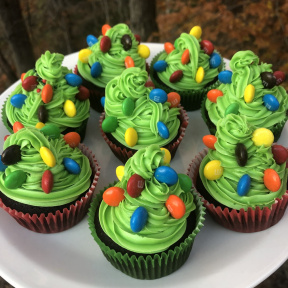 Occasion:
ChristmasWinter