Chocolate Fudge Yogurt Holiday Cookies
Ingredients
1 ½ cup Greek God's chocolate strawberry yogurt
1 egg
1 ½ cup powdered sugar
1 ½ cup GF all-purpose flour
1 cup unsweetened cocoa powder
1 tsp baking powder
1 tsp pure vanilla extract
pinch of salt
1 cup holiday chocolate chips
Preparation
Preheat oven to 350 degrees.
Whisk the egg and sugar together until smooth.
Mix flour, cocoa powder, baking powder, pure vanilla extract, and salt in a separate bowl.
Add it in the egg/sugar mixture gradually and stir well with a spatula.
Add in the Greek yogurt and stir well, and then fold in chocolate chips.
Make cookie dough balls with the batter, and place on parchment-lined baking sheet.
Bake for about 10 minutes.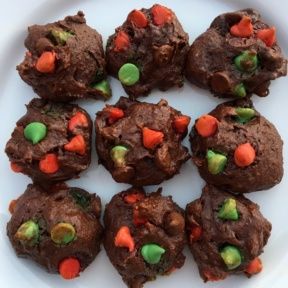 Occasion:
ChristmasWinter
Dish Type:
Dessert, Cookies