Cheese Christmas Tree
Ingredients
two 8 oz blocks of cheese 
green grapes
purple grapes
1 brussels sprout
1 broccoli stem
Preparation
Cut the cheese into cubes.
Each 8 oz block of cheese can be cut into 8 rows so you're left with 16 rows of cheese. Cut each row of cheese into halves and then cut into halves again so you're left with 64 cubes of cheese. 
Place the cheese and grapes into the shape of a Christmas tree, keeping each group of food together.
Place the brussel sprout at the top of the tree.
Place the broccoli stem at bottom of the tree.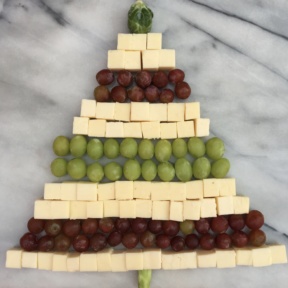 Dish Type:
Appetizers, Food Art, Vegetables, Fruits