Mini Pumpkin Pies
Ingredients
1 can (15 oz) pumpkin 
1 can (12 oz) evaporated milk
½ cup granulated sugar
3 eggs
2.5 tsp pumpkin pie spice 
½ tsp salt
12 Walkers Shortbread gluten-free butter shortbread cookies
whipped topping
Preparation
Preheat oven to 350 degrees.
Line a muffin tin. This will make 12-15 mini pumpkin pies.
In a large bowl, make the pumpkin batter by combining the eggs, sugar, pumpkin, evaporated milk, pumpkin pie spice, and salt. 
Fill the muffin tin with pumpkin batter so that they are nearly full. 
Bake for about 28 minutes or until the batter doesn't jiggle and a knife goes cleanly thru. 
Remove the muffin tin from the oven, and let the pumpkin filling cool. Once cool, carefully remove the liners from the pumpkin filling.
Lay the shortbread cookies on a surface. Top each shortbread cookie with the pumpkin filling.
When ready to eat/serve, garnish with whipped topping.
Store in fridge.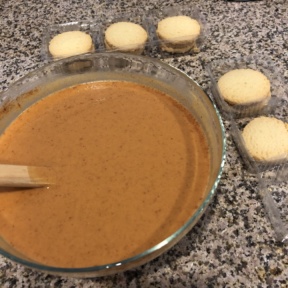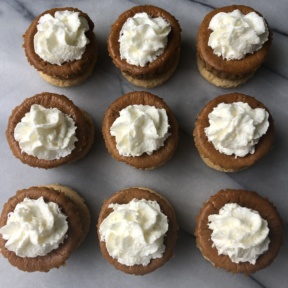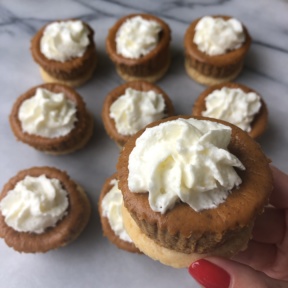 Occasion:
HalloweenThanksgiving