Gingerbread Cookies
Prep time
2 hours 30 mins
Total time
2 hours 39 mins
Ingredients
¾ cup butter, softened
¾ cup brown sugar
⅔ cup molasses
1 egg
1 tsp vanilla extract
3 ¼ cups GF all-purpose flour
1 tbsp ground ginger
1 tbsp ground cinnamon
½ tsp ground cloves
1 tsp baking soda
½ tsp salt
cookie cutters (I used a gingerbread man, Christmas tree, and snowflake)
decorating icing
mini M&M's and sprinkles 
Preparation
In a large bowl, combine butter, brown sugar, and molasses. 
Add egg and vanilla extract. Mix together.
In another bowl, combine flour, ginger, cinnamon, cloves, baking soda, and salt. Add these dry ingredients to large bowl of wet ingredients, and combine together. 
Remove the cookie dough from bowl, and wrap it tightly in plastic wrap. Put in fridge for at least 2 hours.
Preheat oven to 350 degrees. Line baking sheets with parchment paper.
After chilling, remove the cookie dough from the fridge and divide it into 2 portions. Keep 1 portion in fridge while working with the other portion. 
Roll the dough on a lightly floured surface. Roll until about ⅛-inch thick. If you don't have a rolling pin, you can use a sturdy water bottle. Use a gingerbread cutter to make gingerbread man. I also made Christmas trees and snowflakes. Transfer the cutout cookies to baking sheets. Reuse the scraps of dough by re-rolling it. 
Bake for about 9 minutes. Let cookies cool on the baking sheets for a few minutes before moving to a wire rack. 
Repeat this process with 2nd portion of cookie dough. 
Decorate cookies with icing, mini M&M's, and sprinkles. 
You can also make gingerbread truffles with these gingerbread cookies!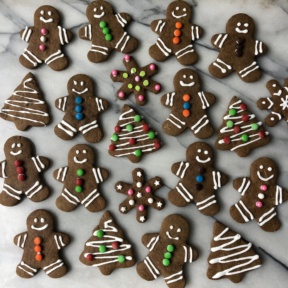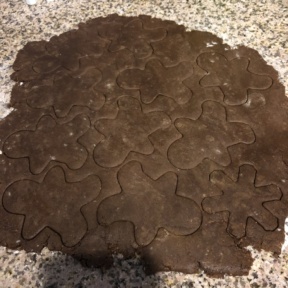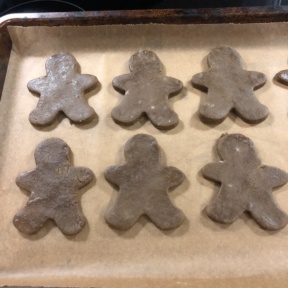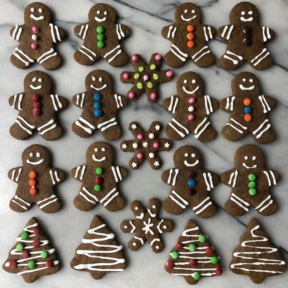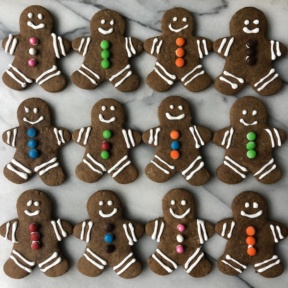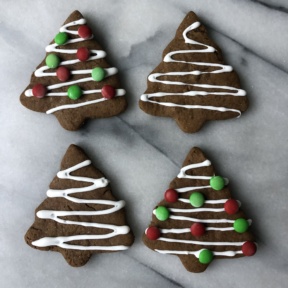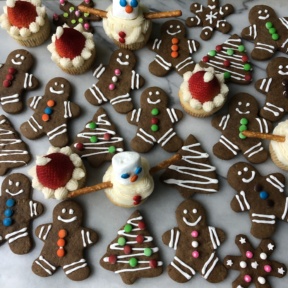 Occasion:
ChristmasWinter