Shredded Brussels Sprouts and Apple Salad
Ingredients
12 oz shredded Brussels sprouts
1 apple, sliced thinly
½ cup almonds
½ cup cheddar cheese, cut into small pieces
½ cup pomegranate seeds
3 tbsp avocado oil or olive oil
3 tbsp apple cider vinegar
2 tbsp lemon juice
½ tsp salt
¼ tsp black pepper 
Preparation
Buy already shredded Brussels sprouts or carefully shred them yourself by trimming the ends off & then use a knife or slicer to slice the Brussels sprouts.
In a small bowl, combine the oil, apple cider vinegar, lemon juice, salt, and black pepper to make the dressing. 
In a large bowl, combine the shredded Brussels sprouts, sliced apples, almonds, cheddar chunks, and pomegranate seeds. You can save a bit of the apples, almonds, cheddar, and pomegranate seeds for the garnish. 
Pour the dressing from the small bowl into the large bowl. Mix everything together until well combined. Let the salad ingredients soak up the dressing for at least 30 minutes. 
Garnish with remaining ingredients.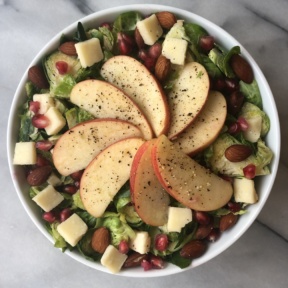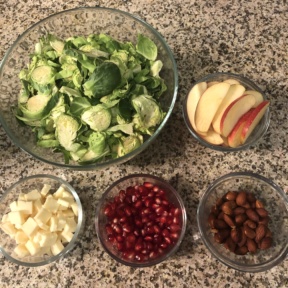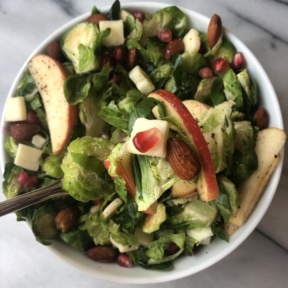 Occasion:
ThanksgivingWinter