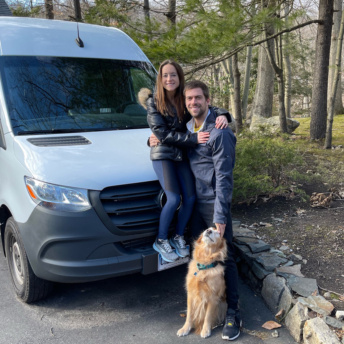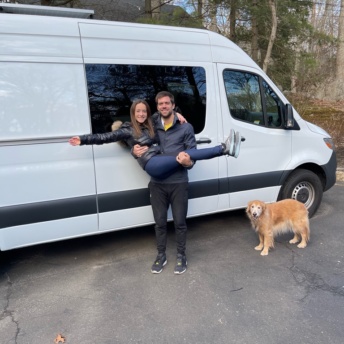 If you've been following me on social media, then you heard that we have been building out a 2020 Mercedes Sprinter van since September 2020! This has been quite the quarantine project! Brendan has been working SO hard on nights and weekends. It will be decked out with a bed, shower, kitchen, fridge, and we're making it as sustainable as we can with solar panels on the roof and a compost toilet. I'll do another full blog post once it's totally finished and share all the details including why we decided to do vanlife, how we're going to use it, and more. Maybe I'll have Brendan guest post as well since he's the designer, visionary, builder, and more!
We've been in Connecticut staying with family since June, and it's been great to spend time with them. We definitely never expected to stay in Connecticut this long. We thought that we would stay for 3-4 weeks and then go back to Los Angeles when everything went "back to normal" but obviously that still hasn't happened.
Getting the Van Ready:
Our apartment lease in Los Angeles ended last month in February so we decided that it would make the most sense to drive the van from Connecticut to Los Angeles, pack up the van with stuff, and then drive it back to Connecticut. This meant that Brendan had to get the van at a good stopping point and for it to be as usable as possible. This was quite a task since it's been freezing in Connecticut! He's been working out in the cold at night, surrounded by snow and freezing temperatures.
Kudos to Brendan for getting as much done as he could in this timeframe! At this point, the van has electricity, running water, solar panels, heat (including heated floors), toilet, shower, and a bed with a mattress thrown on top. We're still lacking drawers, cabinets, all the finishing touches including a wooden floor, finished ceiling & walls, and a tiled bathroom. Of course, it would have been better to do a couple cross country treks in a completely finished van, but we made it work!
Driving from CT to LA:
We drove from Connecticut to Los Angeles in only a few days – it was a lot of driving each day. 2900 miles and 42 hours in total. In Los Angeles, we loaded up the van with everything we wanted to bring back. We knew that the van would be tight with all of our stuff but it was actually more manageable to live in this unfinished van than we expected. Brendan used bungee cords and rope to keep the majority of our bags in place. It's quite the setup 😉 We had just driven across the country in a few days, so we decided to take our time with the return trip.
First Stop: Grand Canyon!
Los Angeles to the Grand Canyon is an 8-hour drive. We did this drive in a couple days. For our first night, we ended up sleeping in the van at a truck stop in Arizona. The following evening, we drove into the Grand Canyon! As you're driving in, you are surrounded by trees and wildlife.
The Grand Canyon is one of the prettiest places I've ever been. It's hard to describe its beauty, and pictures and videos really don't do it justice. When you look out at the Canyon, it doesn't look real. It feels like you're looking at artwork!
Hiking and Camping in the Grand Canyon:
We went to the South Rim. The North Rim is closed for the winter. We planned to hike in the Grand Canyon on its most popular trail, the Bright Angel Trail. However, dogs aren't allowed on any trails into the canyon. The main reason for this is because you share the trail with mules. We noticed that the Bright Angel Trail did have some snow and ice on it so be careful if you go in the winter.
We ended up walking on the Rim Trail for 8+ miles since dogs are allowed on this trail. It's a paved path, and it has incredible views of the entire Grand Canyon. The Rim Trail is 13+ miles long along the rim of the Grand Canyon. There are 14 shuttle stops spread out along this trail so you can use these free shuttles as well. Distances between the shuttle stops range from 0.3 to 1.8 miles. We also ran on the Rim Trail in the opposite direction so we really got to see the whole trail.
We learned that it is legal to camp within any National Forest area in the United States. Kaibab National Forest is next to the South Rim of the Grand Canyon, and it's a huge free campground. There are lots of pullouts along Highway 64. These pullout roads aren't too maintained so try to choose a more maintained road if possible and drive carefully. You can also choose to stay at a paid campground if you need hookups for an RV. Or you can pay to stay at one of the lodges or hotels in the Grand Canyon. One of the best parts about our van is its self-sufficiency so we don't need to rely on hookups!
The Grand Canyon's peak season is during the summer. We really liked going to the Grand Canyon in February. It wasn't crowded at all, and the temperatures were cool enough that you didn't sweat while hiking but it wasn't frigid temperatures either. It also helps that we have heated floors in the van when it gets cold at night!
Sedona:
Next, we drove two hours to Sedona. I visited Sedona when I was in high school and remembered loving it so we decided to stop there. I'm so glad we did because Sedona ended up being one of our favorite places on the entire trip! It's an Arizona desert town that is surrounded by red rock. No matter where you are in Sedona, you will have an incredible view. There are countless hiking trails, and it has a fun arts community.
We slept on federal forest land near downtown Sedona. We came in at night, and the roads were very windy. Our first morning, we ran on the road near Red Rock State Park. The next day, we hiked Devil's Bridge in the Coconino National Forest. If you start hiking at the trailhead, this trail is about 1.8 miles round trip. But when you account for parking, you can expect to walk 4 to 6 miles. At the end of the trail, you will see The Devil's Bridge which is the largest natural arch in Sedona – it's 54 feet tall, 5 feet across, and 45 feet long. We really enjoyed this hike and definitely want to come back to Sedona to hike more of the trails. Odie loves hiking too!
Another day we rented an ATV and went into the desert which was so fun! There are hundreds of miles of off-roading trails, and at times you can't see any civilization. You can also do a Jeep tour if you're not comfortable doing it on your own.
Lunch in Sedona:
We had a delicious lunch at Picazzos Pizza. Everything is gluten-free except an option of gluten pizza crust! They have gluten-free pizza (cauliflower & regular GF), pasta, and focaccia bread. Picazzos has a dedicated gluten-free pizza oven and also lots of vegan options. We enjoyed the:
Baked Brie with roasted garlic, organic Gala apple, fig jam and house-made focaccia
Mother Earth Organic mixed greens blanketed with herb roasted sweet potatoes, quinoa, apples, watermelon radish, candied walnuts and sliced avocado with a vegan avocado agave-mustard dressing
Berry-licious Organic mixed greens, strawberries, feta, candied walnuts, berry balsamic dressing, added Sustainable Baked Salmon Filet
BBQ chicken pizza on GF cauliflower crust
GF cauliflower pizza crust with caramelized onions, arugula, and mozzarella
Yellow Thai Curry Zoodles: zoodles tossed with sweet potatoes, shredded carrots, roasted red bell peppers, grilled chicken, and Yellow Thai Coconut Curry sauce, topped with fresh cilantro, basil and watermelon radish
Hot Apple Crisp served with vanilla bean gelato
Chocolate Chip Cookie served with vanilla bean gelato and salted caramel sauce
I definitely recommend visiting the Grand Canyon and Sedona! If you're into hiking and being outside, then it's the place for you 🙂