Baked Apples with Crumble Topping
Ingredients
3 apples
4 tbsp butter, melted
1 tbsp brown sugar
½ tsp ground cinnamon
3 Taos Bakes Caramel Pecan + Cranberries bars
toppings: vanilla/plain yogurt or whipped cream; dash of cinnamon (optional)
Preparation
Preheat oven to 425 degrees.
Halve the apples. Use a spoon, tsp or melon baller to remove the core & seeds and then make a bigger hole so there's room for the crumble. 
In a small bowl, combine the melted butter, brown sugar, and cinnamon. Add a few spoonfuls of this mixture to each apple half. All of the apple flesh will be covered with this mixture. 
Place apple halves in tin-foiled lined baking dish. Cover baking dish with tin foil, and bake apples for about 15 minutes or until they have softened. 
Remove baking dish from oven, and remove the tin foil. Crumble the bars on top of each apple half, lightly pressing it down on the apples. 
Bake for about 12 more minutes.
Can top baked apples with yogurt or whipped cream and a dash of cinnamon.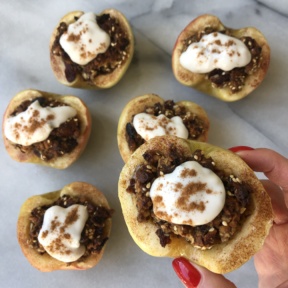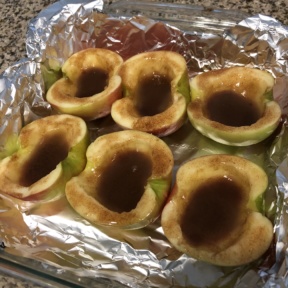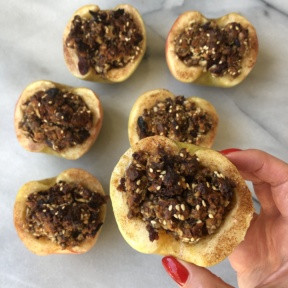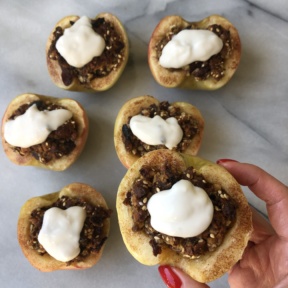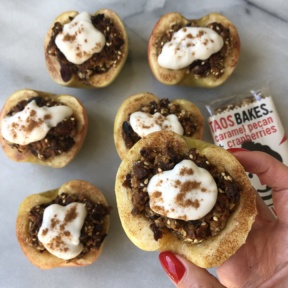 Occasion:
HalloweenThanksgiving