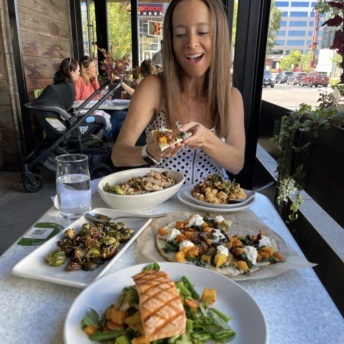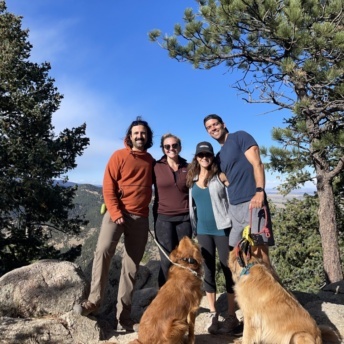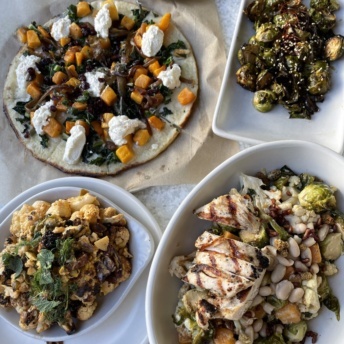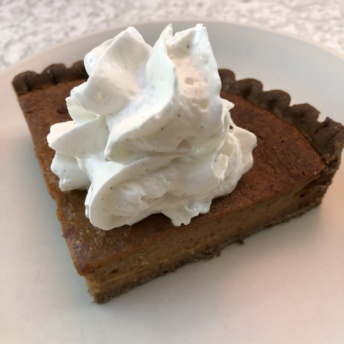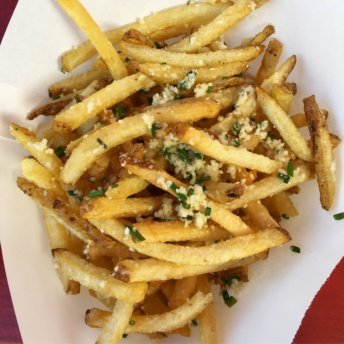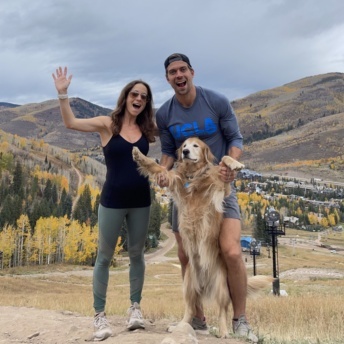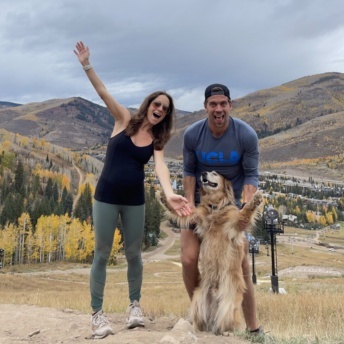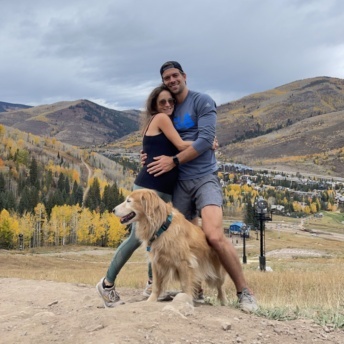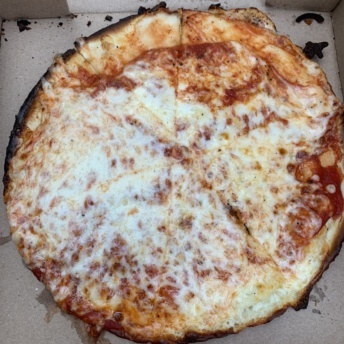 We had a blast out in Colorado! We explored Boulder, Denver, Aspen, Vail, and Breckenridge. Lots of fun ski towns, pretty mountains, and delicious food.
Boulder:
We first visited Boulder and Denver in July 2016 and loved our trip there! I have lots of restaurants on my website from our trip (see below!). Lots of good pizza spots, Mexican food, vegetarian eateries, ice cream shops, and dessert places.
This visit, we hiked Flagstaff Trail in Boulder with our friends who live there. It's a dog-friendly trail, and it's nearly 6-miles roundtrip. On the way down, we were greeted with a huge rainbow! There are great views throughout the hike.
Restaurants in Boulder:
Here's a direct link to a list of Boulder restaurants I've been to and reviewed:
Denver:
Denver also has great restaurants! See the full list below – there are amazing brunch spots, Italian restaurants, steakhouses, and more. We had a delicious lunch at True Food Kitchen as always! I've been to their locations in Santa Monica, Newport Beach, Scottsdale, and Phoenix. It was great to check out their new fall menu at their Denver location. They have a huge gluten-free offering, and their menu indicates which options are gluten free, vegan, and vegetarian. TFK has GF pita, buns, and pizza available upon request. I love all their veggie-centric dishes as you can tell from what I ordered! We shared the following:
Roasted Brussels sprouts with mushroom, miso sesame vinaigrette, chili thread
Charred cauliflower with harissa tahini, medjool date, dill, mint, pistachio
Seasonal ingredient salad with Brussels sprouts, butternut squash, cauliflower, cannellini bean, pomegranate, toasted mulberry, horseradish vinaigrette
Butternut squash pizza with caramelized onion, roasted garlic, organic kale, vegan almond ricotta, dried cranberry, sage (request GF pizza)
Grilled salmon entrée
Squash pie with graham crust & coconut whipped cream
Before leaving Denver, we stopped by Hopdoddy for burgers and fries! I've been to their Los Angeles location, and they have many more locations in Texas, Arizona, and Tennessee as well. All of their burgers can be made gluten-free by requesting a GF bun or lettuce wrap. They have a dedicated gluten-free fryer so the fries are safe too! We had the:
Parmesan truffle fries
Thunderbird Burger w/ Chicken, Tillamook Pepper Jack, Apple-Smoked Bacon, Avocado, Seared Poblanos, Pico de Gallo, Chipotle Mayo, Red Leaf Lettuce
El Diablo Burger w/ Angus Beef, Tillamook Pepper Jack, Caramelized Onions, Habanero and Serrano Chiles, Salsa Roja, Chipotle Mayo, Red Leaf Lettuce, Beefsteak Tomato
Buffalo Bill Burger w/ Bison, Apple-Smoked Bacon, Blue Jack Cheese, Frank's Hot Sauce, Sassy Sauce, Red Leaf Lettuce, White Onion, Beefsteak Tomato
Restaurants in Denver:
Here's a direct link to a list of Denver restaurants I've been to and reviewed:
Aspen:
Aspen is a ski resort town, and it's also known for its high-end restaurants and boutiques. We've always wanted to check Aspen out so it was fun to walk around and explore. We will have to come back during ski season!
We hiked The Ute Trail which is 2.2 miles one way. It's a very steep trail with lots of switchbacks, and it's dog-friendly. Over the summer, you can ride the gondola back down.
Vail:
Next, we checked out Vail, another ski resort town. Vail is more on the way since it's directly off I-70. Vail is a small town at the base of Vail Mountain, and it is home to Vail Ski Resort. We explored Vail Village, and we hiked up Vail Ski Mountain. Another steep hike with a rewarding view of Vail!
Breckenridge:
After driving through Frisco, we arrived at Breckenridge. Out of all the ski towns we visited, Breckenridge was our favorite! Park City is a close second, and then Aspen and Vail were next. Breckenridge is a Colorado town at the base of the Rocky Mountains' Tenmile Range. Breckenridge is more of a mountain town, rather than a village at a ski resort which is how Vail and Aspen feel. Breckenridge has a larger town in comparison, and there are lots of restaurant options. It was fun to walk around Main Street. Before leaving, I picked up a gluten-free cheese pizza from Fatty's Pizzeria – it hit the spot!
Other Restaurants in Colorado:
Here's a direct link to a list of other Colorado restaurants I've been to and reviewed: