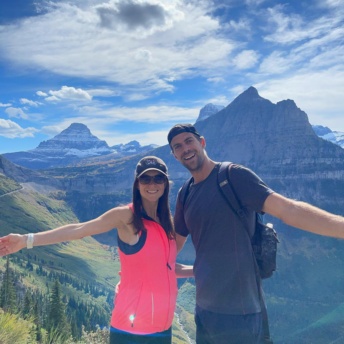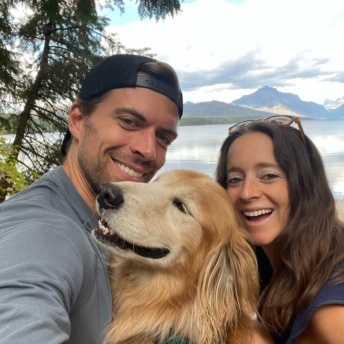 It was our first time in Montana, and we absolutely loved it! Montana is one of the prettiest states we've been to. Before Montana, we explored a portion of the Northeast in Maine (read the blog post here!), New Hampshire, Massachusetts, Rhode Island, and Connecticut. Then we traveled through the Midwest (read the blog post here!) from late August to beginning of September, exploring Cleveland Ohio, Chicago Illinois, Milwaukee & Madison Wisconsin, Minneapolis & St. Paul Minnesota, and South Dakota. For the last couple months, we explored out West! We went to Wyoming (read the blog post here!), Montana, Utah (read the blog post here!), Idaho + Washington + Oregon (read the blog post here!), and Colorado (read the blog post here!).
Gallatin National Forest:
Once we hit the Montana border, we stopped to hike in the Gallatin National Forest at Targhee Pass Trailhead. We didn't see anyone else which has been typical of most of the hikes we do. It was a thick forest to start and then opened up with a great view at the top. It was definitely windy!
Every hike in Montana has a bear warning sign so beware! We carry bear spray, and we constantly talk while hiking so hopefully the animals hear us and stay away 😉
West Yellowstone:
Next, we stopped at West Yellowstone to walk around. It's a cute town, and it's very close to the Montana Yellowstone entrance. If I was visiting Yellowstone, I would recommend staying in Jackson to hike Grand Teton and then to travel up through Yellowstone, stopping at Old Faithful and then staying at West Yellowstone to hike Yellowstone.
Big Sky:
We spent the night at Big Sky, Montana. As we were walking around the resort at 9pm, we walked right by a bear! Luckily, Odie noticed the bear and alerted us to its presence, and we quickly walked away. The bear was rummaging through a dumpster next to Arrowhead Bar. We alerted the bar to its presence and left the area!
The next day, we hiked Big Sky during Montana's first snow of the year! It was 30 degrees when we woke up and got a bit warmer as the day went on. We hiked Upper Beehive Basin Trail, and it was an incredible hike. It's a 6-mile hike round trip, reaching 9,500 feet elevation. The snow on the trees and mountains made our surroundings even more gorgeous. Once we got to the top, it started to hail! We all had a blast running around, especially Odie 🙂 I definitely recommend this hike. There are beautiful views during the first 1.5 miles, but it really gets special after that and until you reach the top. At times, it felt like we were walking through Narnia!
Bozeman & Helena:
Next, we drove to Bozeman. We spent the night at the Walmart as they offer overnight parking, and even the Walmart was surrounded by beautiful mountain views! It's a nice, clean city.
We also stopped at the capital, Helena. We hiked Mt. Ascension which gives a great view of the city. It's a nice hike with a few trail options. You can go to the Summit or do the Loop Trail. We saw lots of deer in packs on this hike.
Glacier National Park:
Initially, we entered Glacier National Park at the East Glacier entrance. Before it got dark, we did a short walk on Running Eagle Falls Nature Trail. There's a pretty waterfall a quarter mile into the trail.
The next day, we entered the park through the West Glacier entrance which is busier and easier to access the popular trails. We drove on Going to the Sun Road which is a breathtaking drive through the mountains! You're surrounded by snow-capped mountains, trees, rivers, waterfalls, and changing fall colors. It can be difficult to find parking at the popular trails so it's advised to get there on the earlier side. It's about an hour drive from the West Glacier entrance to the Highline Trailhead which is by Logan Visitor Center. Our hike at Highline Trail was a favorite! It's obvious why it's so popular. The views are exceptional, and it's a very unique trail along the mountainside. It's an 11+ mile trail each way so most people don't do the whole trail. We ended up hiking 7+ miles on this path.
The following day, we hiked on the dog-friendly bike path from West Glacier Village to Apgar Village. It's 2.5 miles each way. Both villages have a café, gift shop, and ice cream shop. West Glacier Village has a gas station and mini golf. Apgar Village is next to Lake McDonald which is gorgeous, and it has kayak and paddleboat rentals. You can find Montana's special huckleberry ice cream in both villages so we grabbed some on our way out!
Both nights we parked at a free campsite on Ryan Road which is close to the West Glacier entrance. People get there early to claim their spot so we were lucky to get a spot. Both mornings we ran from West Glacier Village and ran on the sidewalk path.
We're definitely fans of Montana! If you're into the outdoors, you will enjoy your time there as well 🙂