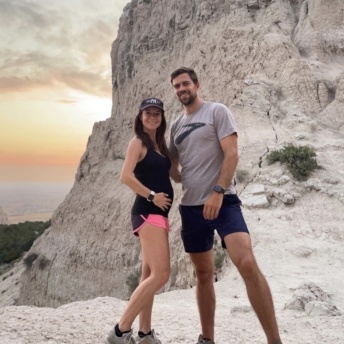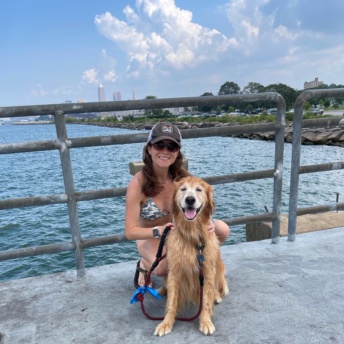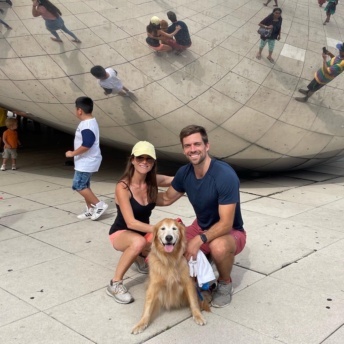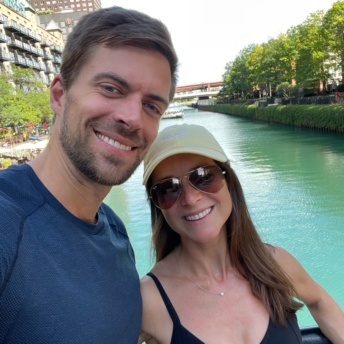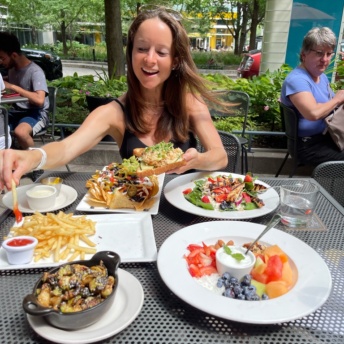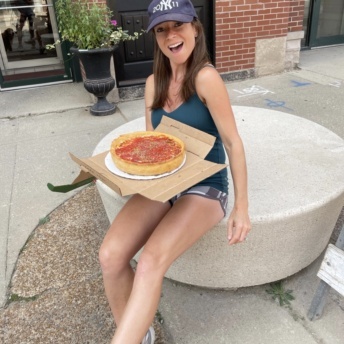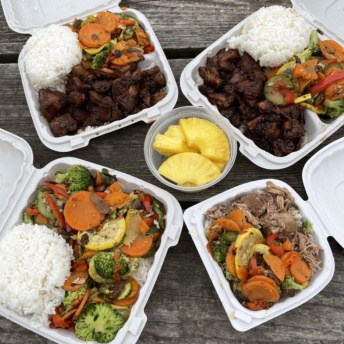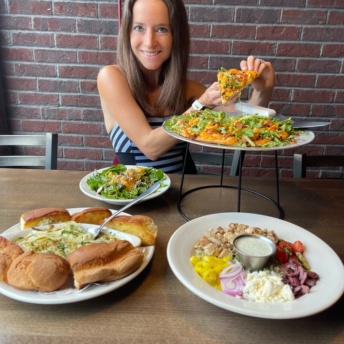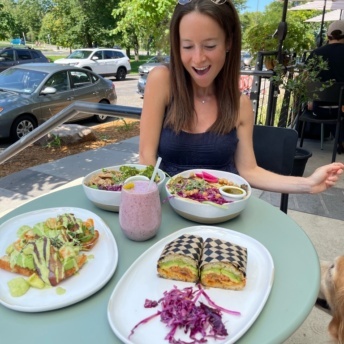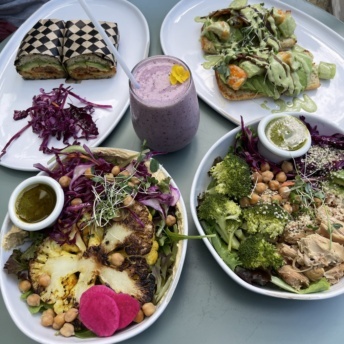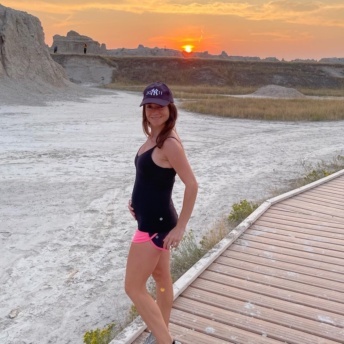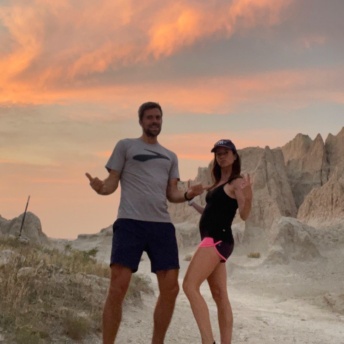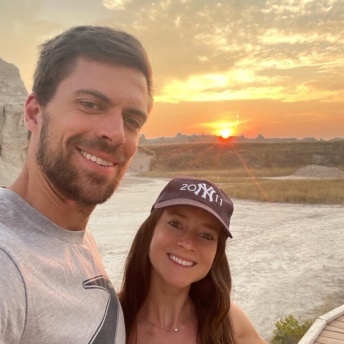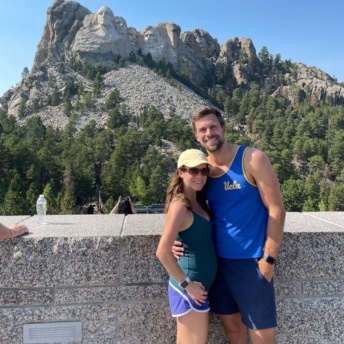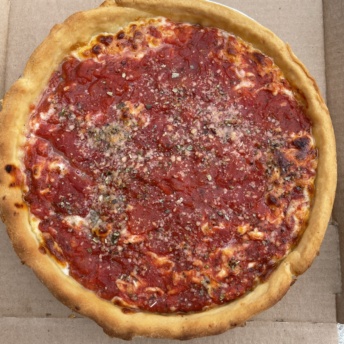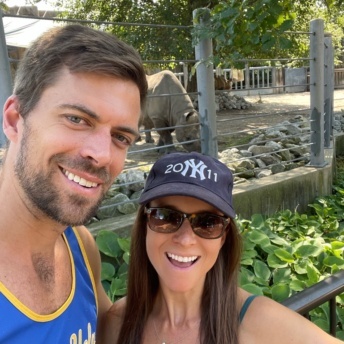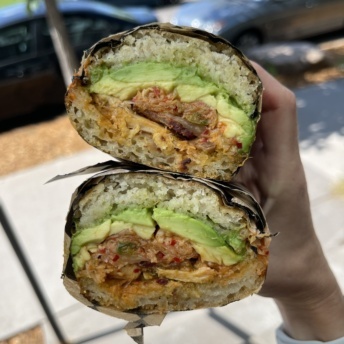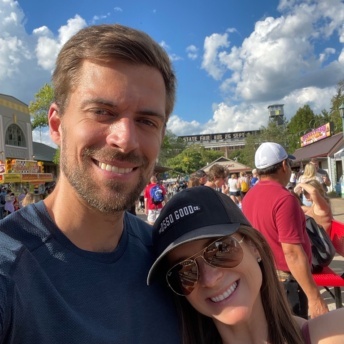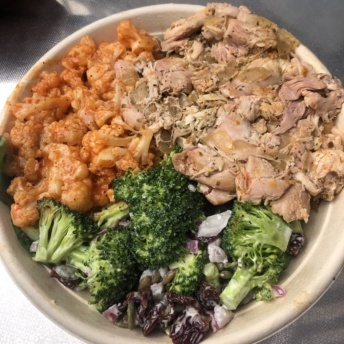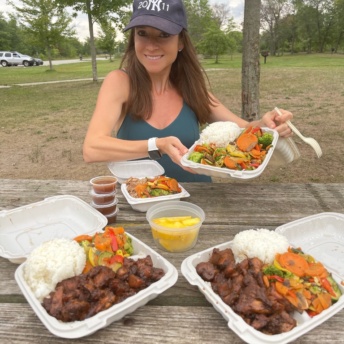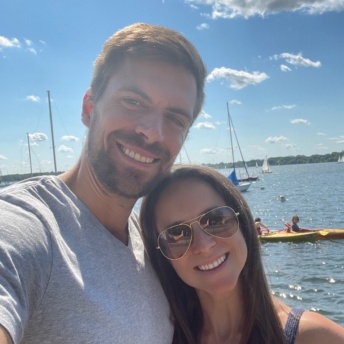 Last week, we headed out West! We're having so much fun in the van. In July and August, we explored a portion of the Northeast in Maine (read the blog post here!), New Hampshire, Massachusetts, Rhode Island, and Connecticut. For this trip, we first drove through Pennsylvania, and then made stops in Cleveland Ohio, Chicago Illinois, Milwaukee & Madison Wisconsin, Minneapolis & St. Paul Minnesota, and South Dakota. Next, we're going further west! At the end of this blog post, l list out all the eateries I've been to in these cities/states.
Cleveland, Ohio:
We woke up in Cleveland and ran on the Cleveland Lakefront Bikeway and Edgewater Park. Edgewater Park was the nicest part of the path, and they have ample parking there so I recommend parking there for the day and then you can run, walk, picnic, and swim all in one day. Edgewater Park has a 3-mile loop, and it's very pretty since it's surrounded by Lake Erie. After lunch, we swam at Edgewater Beach. It's dog-friendly so Odie loved it. The water felt so warm, like a bathtub!
We left Edgewater Park, driving on the coast and stopped for fries on our way out of Cleveland. I've been really into fries while pregnant, and I heard that Boss Chicknbeer has a dedicated gluten-free fryer so I had to get some! Brendan and I shared fries and onion rings, and it hit the spot. They also have gluten-free buns, chicken wings, chicken tenders, and other daily fried specials.
Chicago, Illinois – Activities:
Next, we drove to Chicago! I visited Chicago back in 2013, and I love this city. It's much more manageable than NYC and LA, and it has a lot of outdoor activities. The Chicago Lakefront Trail is one of my favorite places to run. This path is over 18 miles, and it goes along the coast of Lake Michigan. The running/walking path is separate from the biking path which is really nice for everyone. I ended up running on this trail all three mornings in Chicago and loved it! I ran from Lincoln Park down to Navy Pier and back up.
When we first got to Chicago, it was like entering a heatwave. The temperature said, felt like over 100 degrees. Our first stop was Montrose Dog Beach so Odie could cool off. There were so many dogs at this beach, and Odie of course loved catching his tennis ball in Lake Michigan. Montrose Dog Beach has a lot of parking during the day, and some of the parking is free. It is very busy on the weekends but you can easily find free parking during the week. We came here twice.
We had to take the classic Chicago photo at The Bean in Millennium Park! This is close to Navy Pier and Chicago Riverwalk so you can easily walk over to all three well-known spots at once. Chicago is very walkable which I love. We walked through so many neighborhoods and really got to know the city.
We also visited Lincoln Park Zoo. It is free, and it's in the center of the city! We saw lots of animals such as zebras, rhinos, giraffes, monkeys, chimpanzees, penguins, and a red panda.
Chicago, Illinois – Food:
We brunched at D4 Irish Pub & Café, and our meal was delicious! They have a dedicated gluten-free fryer so the fried items including fries are safe. They also have gluten-free bread. We shared the:
Brussels sprouts with chili honey lime glaze & sesame seeds
Lobster sandwich with shoestring fries (request GF bread)
Spinach berry salad with baby spinach, seasonal berries, feta cheese, red onion, slivered almonds, poppy seed dressing, added grilled chicken
Greek yogurt fruit bowl with melon, berries, granola, shaved coconut, roasted almonds
I had to get deep dish pizza while in Chicago! Chicago's Pizza makes gluten-free pizza with dedicated equipment and cooks it in a dedicated GF oven. They also have gluten-free bread and pasta. They make gluten-free stuffed pizza, thin crust pizza, and of course deep dish pizza! It was very cheesy and delicious.
I met up with my good friend from high school who lives in Chicago. We grabbed lunch at RealGood Stuff Co which has a few locations in the city. I had the build-your-own-bowl with buffalo cauliflower, broccoli, and chicken. I appreciated the big portion size!
Before leaving Chicago, we grabbed dinner at Hawaiian Bros which makes Hawaiian fast casual food. All of their food is gluten-free except for two items: macaroni salad and the chow mein noodles on Pacific Island Salad. They have great chicken options! We had the:
Huli Huli Chicken: marinated teriyaki chicken grilled fresh
Molokai Chicken: sweet & spicy perfectly grilled chicken with a little heat
Luau Pig: slow roasted Kalua Pork seasoned with Hawaiian sea salt
Seasoned Vegetables: mix of fresh vegetables with our own spice blend
I have many more Chicago restaurants at the end of this blog post too!
Milwaukee, Wisconsin:
It's a little over an hour drive from Chicago to Milwaukee. We explored the downtown waterfront area, and it was nice & clean. Milwaukee also has great paths including Hank Aaron State Trail which is a 14-mile rail trail. Milwaukee is known for its custard so we stopped at Gilles Frozen Custard on our way out of the city.
Madison, Wisconsin:
It's a 75-minute drive from Milwaukee to Madison. Madison also has a free zoo, Henry Vilas Zoo. There were more animals out than at the Chicago zoo. We saw polar bears, grizzly bears, seals, otters, rhinos, flamingos, zebras, giraffe, gibbons, orangutans, tigers, lions, porcupines, and warthogs.
Vilas Park is next to Henry Vilas Zoo, and it has a nice trail that we walked on.
Next, we ventured over to the University of Wisconsin. I think it was the first day of classes, and campus was hopping! The campus is on the water, and there was a lot going on. The fraternities and sororities live in gorgeous mansions, and there are many restaurants on campus. It made me want to go back to college!
We stopped to hike at Otter Creek Hiking Area which is in between Madison and Minneapolis.
Minneapolis, Minnesota:
It's a four-hour drive from Madison to Minneapolis. We walked on the Stone Arch Bridge which is a pedestrian bridge that spans the Mississippi River. There are nice biking and walking paths on both sides of the river.
I heard great things about the gluten-free pizza at Pizza Luce so we had to go! Their pizza is delicious, and the bread served with the artichoke dip was unreal! This bread is one of the best breads I've had at a restaurant. They have a bunch of locations in Minneapolis, and they really cater to their gluten-free and vegan clientele. We shared the:
Artichoke dip with GF bread
Cheeseburger pizza with Bianca sauce, ground beef & bacon layered in pepperjack and cheddar cheeses, onion, slices of dill pickles, tomato, topped with shredded lettuce and crazy good burger sauce
Mediterranean chicken bowl with chicken breast, cauliflower rice, feta cheese, cucumber mint salad, Kalamata olives, red onion, banana peppers, & Greek vinaigrette
Super greens salad with spinach, artisan greens, radicchio, broccoli, shredded Brussels sprouts, fresh orange, sunflower seeds, & sesame tahini dressing
We had an amazing brunch at BRIM which is 100% gluten-free! They have delicious gluten-free focaccia for their sandwiches, and their bowls are fresh and satisfying. We shared the: 
Avocado toast with focaccia, avocado, sea salt, & extra virgin olive oil
Brim club with organic chicken, bacon, avocado, and kimchi on focaccia
Golden cauliflower bowl with hummus, garam masala roasted cauliflower, arugula, garbanzo beans, & tamarind glaze
Spring chicken bowl with quinoa, broccoli, organic chicken, greens, avocado, pickled veg, garbanzo, & pesto
Berry smoothie
BRIM is conveniently located next to Lake of the Isles. After brunch, we explored this area and walked along the lakefront path. You can rent kayaks, canoes, paddle boats, and more.
St. Paul, Minnesota:
We happened to be in Minnesota while the Minnesota State Fair was going on so we had to go! It's the largest state fair in the country, and I can see why! There is a ton of food, animals, and rides. Tickets are $16 each, and we were able to find free street parking about a mile away. If you're able to get lot parking, it's $20 to $40 to park. I was pleasantly surprised to see that there was a dedicated gluten-free stand offering funnel cake, corn dogs, and cheese curds. There was another stand with gluten-free fries.
While in St. Paul, we also did a hike at Crosby Farm Park. It has woodlands with 6+ acres of paved trails. 
Brookings, South Dakota:
There isn't much in between Minneapolis and the Badlands so we drove through a lot of land! We spent the night at the Walmart in Brookings. Most Walmart locations allow RV overnight parking – you can double check online or by asking the store. It ended up being a good place to stop because we were next to South Dakota State University, and they had great paths we could run on in the morning.
Heron, South Dakota:
We could have gone to Sioux Falls but we decided to go to Heron instead since the South Dakota State Fair was happening that weekend. It's a much smaller state fair compared to Minnesota but they still have food, animals, and rides. Tickets are $6 each, and you can easily find free street parking. It was fun to see the wide range of people who attended the state fair – lots of cowboys and a few cowgirls!
Badlands National Park in South Dakota:
The Badlands National Park is a must if you're in South Dakota! It's a unique area because the rock formations at Badlands have unusual shapes and vibrant red, tan, and white stripes. We hiked as the sun was setting so it was gorgeous! We hiked Notch Trail which is a popular trail because it's so representative of the Badlands. It's about 1.5 miles round trip. There is a ladder portion of the hike so beware if you're afraid of heights. At the start of the trail, we saw a large ram! As we finished up our hike, bats flew around us. They got me to hustle back to the van 😉 And then the ram was still in the same spot!
We stayed overnight at the Sage Creek Campground which is the only free campground in the Badlands. It's about an hour drive from Notch Trail. The last 15 miles is a dirt road that is pretty rough – constant bouncing! When we woke up, we heard and saw many prairie dogs. They're a little bigger than squirrels, and they sound like birds. On our way out, we saw a bison, coyote, and deer!
Mount Rushmore in Keystone, South Dakota:
Mount Rushmore was cool to check out! Mount Rushmore is a sculpture featuring the 60-foot heads of Presidents George Washington, Thomas Jefferson, Theodore Roosevelt, and Abraham Lincoln. There's a fairly close lookout point where everyone takes pictures. We also walked on the Presidential Trail which takes you even closer to the memorial.
Hell Canyon Trail in Custer, South Dakota:
After leaving Mount Rushmore, we did a steep hike at Hell Canyon Trail. It's about a 5-mile loop trail near Custer, South Dakota. There was a fire in 2000, and you can still see the affects from the burned trees.
We loved exploring the Mid-West! If you have the opportunity, I hope you get to check it out as well 🙂 Now we're heading out West! Keep reading about our next adventure in Wyoming here!
Restaurants in Ohio:
Here's a direct link to a list of the Ohio restaurants I've been to and reviewed:
Restaurants in Chicago:
Here's a direct link to a list of the Chicago restaurants I've been to and reviewed:
Restaurants in Illinois:
Here's a direct link to a list of the Illinois restaurants I've been to and reviewed:
Restaurants in Wisconsin:
Here's a direct link to a list of the Wisconsin restaurants I've been to and reviewed:
Restaurants in Minnesota:
Here's a direct link to a list of the Minnesota restaurants I've been to and reviewed:
Restaurants in South Dakota:
Here's a direct link to a list of the South Dakota restaurants I've been to and reviewed:
Now we're out West! We're heading to Wyoming, Utah, Montana, Idaho + Washington + Oregon, and Colorado!