Christmas Tree Brownies
Total time
1 hours 10 mins
Ingredients
FOR THE BROWNIES:
2 eggs
½ cup butter, softened
1 cup granulated sugar
⅓ cup unsweetened cocoa powder
½ cup GF all-purpose flour
1 tsp pure vanilla extract
¼ tsp baking powder
¼ tsp salt
FOR THE GREEN FROSTING:
3 to 3.5 cups powdered sugar
12 tbsp butter, soft
½ tsp vanilla extract
1 tbsp milk
green food coloring
FOR THE TOPPINGS:
Preparation
Preheat oven to 350 degrees. Line pan with non-stick aluminum foil. I used an 8x8 inch glass pan.
In a large bowl, combine the butter, sugar, eggs, and vanilla extract.
Add in the cocoa powder, flour, salt, and baking powder.
Pour batter into pan.
Bake for 25-30 minutes.
Let the brownies completely cool. 
While the brownies are cooling, make the frosting. In a medium-sized bowl, combine the powdered sugar, butter, vanilla extract, and milk to make the buttercream frosting. Mix well. Start with 3 cups of powdered sugar and if you need more, then add another ½ cup. If you want more frosting, you can double the amounts for the frosting recipe.
Once the brownies are cool, remove the brownies from the pan. Cut brownies into triangles. I first cut the 8x8 brownie into two large horizontal pieces, and then made triangles. You will have some extra brownie pieces from the ends once you cut the triangles. 
Cut or break the candy canes into pieces that are about 1.5 inches long. I was able to get 3 "tree trunks" from each candy cane. Press a candy cane into the bottom of each brownie triangle. 
Add green food coloring to bowl of frosting. Mix well, and add enough until you like the color. I used a 6g single serve pouch of natural green food coloring.
Add the green frosting to a frosting decorator tool or a zip lock bag. If using a zip lock bag, then seal the bag and use scissors to cut off a smaller corner of the bag. 
Carefully decorate the brownie trees with the green frosting. Add sprinkles to each Christmas tree.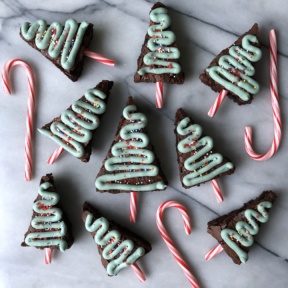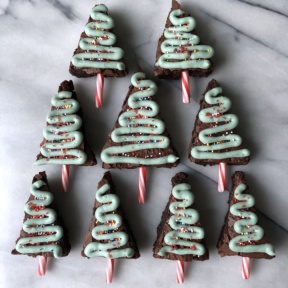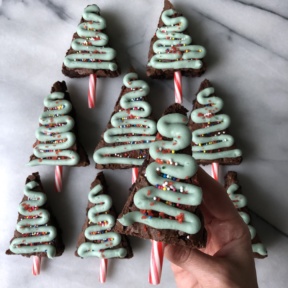 Occasion:
ChristmasWinter