Santa Hat Cupcakes
Ingredients
FOR THE CUPCAKES:
1 cup butter, softened
1.5 cups granulated sugar
4 eggs
2 cups of GF all-purpose flour
½ tsp salt
2 tsp baking powder
¾ cup milk
2 tsp pure vanilla extract
FOR THE BUTTERCREAM FROSTING:
3 to 3.5 cups powdered sugar
12 tbsp butter, softened
½ tsp pure vanilla extract
1 tbsp milk
FOR THE SANTA HAT:
18 strawberries, stems removed
Preparation
Preheat oven to 350 degrees, and line cupcake liners in a muffin pan. Makes about 18 cupcakes. Can also use my chocolate cupcake recipe or brownie recipe for base.
Mix butter and sugar in a bowl and then mix in eggs.
Add flour, baking powder, and salt.
Add milk and then vanilla extract.
Stir well, and divide evenly between 18 cupcake liners.
Bake for 18-20 minutes. Let the cupcakes cool and then transfer to a wire rack.
While the cupcakes are baking, make the buttercream frosting. In a medium-sized bowl, combine the powdered sugar, butter, vanilla extract, and milk. Mix together with a spatula and then use an egg beater or mixer machine if you have one. This makes the frosting smoother and creamy.  Start with 3 cups of powdered sugar and if you need more, then add another ½ cup. If you want more frosting, you can double the amounts for the frosting recipe.
Add the frosting to a frosting decorator tool or a zip lock bag. If using a zip lock bag, then seal the bag and use scissors to cut off a smaller corner of the bag. 
Put a little bit of frosting in the middle of each cupcake so the strawberry will stay on the cupcake. Stick a strawberry on top of each cupcake. 
Pipe the frosting all around each strawberry so it looks like a Santa hat. To finish it off, add 1 pipe of frosting at each tip of the strawberries.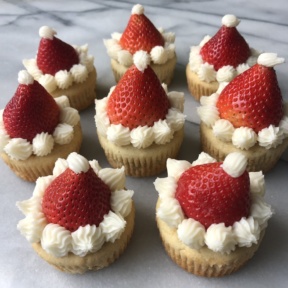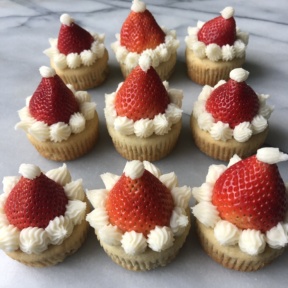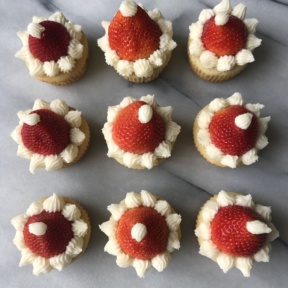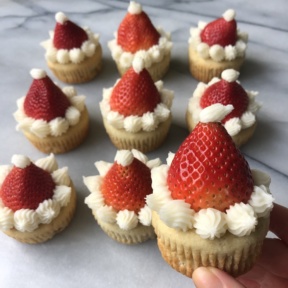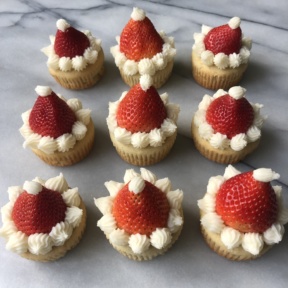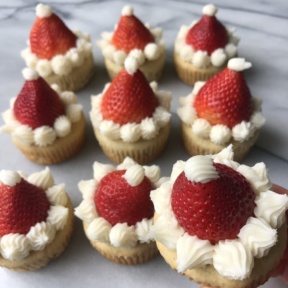 Occasion:
ChristmasWinter