Pumpkin Bread Pudding
Total time
1 hours 25 mins
Ingredients
3 and a half Unbun Foods baguettes (16 oz)
½ cup granulated sugar
½ cup brown sugar
3 tsp pumpkin pie spice
¼ tsp salt
4 eggs
2 egg yolks
1 can (15 oz) pumpkin
2 cups half and half
1 cup milk
2 tsp pure vanilla extract
whipped topping (or whipped cream or vanilla ice cream)
caramel sauce (the thicker, the better!)
Preparation
Cut baguettes into 1 inch cube pieces. Place bread cubes in a large bowl. I left this bowl of bread out uncovered for a couple hours.
Preheat oven to 350 degrees. Grease the bottom and sides of a baking dish - I used a 13x9 baking dish. 
In a medium or large bowl, combine granulated sugar, brown sugar, pumpkin pie spice, and salt. 
Add eggs and egg yolks. Fold in pumpkin. 
Fold in half and half, milk, and pure vanilla extract. Mix together. 
Pour mixture all over bread cubes. Carefully toss the cubes so they are coated. Let the bread soak for 10 minutes.
Transfer bread and mixture to baking dish. 
Bake for 45 to 55 minutes, or until set. Keep an eye on it starting at the 45 minute mark. I baked it for 55 minutes. Knife or toothpick in the center should come out clean. 
Let the pumpkin bread pudding cool before slicing. 
Serve with toppings such as whipped topping and caramel sauce.
It should keep for up to a few days stored tightly covered in the fridge. Can serve warm, cold, or room temperature.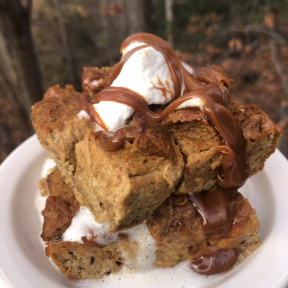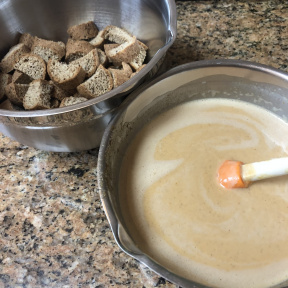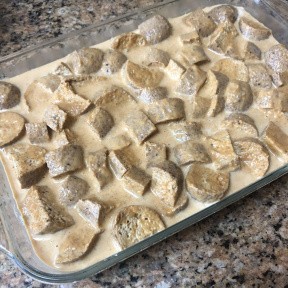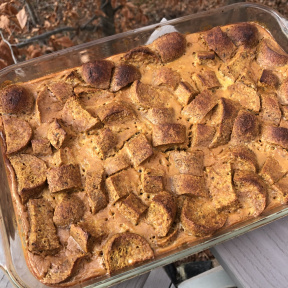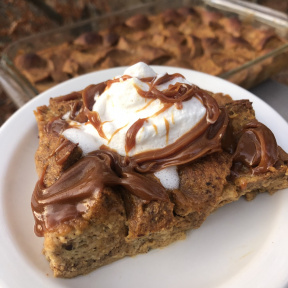 Occasion:
HalloweenThanksgiving