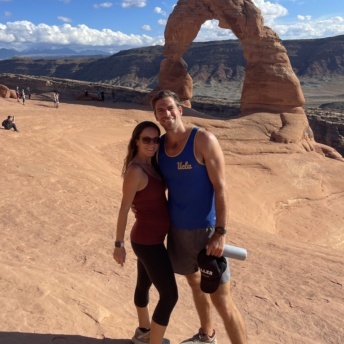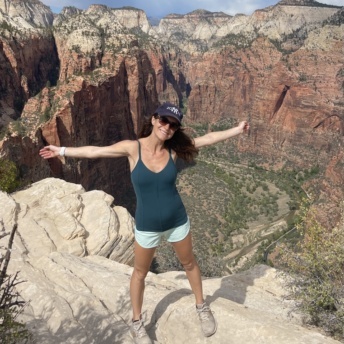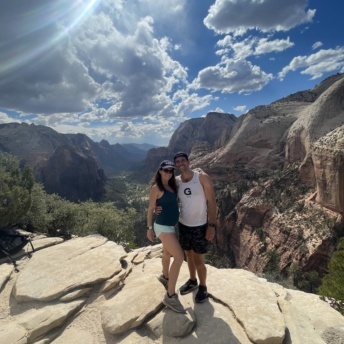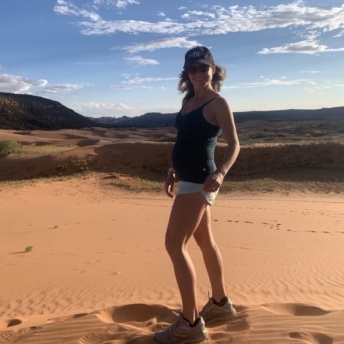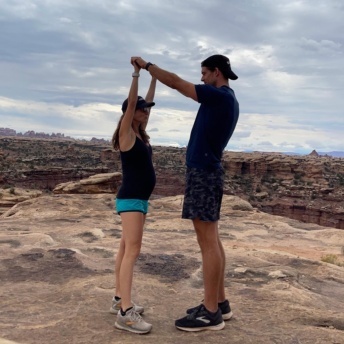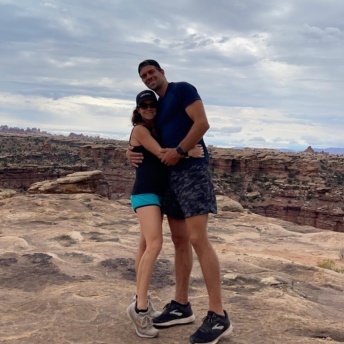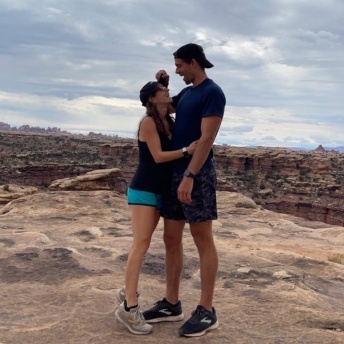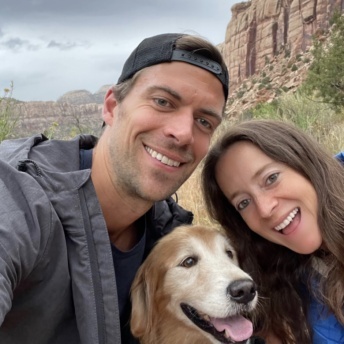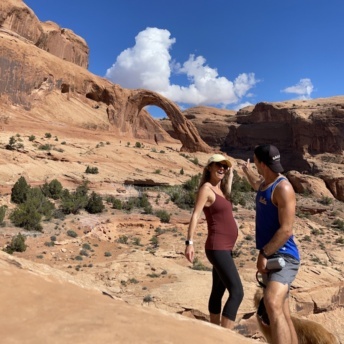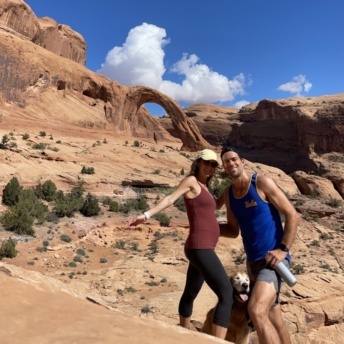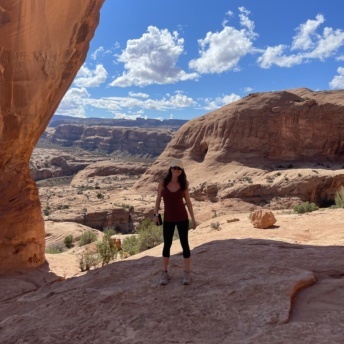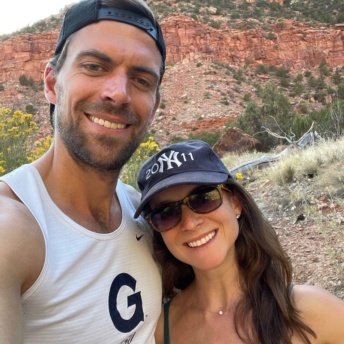 I've been so excited to explore Utah! In July and August, we explored a portion of the Northeast in Maine (read the blog post here!), New Hampshire, Massachusetts, Rhode Island, and Connecticut. Then we traveled through the Midwest (read the blog post here!) from late August to beginning of September, exploring Cleveland Ohio, Chicago Illinois, Milwaukee & Madison Wisconsin, Minneapolis & St. Paul Minnesota, and South Dakota. For the last couple months, we explored out West! We went to Wyoming (read the blog post here!), Montana (read the blog post here!), Utah (read the blog post here!), Idaho + Washington + Oregon (read the blog post here!), and Colorado (read the blog post here!).
Salt Lake City:
After Wyoming, we drove to Utah! We stopped at Mantua Reservoir to hike. It's a 4-mile loop outside of Brigham City, and it was a nice place to stop on our way to Salt Lake City.
Odie enjoyed the parks in Salt Lake City! Sugar House Park has a 1.4-mile loop, and Millcreek Canyon has an off-leash trail with a creek where dogs can swim.
Park City:
Park City is a must if you go to Utah! It's an adorable ski town with lots of restaurants and boutiques. It's truly ski-on, ski-off – there's even a chairlift that goes directly into the town. We walked along the bike path in Park City after exploring Main Street. Park City and Breckenridge in Colorado are two of our favorite ski towns. We will have to come back during the ski season!
Driving from Oregon to Utah:
It's a 13+ hour drive from Crater Lake in Oregon to Zion in Utah! We drove through Oregon, Nevada, and Utah. It's an interesting part of the country to drive through since it's so remote. At one point, there was a five-hour gap in between towns! The few towns we passed have a population of 20 to 1,100, and many of them are unincorporated communities so they don't have a local government. We saw signs that read "next gas station at 110 miles" so you definitely have to be aware!
We obviously didn't want to run on the highway road with a 70-mph speed limit so when we finally saw a town, we stopped there to run! We ended up running around the town of Battle Mountain, Nevada. Brendan and I both got chased by a couple dogs so it wasn't an ideal run but it was nice to move after driving so much!
The following day, we stopped at Cedar City, Utah to run along the Coal Creek Trail. It's a 3.4-mile paved path. One more hour drive until Zion!
Zion National Park:
Zion National Park is gorgeous with all of the red rock formation! It's more built up than other national parks we've been to. There are many eateries, lodges, and hotels. It reminded us of a ski resort town but instead of skiing, you can hike! There are places to rent electric bikes and ATVs as well.
We first hiked along Pa'rus Trail, the only dog-friendly trail in the park. It's a 3.4 mile out and back trail, and it's a paved path along the river. You're surrounded by the pretty mountains, and it's fairly flat so it's an easy trail.
Next, we hiked Angels Landing which is known as the most strenuous hike at Zion. It's a 5 mile out and back trail. It's a very steep trail with 21 switchbacks. After the first couple of miles, the last half mile is a steep and narrow ridge from Scout Lookout to Angels Landing. There are anchored support chains for this last half mile to help you climb your way up and down. If these chains weren't there, there's no way you could safely hike this trail. When you reach the top, you're 1,500+ feet above Zion! This hike was more crowded than we expected – usually harder hikes have less people on them.
We enjoyed Zion but one of the downsides to this park is that you're required to take one of their free shuttles in order to access the majority of the trails. We parked at the visitor center and then took the shuttle up to Angels Landing trailhead. The shuttles come often but it does take extra time with the stops.
Coral Pink Sand Dunes State Park:
The drive entering and leaving Zion is breathtaking! Coral Pink Sand Dunes State Park is a 35-minute drive from Zion, depending on traffic. We opted for this park instead of going into Bryce Canyon National Park. Bryce Canyon is at least an hour out of the way each way, and we knew we were going to Canyonlands National Park and Arches National Park later that week.
It's $10 to park at the state park entrance but you can park at the lot beforehand and get free access to the dunes. We did this, and it's definitely recommended. Dogs are allowed on the dunes, and you can wander around the dunes as there isn't a set path. It's a pretty scenic area with warm, pink/orange sand. The sand is very soft! If I wasn't pregnant, we would have rented ATVs. About 90% of the dunes are open for ATV riders.
Lake Powell:
On our way from Coral Pink Sand Dunes State Park to Canyonlands, we stopped by Lake Powell. Lake Powell is a man-made reservoir on the Colorado River in Arizona and Utah. It's a huge lake with nearly 2,000 miles of shoreline. We visited Lake Powell in Page, Arizona since this was directly on our way to Canyonlands. We hiked on Page Rimview Trail, a 9.8-mile loop trail that offers views of Lake Powell. You're surrounded by pretty views the whole time, and dogs are allowed on this trail. We considered renting a boat or kayak on the lake as well – it's a popular spot for boating.
Canyonlands National Park:
Canyonlands National Park is known for its carved-out canyons and sheer drop-offs. There are a few districts in Canyonlands. Island in the Sky is the most accessible district in the park since it's close to the city Moab. We ended up visiting The Needles since it was the most on the way from Zion and Lake Powell. Both Island in the Sky and The Needles have a paved scenic drive with great views and hiking trails. The Maze is an even more remote district – it's accessible via four-wheel drive vehicles.
We hiked Slickrock in The Needles, a 2.5-mile loop trail with viewpoints. It has expansive 360-degree views so you really feel like it's just you out there, surrounded by canyons! The trail has uneven surfaces, and it uses piles of rocks as trail markers which was pretty unique and cool.
The national parks usually don't have too many dog-friendly hiking trails, if any, but just outside the parks, there tend to be trails that allow dogs. We found BLM Monticello Indian Creek which is on 211 so it was on our way in and out from Canyonlands. This is a popular climbing spot as well. It was very pretty but the trail itself is narrow with burrs so definitely wear pants if you hike here.
Arches National Park:
We spent the night in Moab which is in between Canyonlands and Arches National Park. Arches is only a ten-minute drive from Moab so it's very accessible. We initially tried to enter the park at 1pm but there was a sign that said that the park was full and to come back in 3 to 5 hours. We've never had this happen before! We were there on a Wednesday so I would imagine it's an even bigger issue during the weekend.
While we waited for the park to reopen, we hiked to Corona Arch and Pinto Arch. It's a dog-friendly hiking trail about 10 minutes from the park. If you do both arches, it's a 3.5-mile round-trip trail. This trail also has uneven surfaces and incredible views.
A couple hours later, we entered Arches National Park! The drive into the park is amazing since you're surrounded by unique arches and canyons. Delicate Arch is the most iconic arch in the park so we hiked that trail. It's a 3-mile round trip trail, and it's very popular so it does get crowded.
If you have the opportunity to explore Utah, do it!!!
Restaurants in Utah:
Here's a direct link to a list of the Utah restaurants been to and reviewed: