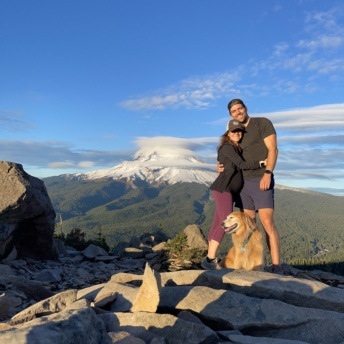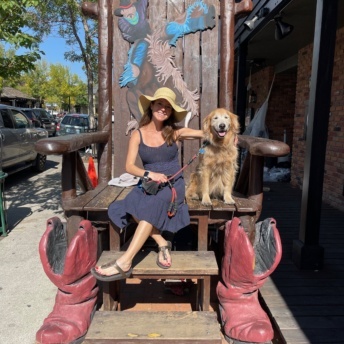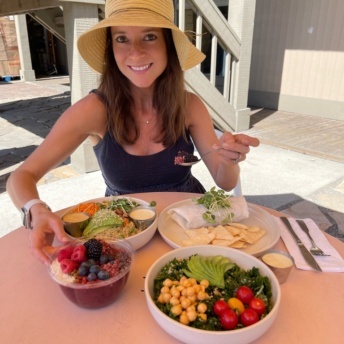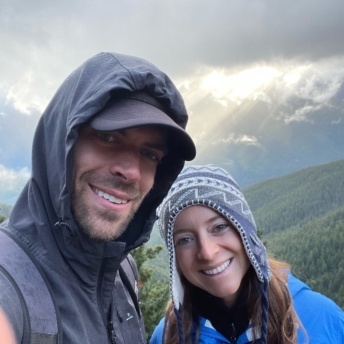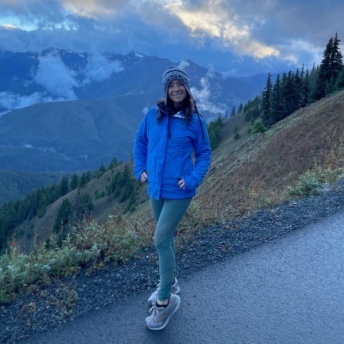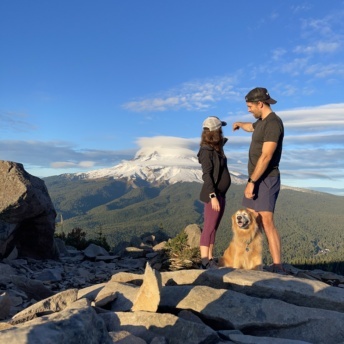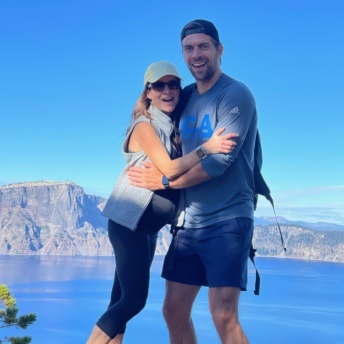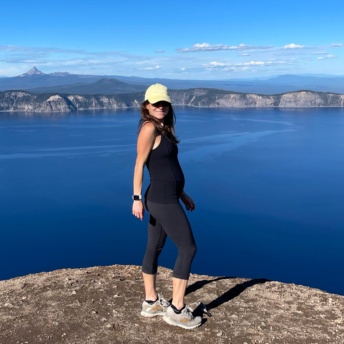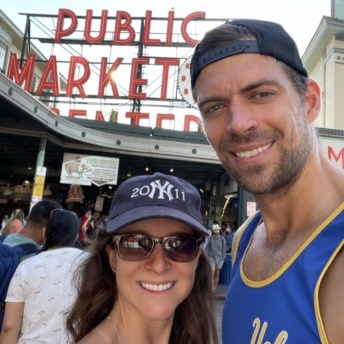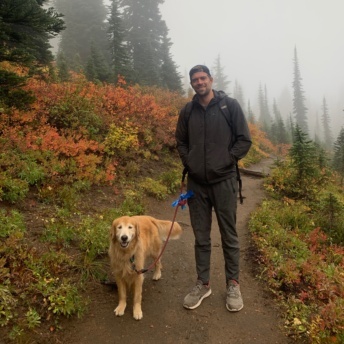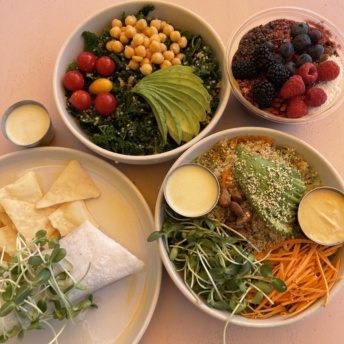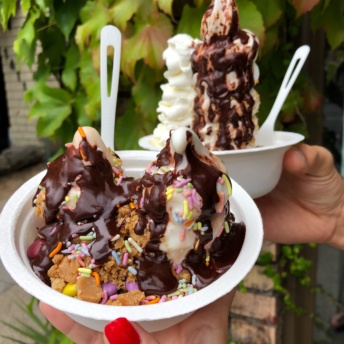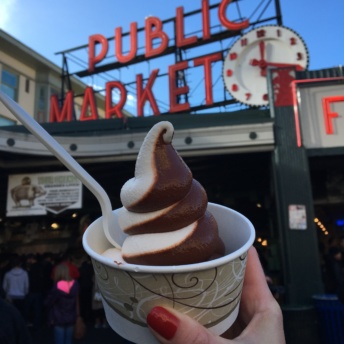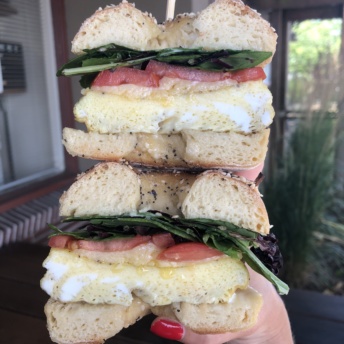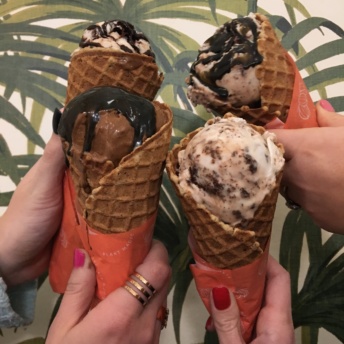 We have been most excited about taking the van out west! In July and August, we explored a portion of the Northeast in Maine (read the blog post here), New Hampshire, Massachusetts, Rhode Island, and Connecticut. Then we traveled through the Midwest (read the blog post here!) from late August to beginning of September, exploring Cleveland Ohio, Chicago Illinois, Milwaukee & Madison Wisconsin, Minneapolis & St. Paul Minnesota, and South Dakota. For the last couple months, we explored out West! We went to Wyoming (read the blog post here!), Montana, Utah (read the blog post here!), Idaho, Washington, Oregon, and Colorado (read the blog post here!).
Sun Valley, Idaho:
Sun Valley is another fun ski town! We walked around their downtown in Ketchum and then grabbed lunch at plant-based café GLOW. They have lots of fresh options here – the Thai kale coconut wrap was our favorite 🙂
We shared the:
Thai kale coconut wrap: marinated kale tossed with our creamy Thai ginger dressing, creamy avocado, wrapped in a coconut wrap
Creamy kale quinoa salad: shredded kale lightly marinated with cold-pressed olive oil, sea salt, and lemon, chickpeas. quinoa, tomato, avocado, Kalamata olives, and creamy lemon tahini dressing
Roasted veggie bowl: sweet potato, quinoa, peas, carrot, green onion, cilantro, sesame seeds, sprouts, hemp seeds served with orange maple miso dressing; can add avocado
Acai berry bowl: acai, strawberries, banana, tart cherries
After lunch, we checked out the Sun Valley Lodge. It's a picturesque area with a lodge, pool, skating rink (even in the summer!), pond, and a few restaurants. We started our hike at Carol's Trailhead which is a popular place to hike. It's located directly outside of Sun Valley Resort, and it gives a nice view of the resort and surrounding homes. From there, we hiked on Valley View Loop, White Cloud Trail, and Trail Creek Path.
As we left Sun Valley, we drove by their annual Oktoberfest! We stopped by and played corn hole. There were lots of dogs running around which was fun for Odie. I grabbed some tots at a potato food truck with a dedicated gluten-free fryer. I had to have some Idaho potatoes while in Idaho!
Seattle, Washington:
I first visited Seattle in January 2018 and wrote a blog post here about my trip! This was Brendan's first time in Seattle. It was almost a shock to be back in a large city with lots of people after spending so much time in national parks and small towns! We explored Pike Place Market and walked along the waterfront. We also walked on Elliot Bay Trail, a paved path along the water for walking, running, and biking. I ran here on my last trip. My Seattle restaurant finds are at the end of this blog post.
Olympic National Park in Washington:
Olympic National Park has nearly a million acres and includes glacier-capped mountains and rain forests so we were excited to explore this park. In true Washington fashion, it was quite rainy and foggy! Upon driving into Olympic National Park, we could see some scenery despite the heavy fog. We hiked Hurricane Hill Trail which is 3.2 miles total, out and back. The trail starts off fairly level but then it gets very steep. About half a mile into our hike, we were surrounded by dense fog, and the rain turned into hail and snow. I'm sure that the views are great when it's better weather.
Mount Rainier in Washington:
Next, we visited Mount Rainier. We hiked Naches Peak Loop Trailhead which is about 3.2 miles roundtrip. Unfortunately, we didn't have any visibility during this hike because it was so foggy. It rained, hailed, and snowed throughout the hike! Part of this trail is dog-friendly.
Mount Hood National Forest in Oregon:
We were excited to get to Oregon where the sun was shining! Mount Hood National Forest is a potentially active stratovolcano, outside of Portland. We hiked to Mirror Lake and then took the trail up to Tom, Dick, and Harry Mountain. It ended up being 7.2 miles roundtrip. The hike is steep and forestry without much views until you get to the top. We had an amazing view of Mount Hood at the top of the mountain.
Bend, Oregon:
We heard good things about Bend so we stopped here for our morning run. We ran on Deschutes River Trail, a 19-mile paved path. Bend is surrounded by snow-capped mountains which makes for very pretty scenery. We drove through downtown and then continued on our way.
Crater Lake National Park in Oregon:
We really liked Crater Lake National Park! Crater Lake is the deepest lake in the United States, and it is SO blue! It used to be a mountain, and it transformed into a lake after a volcanic eruption 7,700 years ago. This park is very accessible – you're able to see Crater Lake in its entirety by just driving up to it.
There are about a dozen trails, and we hiked on two of them. Garfield Peak Crater Lake Trail is a 3.5-mile hike round trip. It's a steep trail with amazing views throughout the hike. There are a few dog-friendly trails in this park including Godrey Glen. It's a 1-mile loop trail with a clear, level path.
Portland, Oregon:
We didn't stop by Portland this trip but we visited this city in July 2018! I have all my Portland finds in this blog post. Lots of good bakeries, ice cream shops, vegan options, Mexican food, and more!
Restaurants in Oregon:
Here's a direct link to a list of the Portland restaurants and Oregon restaurants I've been to and reviewed:
Restaurants in Washington:
Here's a direct link to a list of the Seattle restaurants and Washington restaurants I've been to and reviewed:
Restaurants in Idaho:
Here's a direct link to a list of the Idaho restaurants been to and reviewed:
We're back from out West, and next we're heading down South! More to come!