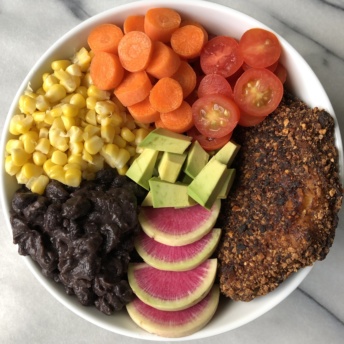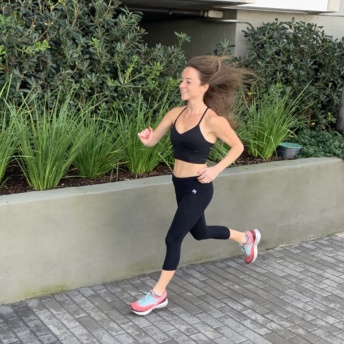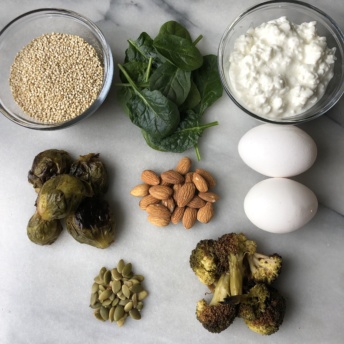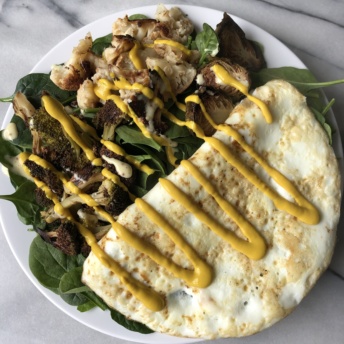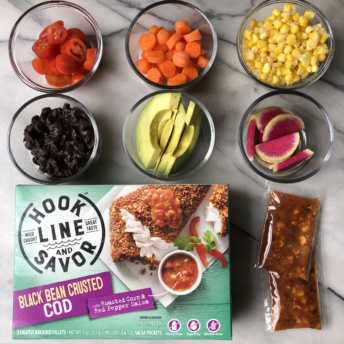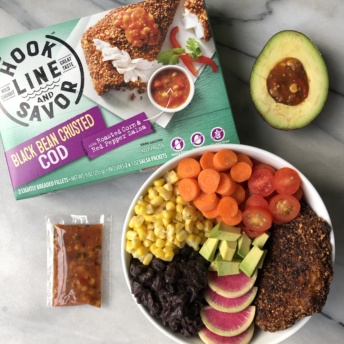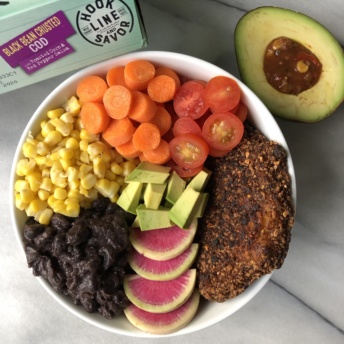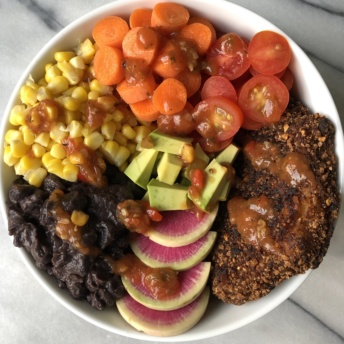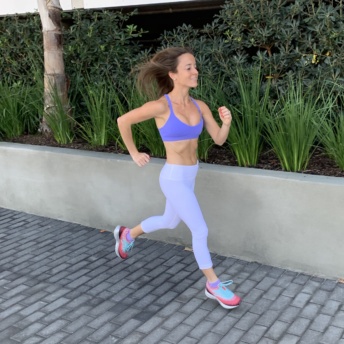 I'm all about getting my protein! Protein is an important nutrient for our bodies. It's crucial to eat the right amount and the right kind of protein to get its health benefits. Protein helps our bodies build muscle, tissue, and cells. I love to stay active with running and walking, and protein helps me stay energized. Protein has the added benefit of making you feel satiated and full longer. A protein-rich diet is important to leading a healthy life.
Personally, my biggest sources of protein are eggs and fish. I tend to eat eggs for lunch and fish for dinner. I've been eating Hook Line & Savor seafood meals for dinner the last few months, and I love it! They make it easy for me to get my fish protein at dinner, and it's so delicious. Let's get into more about protein…
Good Sources of Protein:
Fish
Eggs
Broccoli
Brussels sprouts
Nuts
Seeds
Beans
Quinoa
Chicken
Lean beef
Cottage cheese
Greek yogurt
Fish:
Fish is incredibly healthy. It is loaded with nutrients and is an excellent source of protein. White fish is usually lower in fat than other sources of animal protein, and oily fish is high in omega-3 fatty acids which are extremely beneficial to heathy bodily functions. As an added benefit, fish is easy for the body to digest. The AHA recommends eating at least two servings of fish per week. I like to eat fish for dinner a couple times a week. Some of the fish I enjoy eating are salmon, lobster, shrimp, crab, cod, tuna, halibut, and snapper.
Eggs:
I eat eggs every day! If possible, I recommend buying free-range eggs. I usually have a big omelet for lunch, along with a salad and roasted vegetables such as cauliflower, broccoli, and Brussels sprouts. Then I drizzle apple cider vinegar, mustard, and a salad dressing like balsamic vinaigrette or honey Dijon yogurt dressing. When I'm on-the-go during the day, I'll hard-boil eggs so I can easily bring them with me. Eggs are one of the least expensive forms of protein, and I love how accessible they are. When I eat at restaurants, I almost always find eggs on the menu. I'll either add eggs to my salad or get a full egg dish such as eggs benedict, frittata, or omelet.
Plant-Based Proteins:
Nuts, seeds, and beans are also high in protein. Almonds are a convenient snack and are a great crunchy addition to a salad or entree. Nut butters such as almond butter and peanut butter are also fairly high in protein. Ideally, you want to consume nut butters without extra sugar or unnecessary ingredients. Chia seeds are quite versatile – you can sprinkle some on top of yogurt, add them to a smoothie, or make chia seed pudding with them. Other plant-based proteins include chickpeas, lentils, edamame, and spirulina. Quinoa is a grain with a high protein content – you can add it to salads or serve as an entree. And last but not least, my favorite plant-based proteins are protein-rich vegetables. Many dark-colored, leafy greens and vegetables contain protein such as kale, broccoli, spinach, and Brussels sprouts. 
Chicken and Beef:
Chicken breast and lean beef are both popular protein-rich foods. I personally prefer white meat over dark meat, and I usually remove the skin. It's easy to add chicken to salads or make into an entree. Be sure to look for chicken that is raised without antibiotics. Beef generally has more fat than fish or chicken. However, beef cuts with "round" or "loin" in the name are leaner since they come from a part of the cow that is less fatty. Some examples of leaner cuts are tenderloin, top loin, sirloin tip, and ground round.
Hook Line and Savor:
I have been eating Hook Line and Savor for the last few months, and I truly love their seafood! They use high quality, sustainably-sourced fish to make allergy-friendly prepared seafood dishes. All three fish entrees are gluten-free, dairy-free, and egg-free:
Black Bean Crusted Cod with roasted corn & red pepper salsa
Citrus Ginger Salmon with garlic & brown sugar sauce
Crispy Beer Battered Haddock with classic New England tartar sauce
Their fish tastes delicious and is easy to prepare. I feel good about where and how it was caught. Hook Line and Savor's fish meets rigorous quality and sustainability standards and is cut from whole fillets not treated with any solutions or chemicals. Their fish is frozen fresh. I love that Hook Line and Savor prints a catch code on the top of each carton so you can look up where and how your fish was caught! This full traceability is amazing. Hook Line and Savor is committed to ensuring seafood sustainability which I really appreciate. Eating sustainable seafood is so important, and I wrote more about why here.
Hook Line and Savor is not only committed to ensuring seafood sustainability – they also give back to the community! Hook Line and Savor donates 5% of profits to SeaShare. SeaShare helps provide high-quality nutrient-dense seafood to food banks, pantries, and shelters across America. SeaShare's mission is to engage the seafood industry in a collective effort to improve nutrition for the people served by food banks and feeding centers. Fishermen work with other processors, importers, distributors, and cold-storage warehouses, to get highly perishable and nutritious seafood to food banks. Over the past 24 years, SeaShare has delivered more than 220 million seafood servings to food banks and feeding centers. Hook Line and Savor truly cares about their community. I love that they look out for their customers and those in need. I'm happy to support a company that makes a difference.  
Cod Buddha Bowl Recipe:
I made a delicious Cod Buddha Bowl with Hook Line and Savor's Black Bean Crusted Cod! Each cod fillet is lightly crusted with a blend of black beans, onion, garlic, jalapeño pepper, lime and spices. It comes with roasted corn and red pepper salsa. I also served it with a rainbow of vegetables – cherry tomatoes, carrots, corn, black beans, watermelon radish, and avocado. I popped the fish into the oven, prepped some vegetables, and dinner was ready in 30 minutes! This is why I use Hook Line and Savor so much – they make mealtime easy and delicious 🙂
Here is the recipe:
Ingredients:
Hook Line and Savor Black Bean Crusted Cod with roasted corn & red pepper salsa
2 cups of kale and spinach
1/2 cup cherry tomatoes, sliced
1/2 cup carrots, sliced
1 ear of corn
1/2 cup black beans
1/2 avocado, sliced
1 watermelon radish, sliced
Preparation:
Keep cod frozen until ready to cook.
Preheat oven to 425 degrees.
Thaw salsa packets in water.
Line baking sheet with aluminum foil, and place frozen fish fillets on baking sheet.
Bake fillets for 29-31 minutes. Flip fillets at the 15-minute mark. (Fully cook-fish to an internal temperature of 145 degrees or higher.)
As the cod cooks in the oven, start to prep the veggies. Cook the corn, and cut the corn kernels off the cob. Slice the cherry tomatoes, carrots, avocado, and avocado.
Add kale & spinach to bowl. Build your buddha bowl with sections of tomatoes, carrots, corn kernels, black beans, watermelon radish, avocado chunks, and cod.
Add salsa to fish fillets and rest of bowl as you wish – as a topping or on the side as a dip. Can also put some sauce in an avocado half.
This is a Hook Line and Savor sponsored post. All opinions are my own.