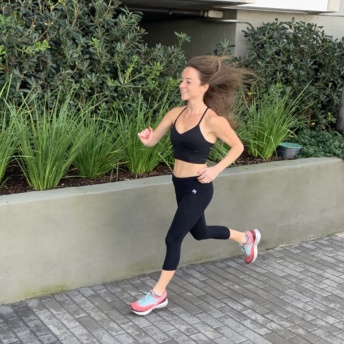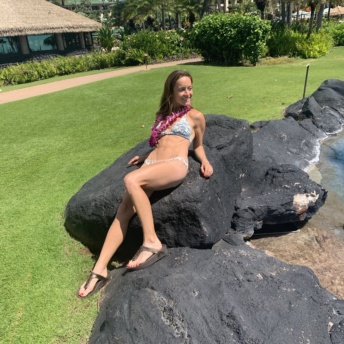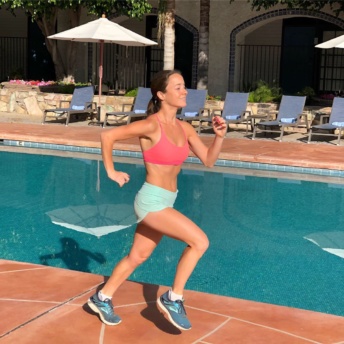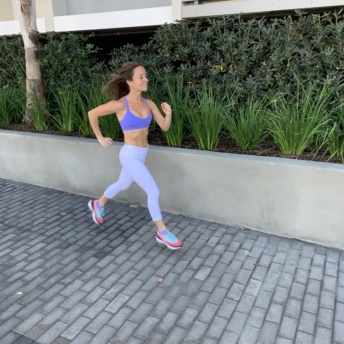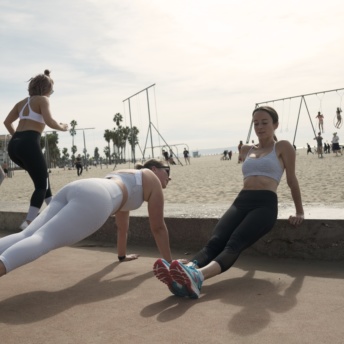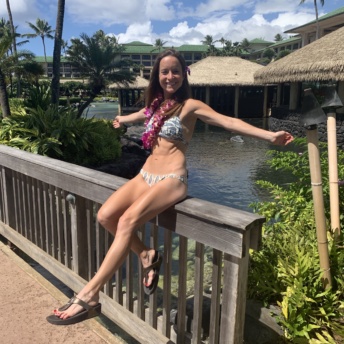 A lot of you have been asking what I do to stay in shape so I'm dedicating this blog post to my workout routine!
Running:
Running has always been my favorite workout. The runner's high is amazing, and I love how you can run anywhere. If my body allowed me, I would run daily. But I know my body, and it wouldn't be able to handle that long term.
Playing soccer in middle school got me into running – we ran a couple miles before practice. Then I ran track in high school and focused on long distance races: the 1 mile and the 2 mile. I took a break from racing during college but still ran as a workout. At the end of my senior year at Georgetown, my husband Brendan convinced me to sign up for a local 5k. I ended up winning the race which got me back into racing! After college, I ran a bunch of half marathons.
Marathons:
A few years ago, I qualified for and ran the NYC Marathon and Boston Marathon. When I was training for the marathons, I would do long runs at times but I knew it wasn't good for my body. I felt my body breaking down after I hit the 12 mile mark. It's a hard balance because you're told that you have to do some long runs to prepare yourself for the marathon. On the other hand, you don't want to injure yourself before the big race. I didn't follow a training program but most programs tell you to incorporate a couple 20-22 mile training runs. I didn't go past 16 miles during training, and the races ended up going well! It's so important to listen to your body. My NYC Marathon time was 3:28, and my Boston Marathon time was 3:35.
For the last couple of years, I've made sure that I haven't done more than an 8 mile run, except during a race. It may sound silly but after doing longer runs, it was hard at first for me to get a runner's high after an 8 mile run. If you just finished marathon training and you're in the same boat, I definitely recommend setting a mile limit for post-race workouts. I would rather have a really good hour-long 8 mile run in 70 degree weather on the beach twice a week than try to run everyday or do crazy long runs and end up injuring myself.
Other Forms of Cardio:
On the days I don't run, I go to the gym and do other forms of cardio like the StairMaster, elliptical, and arc trainer. My time at the gym flies by because I treat cardio as time to answer emails and respond to comments on social media. This helps me a lot with time management. Once my workout is done, I can focus on recipe development and getting other things done rather than being on my phone all day.
Barre:
In Summer 2016, I incorporated barre classes to my workout routine, and I'm a huge fan! It's a great way to tone your body with low impact. The classes focus on your hips, thighs, seat, abdominals, and arms, forming long and lean muscles without bulk. Each portion of the workout has a strength section followed by a stretching section. I started at Pure Barre in Greenwich for six weeks and then Barreworks in Santa Monica for a few months, and now Pure Barre in Santa Monica since July. It's easy for me to know what to do for cardio but it's harder for me to know what core work and strength training I should do. When I go to a barre class, I don't have to think about anything and just follow along.
I love that every class is a bit different so your body stays guessing! I feel like I've gotten leaner from barre. These small movements really do add up. I have seen the biggest difference in my abs. My core is much stronger, and I have more definition there.
Weights:
I used to be so against doing weights! Brendan would always tell me that if I wanted to get more toned, I should do weights. I shrugged it off, just sticking to my cardio. I thought that lifting weights would make me bulky. And I didn't want to have huge muscles. My first time using weights was at barre class. It was a set of 3 pound weights at barre so nothing crazy.
The last six months or so, I've become more comfortable with using heavier weights. It depends on my schedule, but I'll try to do a few lifting reps each week. Even if it's just five minutes a few times a week, it makes a difference for me. I've maintained the same weight for 10+ years, but my body has definitely gotten more toned recently. I think this is directly tied to lifting weights and barre classes. I'm all about being strong and toned, not skinny.
I'm not a personal trainer, so again I don't have a wide variety of moves in my head. Brendan taught me a few moves and gives me pointers on how to have better form. My favorite move is holding a set of 25 lb weights in both hands, while doing lunges. I started with 15 lb weights and slowly increased the weight as I got stronger. Another move is squats while holding 25 lb weights or with a 30-40 lb bar on my shoulders. I do a side bend while holding 25 lb weights in one or both hands which helps with love handles. If you follow my Instagram Stories, then you've already seen these moves!
Try Something New:
When someone asks me to join them at a workout, I usually say yes! It's fun to switch it up and try a new workout. It keeps your mind and body guessing. I've done bootcamp and yoga classes, and I would like to try pilates and get back into dancing. Let me know if you have any class recommendations!