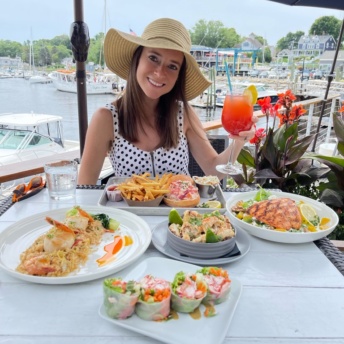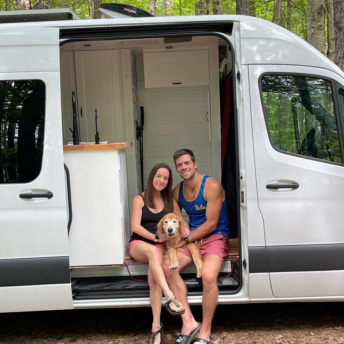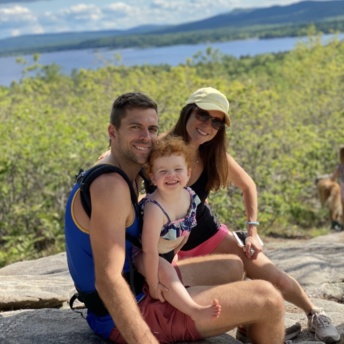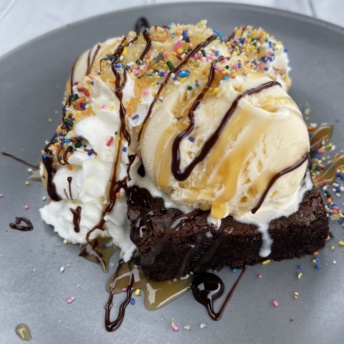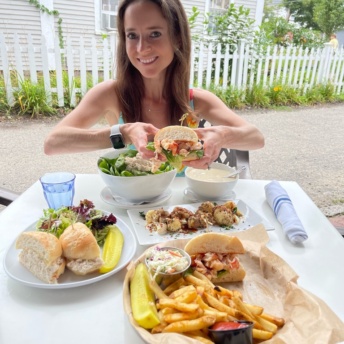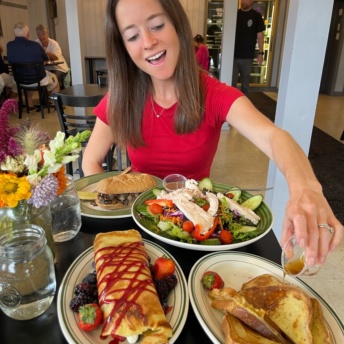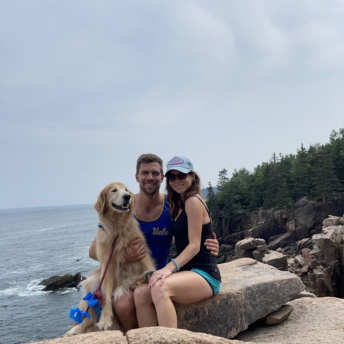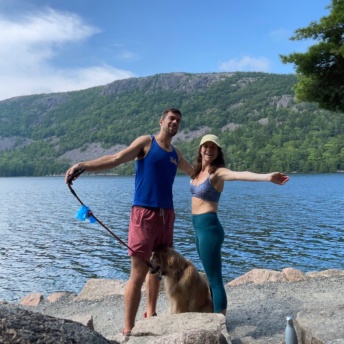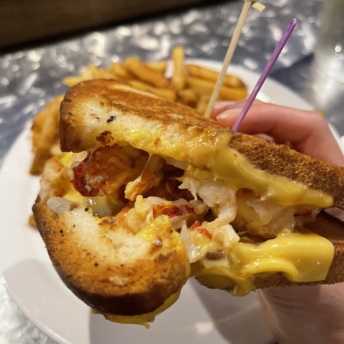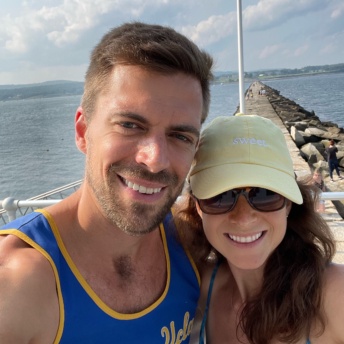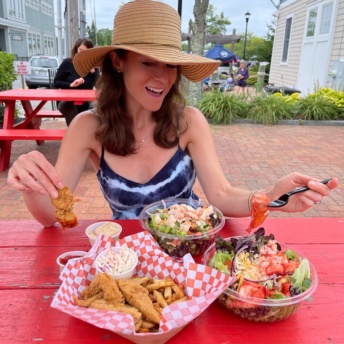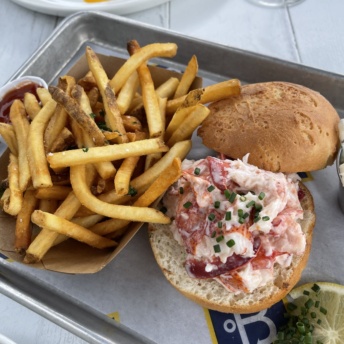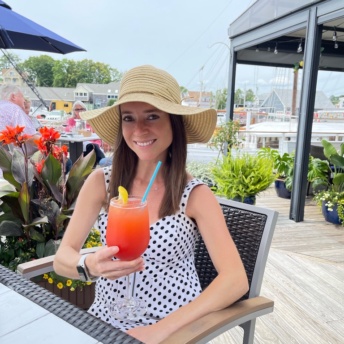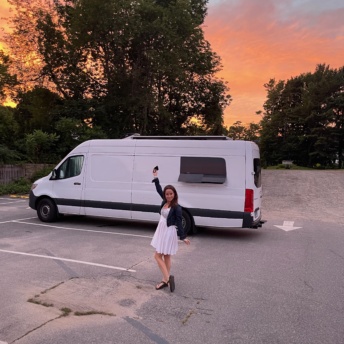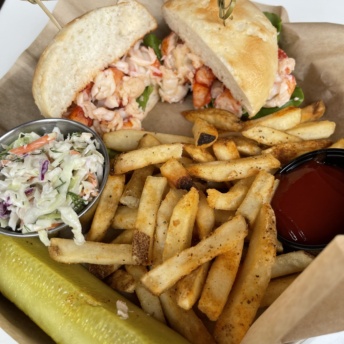 Van Life Begins!
We're officially adventuring with our nearly finished van! Brendan has done such a good job building this sprinter van out. It looks like a modern farmhouse with the clean white ceilings, walls, and cabinets and then the black handles. The van is decked out with a bed in the back which converts into a table with sofa seats. We also have a shower, tiling in the bathroom and kitchen backsplash, lots of storage, large sink, fridge, and a large TV which doubles as a second monitor. We converted the van with sustainability in mind so there are solar panels on the roof and a compost toilet which actually doesn't smell!
In January/February, we took our inaugural trip when the van was half-finished. This blog post on Gluten-Free Vanlife in Grand Canyon and Sedona goes into all the details on that journey. Our apartment lease in Los Angeles had ended so we drove out from Connecticut to LA to move our stuff out. Hence, why the van was packed to the brim with all our belongings. It was definitely tight quarters! After living and traveling in a half-finished van for six weeks, the current van feels MUCH more comfortable and luxurious! Everything has a place – we love it.
Driving Up to Maine:
Before Maine, we first went camping with Brendan's sisters and nieces in New Hampshire. We had so much fun swimming on Lake Ossipee, hiking, and just being together 🙂 Next, we went to my family reunion in Boston where we feasted on lobsters and good food, played tennis, and more. It was a special weekend because we told my extended family that we're having a baby!
Then we drove up to Maine! We stayed with my uncle Andrew in Eliot for a couple days. He has his own woodworking company, Traditional Boatworks, where he builds all things wooden by hand including boats. Andrew helped us with some of the van's finishing touches at his shop. We explored Kittery with him which is one town over. Kittery has a harbor with lots of waterfront restaurants.
Kennebunkport:
After leaving Eliot and Kittery, we made the short drive up to Kennebunkport! It's a picturesque coastal town in Southern Maine with lots of good restaurants and beaches, and it's one of my favorite towns in Maine. It was so fun running and walking along the beaches here. The beach is less than 2 miles from the town of Kennebunkport so if you like to walk like us, it's doable!
Our lunch at The Boathouse was one of the best meals I've had all summer! We sat outside on the water with an amazing view of the harbor and boats. They have gluten-free bread and a dedicated GF fryer so the fries are gluten-free! They have SO many gluten-free lobster options that I had to try three of them 😉 The lobster spring roll was incredible, and I also loved the lobster roll and lobster fried rice. This is what we had:
Lobster roll with mayo, lemon, & chive; comes with fries (request GF bun)
Lobster spring roll with pickled carrot, cilantro, basil, cucumber, scallion, citrus sauce
Seared shrimp & scallops with lobster fried rice, sesame egg, baby bok choy
Field to Fork salad with salmon
GF brownie sundae with vanilla ice cream, caramel, chocolate, almond praline, vanilla whipped cream, and cherry
The brownie sundae was so satisfying with the warm brownie and vanilla ice cream. I highly recommend eating at The Boathouse the next time you're in Kennebunkport!
Ogunquit:
Kennebunkport and Ogunquit are only a 20-minute drive from each other, and they're quite similar! Since they're so close, you might as well visit both. Ogunquit is also a very cute coastal town with great restaurants. Ogunquit literally means "Beautiful Place by The Sea" and that is certainly true! The beach is in the town which is definitely convenient but does seem to add more traffic. Ogunquit is busy! The one downside to Ogunquit is that parking is challenging. If you stay at a hotel/inn, then you should be able to park there and walk to everything. If you're not staying at a hotel, then you could do hourly parking or park in one of the lots and pay $20-$30 for the day.
We enjoyed our walk on Marginal Way which is a cliff walk with coastal views, benches and a lighthouse. Perkins Cove is another fun place to walk around with lots of eateries and shops.
We had a very delicious lunch at Brix + Brine. They have a dedicated GF fryer so all fried items are gluten-free including their fried chicken, fried haddock, and fries. Everything is gluten-free or can be made GF except for the pasta dish. You can request a GF bun for the sandwiches. Even their seafood chowder is gluten-free which is rare because most places add flour to thicken it up. And of course, I had to get the lobster roll! The Old Bay French fries were the best fries I had this trip. I love good seasoning 🙂 We enjoyed the:
Crab & avocado salad with Maine crab salad, grapefruit, avocado, Bibb, poppy seed dressing (request without croutons)
Seafood chowder with mussels, clams, lobster, shrimp, bacon, tarragon
Maine lobster roll: 5 oz Maine lobster, served creamy with tarragon aioli or poached in butter with fries + slaw (request GF bun)
Fried cauliflower
Maine crab melt with seasoned mayo & white cheddar (request GF bun)
Lunch in Wells:
Wells is another coastal town, and it sits in between Kennebunkport and Ogunquit. On one of our few rainy days in Maine, we had lunch at the café For The Love of Food and Drink. They serve breakfast until close with lots of salads and sandwiches too. Portion sizes are big here! Everything can be made gluten-free and vegetarian. They have a dedicated GF fryer so the fries are safe. They use dedicated gluten-free equipment, and they have GF bread too. We ordered the:
French toast (request GF bread)
Mixed berry crepes (request GF version)
Garden salad with grilled chicken
Steak tip sub with tenderloin tips pan-fried topped with melted cheddar cheese; can add mushrooms & onions (request GF bread)
Hiking at Acadia National Park:
Brendan and I love to hike so we made the most of our two days at Acadia National Park! Acadia is 47,000 acres, and it has 158 miles of hiking trails – the options are endless. There are easy and challenging trails so there's something for everyone. We arrived in the afternoon and hiked on Ocean Path which is one of the most popular hikes since it's scenic and one of the easier trails. It's a roadside trail so you get to walk along the coastline. It starts at Sand Beach and goes until Otter Cliff.
We planned on hiking the Precipice Trail next which is one of the most challenging hikes in Acadia. This trail ended up being closed the week we went so instead we hiked the Beehive Trail. Both of these trails are quite steep with iron rungs. The iron rungs may initially seem intimidating but it made hiking this steep trail much easier. We had incredible views of Sand Beach and the surrounding area. It was a rewarding accomplishment to reach the top! After getting to the top, we kept going straight and took The Bowl Trail down the mountain. I wouldn't want to go backwards down the iron rungs so I definitely recommend taking The Bowl down.
The next day, we ran alongside Ocean Path and went further into the park. After breakfast, we hiked the Jordan Pond Path. It's gorgeous there! It's a 3-mile loop around Jordan Pond. It's a similar level as Ocean Path but not as crowded which we preferred.
Hikes:
Ocean Path: easy
Beehive Trail followed by The Bowl Trail: challenging because steep and iron rungs
Jordan Pond Path: easy
Bar Harbor:
We absolutely loved Bar Harbor! It's next to Acadia so it'is further up in Maine but it's worth the drive! It's a larger town than Kennebunkport and Ogunquit which makes for LOTS of cute restaurants and shops. There are so many restaurants that it was hard to decide which one to go to!
Even though I already ate dinner after hiking, the restaurants looked so good that I wanted a second dinner 😉 I decided on the lobster melt at Side Street Cafe. It was 4 oz of lobster meat with grilled white bread and melted American cheese, plus fries. It hit the spot! They have an extensive gluten-free menu, and GF items are marked on the menu with a star. They offer gluten-free bread and pasta, and they have a dedicated GF fryer so the fried food is safe. I have to go back to try more of their food including the lobster mac & cheese 🙂
After checking out all the ice cream shops in Bar Harbor, we decided on CJ's Big Dipper! It had a fairly long line, and the Maine wild blueberry soft serve looked delicious 🙂 It lived up to the hype.
Lots of Lighthouses!
Maine has a lot of lighthouses! After exploring Bar Harbor, we stopped at The Rockland Breakwater Lighthouse to walk around. It's about halfway between Bar Harbor and Portland. The lighthouse is located at the end of a nearly mile-long breakwater. The breakwater is made of granite blocks, and it's a nice walk down to the lighthouse.
We also checked out the Portland Head Light in Cape Elizabeth. This is Maine's oldest lighthouse. It's located at Fort Williams Park which has 90 acres so it's a large space to picnic and walk around.
We also explored Old Port in Portland which is a quaint historic district with cobblestone streets and brick buildings. There are lots of restaurants, pubs, and bars. I love that all the towns and cities we stopped at in Maine are truly on the coast.
Freeport:
Freeport is above Portland, and it's best known for outlet stores and LL Bean's headquarters. It was nicer than I expected with fun local shops next to the larger outlet stores. We ate lunch at Lobster Cooker, and it's a popular place! They have a dedicated gluten-free fryer – they use a GF breading on all seafood and chicken so all fried items are GF except for the cheese curd. They don't have gluten-free bread so the lobster roll isn't a go but you can add lobster, crab, or fried fish to your salad. Lobster Cooker has lots of fried fish such as fried scallops, calamari, haddock, and shrimp. I don't even know the last time I had chicken tenders so I went for the chicken tenders with fries 🙂 We shared the:
Chicken tenders, lightly breaded & fried, with hand cut fries
Salad with lobster
Salad with crab
Maine Restaurants:
Here's a direct link to a list of the Maine restaurants I've been to and reviewed:
If you haven't explored Maine yet, I highly recommend making the trip! I went to sleepaway camp in Maine but I hadn't really explored the area until now. If you love cute towns, lobster, and the outdoors, then it's the place for you!
Keep reading about our next adventure in the Midwest here!