Pumpkin Pie
Cook time
1 hours 15 mins
Total time
1 hours 45 mins
Ingredients
FOR THE PIE CRUST:
1 ¼ cup GF all-purpose flour 
1 tbsp granulated sugar
½ tsp salt
6 tbsp cold butter, cut in small pieces
1 egg yolk
3-9 tbsp cold water 
1 tbsp apple cider vinegar
FOR THE FILLING:
1 can (15 oz) pumpkin 
1 can (12 oz) evaporated milk
½ cup granulated sugar
3 eggs

2.5 tsp pumpkin pie spice (or ground cinnamon)
½ tsp salt
FOR THE TOPPING:
whipped cream or vanilla ice cream 
pumpkin pie spice, to sprinkle
Preparation
In a large bowl, combine the flour, sugar, and salt. Add butter to bowl.
In a small bowl, combine 1 egg yolk, apple cider vinegar, and 3 tbsp of water with a fork. 
Add contents of small bowl to larger bowl, and combine well. Add additional water if necessary, one tbsp at a time. Dough should start to form. 
Flatten dough into a disk-like shape. Cover dough with plastic wrap, and set aside.
Preheat oven to 400 degrees.
In a large bowl, start to make the filling by combining the eggs, sugar, pumpkin, evaporated milk, pumpkin pie spice, and salt. 
Lay a 12x12 inch of parchment paper on counter. Sprinkle some GF flour on the parchment paper. Roll dough into an 11 inch circle. Place crust on pie dish. I put the pie dish upside down on top of the rolled out dough, and carefully flipped it over. Press the dough gently into the pie dish. Trim any overhanging dough. Put pie crust in freezer for 15 minutes. 
Bake pie crust for 15 minutes. While the crust is baking, pour pumpkin pie filling into a large saucepan, and cook over medium heat for about 5 minutes. Stir while cooking. This will help thicken it up a bit. 
Remove pie from oven, and pour filling into crust. 
Reduce oven temperature to 350 degrees. Bake for 50-60 minutes more or until knife inserted in center comes out clean. Cool for about 30 minutes. Refrigerate for about 4 hours or overnight, or until chilled. 
Serve with whipped cream or vanilla ice cream. Can also sprinkle pumpkin pie spice on the whipped topping.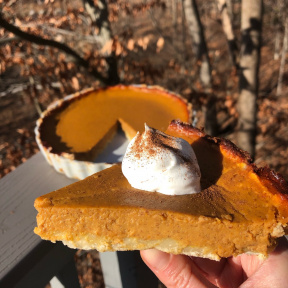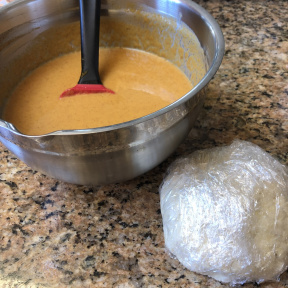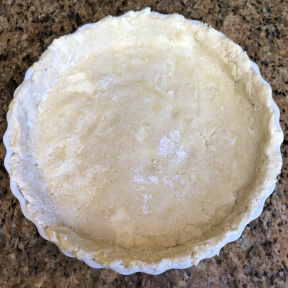 Occasion:
HalloweenThanksgiving