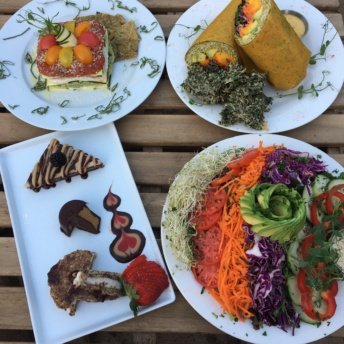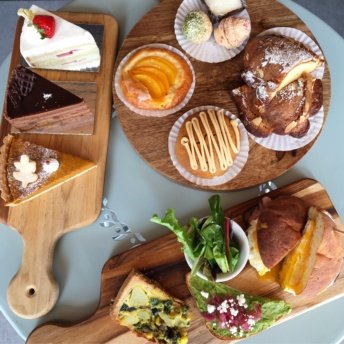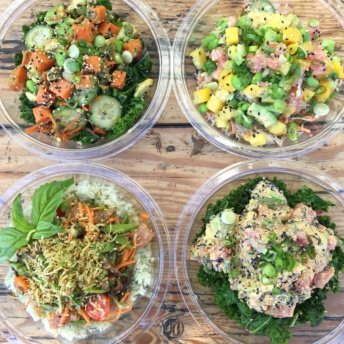 Whether you have a gluten sensitivity, allergy, or celiac disease, you have to be incredibly careful when dining out. Thankfully, there are some eateries that represent themselves as 100% gluten-free and thus should be safe for those with celiac disease. If you have celiac disease and only feel comfortable eating out at a 100% gluten-free restaurant, that's understandable and completely up to you. I share my gluten-free criteria when eating out and shopping here.
I personally review everything that's featured on glutenfreefollowme.com including all of the restaurants. Below is a list of alllll the 100% gluten-free eateries I've been to 🙂 There are 86 of them. California and New York have a ton, and there are also some in Arizona, Colorado, Connecticut, Florida, Georgia, Illinois, Massachusetts, Minnesota, New Hampshire, New Jersey, New Mexico, Oregon, Pennsylvania, Tennessee, Texas, Washington, Washington DC, Wyoming, Italy, and Mexico. How many have you been to?! And which ones am I missing?!
I've broken the eateries down by location. You can also customize your own restaurant searches across 1,500+ restaurants here. There you can filter by 100% gluten-free on the "Has To Be" filter to see all of the 100% gluten-free eateries. Please note that food offerings can change at any time so I urge you to ask the eatery before dining to make sure they are still 100% gluten-free. Enjoy! ​
100% Gluten-Free Eateries in New York:
Sit-Down Restaurants:
Risotteria Melotti (East Village) — Italian food
Senza Gluten (Greenwich Village) — Italian food
Cosme (Flatiron) — Mexican food
PopoJito (Scarsdale) — Mexican food
Grab & Go Eateries:
The Little Beet (Flatiron, Midtown West, Midtown East, FiDi, Upper East Side, Garden City, White Plains) — veggie oriented
Inday (Flatiron & Midtown East) — Indian food
Springbone Kitchen (Greenwich Village) — real food
Tap (Upper West Side) — Brazilian tapiocaria
Cheska's (NoHo) — pizza
Root 2 Rise (Pleasantville) — 100% vegan & dairy-free & refined sugar-free
Skinny Buddha (Mt. Kisco) — 100% vegan & dairy-free & organic
Magic Mix Juicery (FiDi) — organic restaurant; 100% dairy free
ROLLN (Flatiron) — sushi
Bakeries:
Posh Pop Bakeshop (Greenwich Village) — bakery
Senza Gluten Cafe & Bakery (Greenwich Village) — cafe & bakery
Erin McKenna's Bakery (Lower East Side) — bakery; 100% vegan & dairy free
By The Way Bakery (Upper West Side, Upper East Side, Westchester) — bakery; 100% dairy free
Sans Bakery (Long Island City) — bakery
NoGlu (Upper East Side) — bakery
Modern Bread and Bagel (Upper West Side) — bakery
100% Gluten-Free Eateries in California:
Sit-Down Restaurants:
Shojin (Culver City) — macrobiotic & vegan Japanese food
Grab & Go Eateries:
Beaming (Del Mar) — superfood cafe
JOi Cafe (Westlake Village) — plant-based
Vibe Organic Kitchen (Newport Beach) — 100% vegan, dairy free, soy free, & organic
Wild Living Foods (Downtown LA) — plant-based
Powerplant Superfood Café (Mid-City in LA) — superfood cafe
Peace Pies (San Diego) — 100% vegan, dairy free, & raw
Green Table (Santa Barbara) — organic restaurant
Sweetfin Poke (Santa Monica, Woodland Hills, Larchmont, Westwood, Beverly Grove, Downtown LA, Silverlake in LA; San Diego) — poke
Food Harmonics (Ojai) — organic cafe
M & Love Cafe (Manhattan Beach) — plant-based cafe
Lifehouse Tonics (West Hollywood in LA) — tonics & elixirs
Open Source Organics (West Hollywood in LA) — 100% vegan, dairy free, raw, & organic
Bakeries:
Lilac Patisserie (Santa Barbara) — bakery
Karma Baker (Westlake Village) — bakery; 100% vegan
Fatamorgana Gelato (Beverly Hills & Studio City in LA) — gelato
Twice Baked Baking Company (Long Beach) — bakery
Erin McKenna's Bakery (Larchmont & Santa Monica in LA) — bakery; 100% vegan & dairy free
Joy And Sweets (Culver City in LA) — bakery
Breadblok (Santa Monica in LA) — bakery
The Good Cookies (Torrance) — bakery
Kirari West Bakery (Redondo Beach) — bakery
Mariposa Baking (San Francisco & Oakland) — bakery
Fonuts (Beverly Grove in LA) — donuts
Rawberri (West Hollywood in LA) — ice cream & juice bar; 100% dairy free
Kippy's Ice Cream Shop (Venice in LA) — ice cream; 100% dairy free
Sensitive Sweets (Fountain Valley) — bakery; 100% vegan & nut free
100% Gluten-Free Eateries in Arizona:
Jewel's Bakery & Cafe (Phoenix) — bakery & cafe
100% Gluten-Free Eateries in Colorado:
Kim and Jake's Cakes (Boulder) — bakery
100% Gluten-Free Eateries in Connecticut:
By The Way Bakery (Greenwich) — bakery; 100% dairy free
The Little Beet (Westport) — veggie oriented
Catch a Healthy Habit Cafe (Fairfield) — 100% dairy free & plant-based
Still Delicious (Westbrook) — bakery
100% Gluten-Free Eateries in Florida:
Erin McKenna's Bakery (Orlando) — bakery; 100% vegan & dairy free
The Salted Fry (Mount Dora) — fries and sandwiches
Dora's Bakery and Bistro (Coral Gables) — bakery
PAC Pastries (Wilton Manor) — bakery; 100% vegan & dairy free
100% Gluten-Free Eateries in Georgia:
KarmaFarm (Atlanta) — 100% dairy-free
100% Gluten-Free Eateries in Illinois:
Wheat's End Cafe (Chicago) — cafe & bakery
Sweet Ali's Bakery (Hinsdale & Glenview) — bakery
100% Gluten-Free Eateries in Massachusetts:
Twist Bakery Cafe (Burlington & Millis) — bakery & cafe
Sweet Sense (Plymouth) — bakery
100% Gluten-Free Eateries in Minnesota
BRIM (Minneapolis) — cafe
100% Gluten-Free Eateries in New Hampshire:
Bite Me Kupcakez (Merrimack) — bakery; 100% nut-free
100% Gluten-Free Eateries in New Jersey:
OM Sweet Home (Hoboken) — bakery; 100% vegan & dairy free
Mo'pweeze Bakery (Denville) — bakery; 100% vegan & dairy free
100% Gluten-Free Eateries in New Mexico:
La Finca Bowls (Albuquerque) — fresh salads
100% Gluten-Free Eateries in Oregon:
Petunia's Pies & Pastries (Portland) — bakery; 100% vegan & dairy free
New Cascadia Traditional Bakery (Portland) — bakery
Ground Breaker Brewing (Portland) — brewery & gastropub
100% Gluten-Free Eateries in Pennsylvania:
100% Gluten-Free Eateries in Tennessee:
Vegan Vee (Nashville) — bakery; 100% vegan & dairy free
100% Gluten-Free Eateries in Texas:
Unrefined Bakery (Dallas, Frisco, Rockwall, Fort Worth) — bakery
Dream Bakery (Austin) — bakery; keto items too
100% Gluten-Free Eateries in Washington:
Frankie and Jo's (Seattle) — ice cream; 100% vegan & dairy free
100% Gluten-Free Eateries in Washington DC:
Rise Bakery (DC) — bakery
The Little Beet (DC) — veggie oriented
100% Gluten-Free Eateries in Wyoming:
Cultivate Cafe (Jackson) — cafe
100% Gluten-Free Eateries in Italy:
Fatamorgana Gelato (Rome) — gelato
Ristorante Quinoa (Florence) — Asian & Italian & Mediterranean food
100% Gluten-Free Eateries in Mexico:
La Otila (Mexico City) — bakery
Pan Gabriel (Mexico City) — bakery
Hungry Beast (Mexico City) — juice bar