Red Velvet Pancakes
Ingredients
FOR THE CREAM CHEESE GLAZE:
2 oz or 4 tbsp or ¼ cup GO VEGGIE vegan cream cheese
½ cup powdered sugar
½ tsp pure vanilla extract
½ tbsp dairy-free milk 
FOR THE RED VELVET PANCAKES:
1.5 cups GF all-purpose flour
2 tbsp granulated sugar
2 tsp baking powder
1 tbsp cocoa powder
1 tsp salt
2 eggs (Or for a vegan version, use egg replacer or flax egg which is 1 tbsp ground flaxseed + 3 tbsp warm water per egg so double this amount)
¼ cup dairy-free milk
1 cup buttermilk (Or for a vegan version of buttermilk, combine 1 cup of vegan milk + 1 tsp of apple cider vinegar or lemon juice. Let this sit for a few minutes before adding it in.)
1 tsp pure vanilla extract
1 tsp apple cider vinegar
2 tsp red food coloring
¼ cup dairy-free butter, melted
avocado oil spray
Preparation
In a small bowl, prepare the cream cheese glaze by combining the cream cheese, powdered sugar, and pure vanilla extract. Mix well. Add milk, and mix until smooth. 
In a large bowl, start to make the red velvet pancakes by combining the flour, granulated sugar, baking powder, cocoa powder, and salt. 
In another large bowl, combine the eggs, milk, buttermilk, pure vanilla extract, apple cider vinegar, and red food coloring. 
Add the dry ingredients to the wet ingredients, and stir until combined. 
Add in the melted butter, and stir well. Can add a splash of water to make batter a bit thinner, if needed. 
Spray avocado oil on pan/griddle and put on medium high heat. Pour spoonfuls of pancake batter onto pan. Flip each pancake when ready, and remove from pan when fully cooked.
Drizzle red velvet pancakes with cream cheese glaze.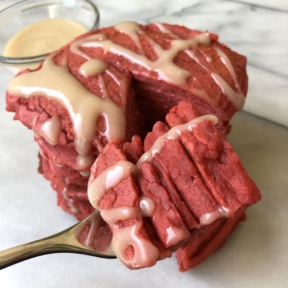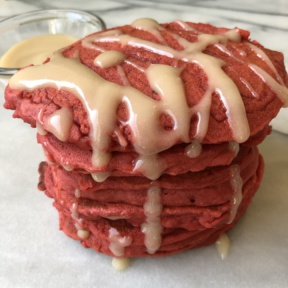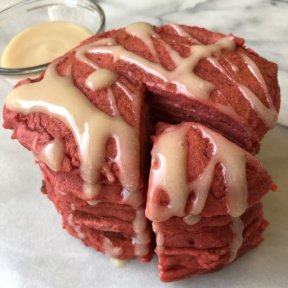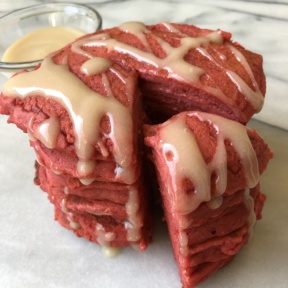 Occasion:
Valentine's Day