Paleo Cinnamon Plantain Cookies
Paleo
Ingredients
1 cup monkfruit sugar or coconut sugar
1 ½ cup paleo cassava flour
½ cup butter, softened
1 egg
1 tsp pure vanilla extract
1 tsp baking powder
¼ tsp salt
1 ½ tsp cinnamon
Artisan Tropic cinnamon plantain strips
a few drops of water if needed
Preparation
Preheat oven to 350 degrees.
In a bowl, mix together the sugar, flour, butter, egg, pure vanilla extract, baking powder, and salt.
Sprinkle cinnamon in the batter, and mix well.
Cut up the plantain strips and sprinkle into the batter.
Shape dough into small balls.
Can add in drops of water in small increments if needed to mix the dough better.
Set cookies 1 inch apart on cookie sheets.
Bake for 10-15 minutes.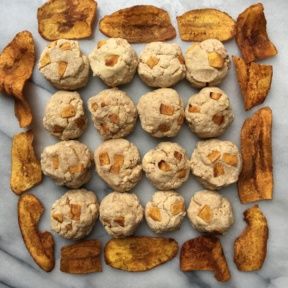 Dish Type:
Dessert, Cookies