Bacon Banana Buttermilk Oat Pancakes
Ingredients
¾ cup brown rice flour (superfine)
½ cup tapioca starch
1 ½ cups gluten free oats ground in food processor
1 tablespoon baking powder
1 teaspoon baking soda
1 teaspoon kosher salt
¼ cup light brown sugar
2 cups low fat buttermilk
4 large eggs
1 ½ cups ripe banana mashed
24 slices Jones Dairy Farm Dry Aged Bacon cooked & crumbled
fat reserved for cooking
maple syrup
Preparation
In large bowl, combine flour, oats, baking powder, baking soda, salt, brown sugar, buttermilk, eggs, and banana. Mix to combine.
Allow batter to rest at least 15 minutes.
Reserve about ⅓ of crumbled bacon for garnish and fold the rest into the batter.
Use reserved bacon fat to grease griddle.
Pour ¼ cup batter onto griddle preheated to medium-low heat.
Cook pancake until small bubbles begin to form, flip the cake and cook through until browned.
Serve with the reserved bacon and maple syrup.
Makes about 2 dozen 2-3 inch pancakes.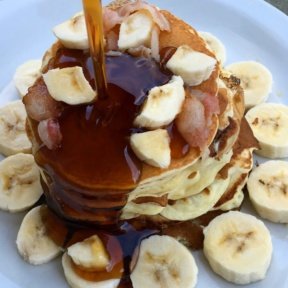 Dish Type:
Breakfast, Pancakes, Fruits