Chocolate Chip Cookies
Ingredients
2 ¼ cup GF all-purpose flour
1 cup butter, softened
¾ cup granulated sugar
¾ cup brown sugar
1 tsp baking soda
1 tsp salt
1 tsp pure vanilla extract
2 eggs
12 oz chocolate chips
Preparation
Preheat oven to 350 degrees.
Mix flour, baking soda, & salt in a small bowl.
Beat butter, granulated sugar, brown sugar, & vanilla extract in large bowl until creamy.
Add eggs, one at a time.
Gradually add flour mixture, and beat until well-blended.
Stir in chocolate chips.
Roll cookie dough into balls, and place on parchment-lined baking sheet.
Bake for about 10 minutes.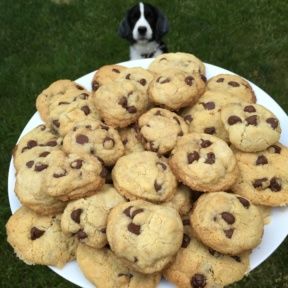 Dish Type:
Dessert, Cookies