Pumpkin Truffles
Vegan
Total time
2 hours 25 mins
Ingredients
2 oz cream cheese, softened
2 tbsp powdered sugar
½ cup pumpkin puree (canned pumpkin)
2 cups GF graham cracker crumbs
1.5 tsp pumpkin pie spice
2 cups white chocolate chips
2 tbsp coconut oil
Preparation
In a large bowl, combine the cream cheese and powdered sugar until creamy. I used a mixer. 
Add pumpkin puree & pumpkin pie spice. Combine well. 
Add graham cracker crumbs (except for a tbsp to set aside for later). Combine well. 
Cover bowl tightly with plastic wrap, and put in fridge for at least 1 hour. You can also do it overnight. 
Line a large cutting board with parchment paper. 
Remove the chilled bowl from the fridge, and roll it into balls. They should be about 1 inch in diameter. Makes about 14 truffles. Place balls on lined cutting board. Put in freezer for at least 30 minutes. 
When the balls are nearly done chilling, combine the white chocolate chips and coconut oil in a small bowl. Microwave for about 30 seconds, and stir. Repeat. Microwave for additional 15 second intervals as needed.
Dip balls in the melted white chocolate, and place back on lined cutting board. Immediately top each truffle with a sprinkle of the leftover graham cracker crumbs. Put the cutting board in fridge for at least 30 minutes, or until the chocolate has hardened.
Keep the pumpkin truffles in an airtight container in the fridge.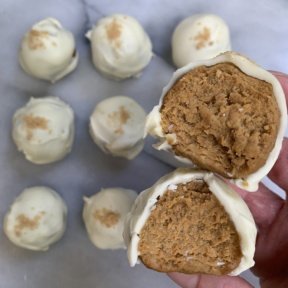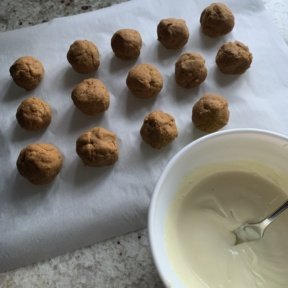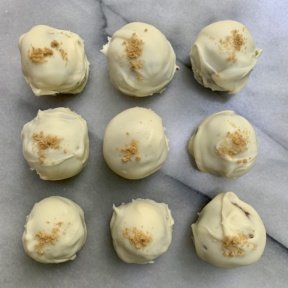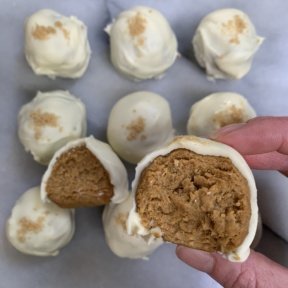 Occasion:
HalloweenThanksgiving