Chocolate Strawberry Brownie Bowls
Ingredients
FOR THE BROWNIE BOWLS:
½ cup butter, softened
1 cup granulated sugar
2 eggs
1 tsp pure vanilla extract
½ cup GF all-purpose flour
⅓ cup unsweetened cocoa powder
¼ tsp baking powder
¼ tsp salt
FOR THE CHOCOLATE DIPPED STRAWBERRIES:
12 whole strawberries
4 oz chocolate chips
1 tbsp coconut oil
Preparation
Preheat oven to 350 degrees. Line muffin tin with cupcake liners or grease it. Recipe makes 12 brownie bowls.
In a large bowl, combine the butter, sugar, eggs, and pure vanilla extract.
Add in the cocoa powder, flour, salt, and baking powder. Mix well. 
Pour batter evenly into muffin tin across 12 cupcake liners.
Bake for about 15 minutes. When a toothpick comes out clean from the center, they're done. Let the brownies cool for about 5 minutes and then use a wooden spoon or another item to carefully push down on the brownies ever so slightly, turning them into brownie bowls. Put back in oven for 1 more minute. 
While the brownies bake, make chocolate dipped strawberries. In a small microwave-safe bowl, combine the chocolate chips and coconut oil. Microwave for about 30 seconds, and stir. Repeat. Microwave for additional 15 second intervals as needed. Dip the strawberries in the chocolate dip. Place chocolate dipped strawberries on a parchment paper-lined cutting board. Place in fridge for at least 1 hour to let them harden. 
Remove brownie cups from muffin tin. Carefully remove brownie bowls from cupcake liners. Add a chocolate dipped strawberry to each brownie cup. 
Drizzle the remaining melted chocolate on the chocolate strawberry brownie bowls. You will likely need to microwave the bowl of melted chocolate for another 15-30 seconds so it's properly melted again.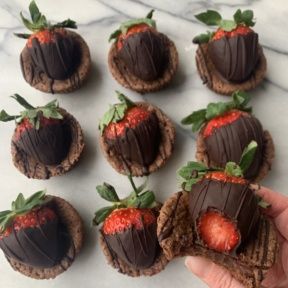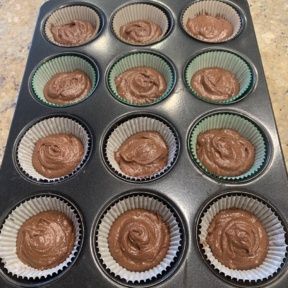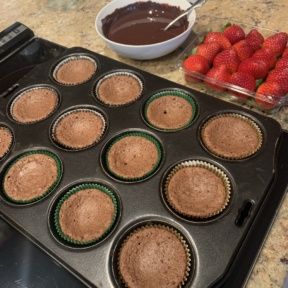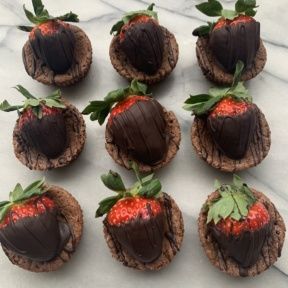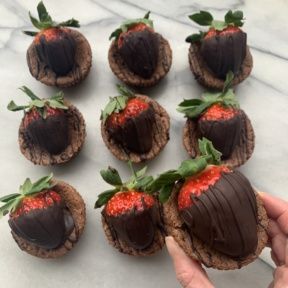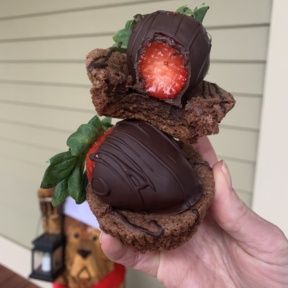 Occasion:
Valentine's Day