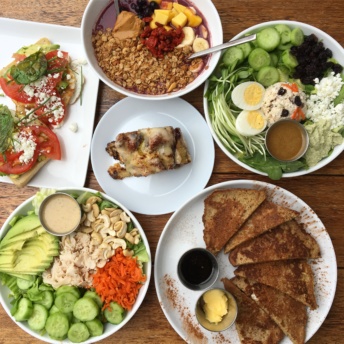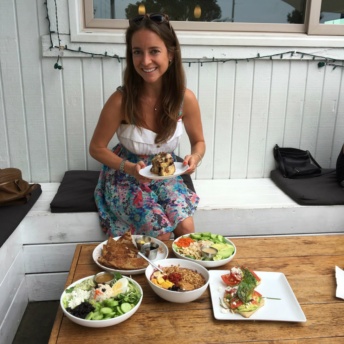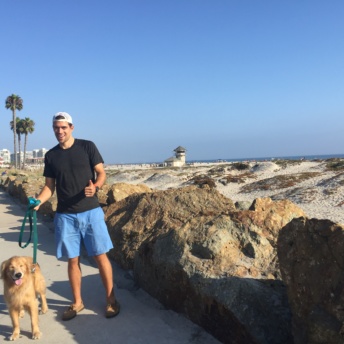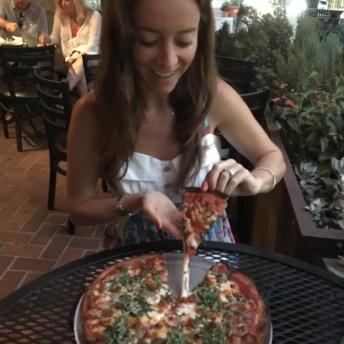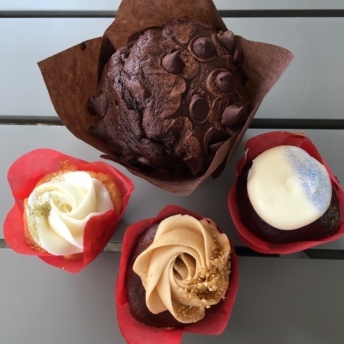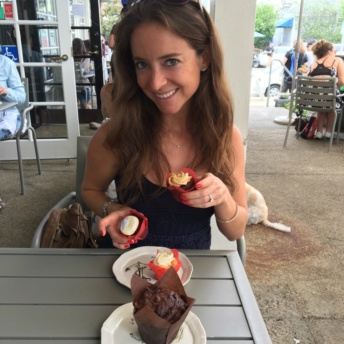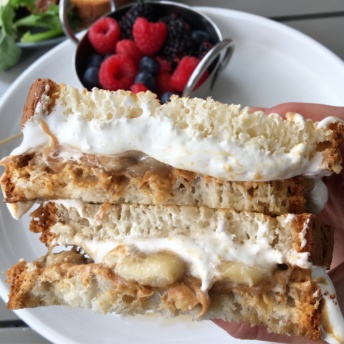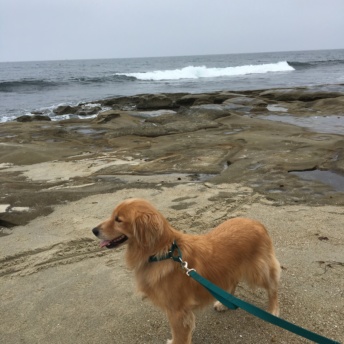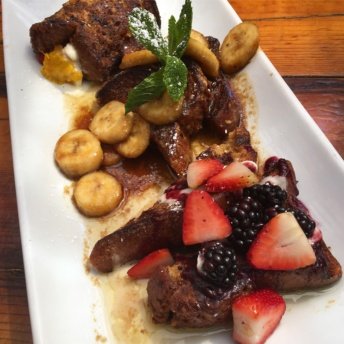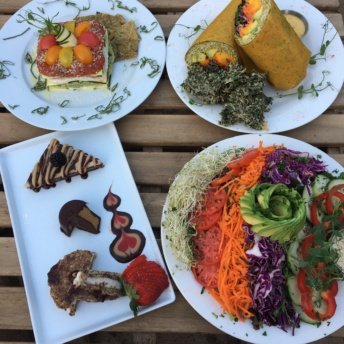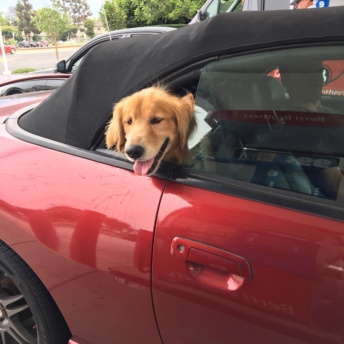 I love exploring new places and finding gluten-free friendly restaurants when I travel! Brendan and I went to San Diego for a weekend in April and have been wanting to go back since we had so much fun. San Diego is about 130 miles from Santa Monica and can take anywhere from two to five hours to drive there, depending on traffic. I've learned that there's always traffic in LA 😉
Researching Restaurants:
It was our one year wedding anniversary on August 20th, and we decided to each plan a long weekend getaway to celebrate. I planned our San Diego trip, and Brendan is organizing our trip to Dallas, Texas in a couple weeks. When I plan a trip, I research where to go and more importantly, where to eat! I look up gluten-free friendly eateries and map out places to see how close the eateries are to where we're staying and where we want to explore. It is easier to spend time planning it out beforehand so you don't have to worry about where to eat while you're on vacation. I make sure that I'm eating at a place I really want to try rather than just randomly choosing a place as we're walking around. This way, I know I will be able to eat delicious and safe gluten-free food.
When I was first told that I had to follow a gluten-free diet, I wanted a gluten-free guide to tell me where to eat and what to eat. There wasn't anything like that out there so that's why I created glutenfreefollowme.com! If you're traveling to one of the many cities/towns I've uncovered, you can easily customize a restaurant search here. I spend a lot of time researching the best eateries to eat at so you don't have 🙂
Here's a direct link to a list of the San Diego restaurants I've been to and reviewed:
Encinitas:
Our first stop was GOODONYA in Encinitas which is 100% organic and non-GMO. Everything is gluten-free except for the tortillas and some of the bread. There are so many options, and the menu is amazing. All of the baked goods are gluten-free, and I highly recommend the cinnamon bun! Get it heated up, and they will pour butter or ghee on it 😉 Whenever I see gluten-free French toast on a menu, I have to get it since it's rare to find. I'm definitely glad I did because it was delicious. We also got an acai bowl, avocado toast, and a couple of salads. Stop by GOODONYA if you're in the area or driving along the coast.
San Diego:
After lunch, we drove into San Diego and explored Downtown and Gaslamp Quarter. There are a bunch of restaurants and bars in the Gaslight Quarter, and it seems like a fun area to go out. We drove to Coronado which is a peninsula next to Downtown San Diego. The beach is beautiful, and it was fun to explore the town and homes there. We walked by the resort hotel, Hotel del Coronado, and it has the prettiest beach villas there. I'll gladly stay there next time 🙂
We ate dinner at Petrini's in Little Italy which is next to Downtown San Diego. They serve gluten-free pizza, pasta, and bread, so if you're in the mood for Italian food, it's the place to go! Brendan and I shared a big salad and cheesy garlic bread, and we each had our own pizza. I was quite full that day after two big meals!
Dog-Friendly:
We stayed in a dog-friendly hotel since we brought our new dog Odie with us. It was our first overnight trip with Odie, and he was a gem! He is super easy-going so I shouldn't be surprised, but you never know. Odie loves being in the car which makes driving with him easy.
I made sure that all of the restaurants I chose had outdoor seating. I love that most restaurants in California have outdoor seating. Several stores and restaurants had water bowls for the dogs, and you can even bring your dog to some of the outdoor bars. San Diego is a very dog-friendly city so we were in luck!
La Jolla:
On Sunday morning, we drove to La Jolla which is only a 20 minute drive from San Diego. I was in La Jolla about ten years ago, and it was prettier than I remembered. Back then, I definitely wasn't thinking I would be here ten years later with my husband and dog! We walked on the rocks at La Jolla Cove which Odie loved. Santa Monica can be pretty tourist-y by the beach so it was a nice change of pace to be at a beach town without so much commotion.
We ate at Sugar and Scribe, a popular bakery which specializes in breakfast and brunch. They offer a few gluten-free cupcakes until they run out, and they are delicious! Brendan and I shared mini cupcakes (red velvet, vanilla, and chocolate peanut butter flavors) and a large double chocolate chip muffin. Sugar & Scribe serves gluten-free bread, and most dishes can be done gluten-free except for the pancakes and French toast. I had the Cali eggs Benedict with avocado, and Brendan had the full Irish breakfast. We shared the fluffernutter with peanut butter, marshmallow fluff, rum flambe bananas, and honey – gooey and good!
April Visit:
Brendan had a rowing race in April in San Diego so I went with him for the weekend. I ate at Fig Tree Cafe which has three locations in SD – Liberty Station, Hillcrest, and Pacific Beach. You need to get the French toast sampler! If you're gluten-free like me, then request their gluten-free cinnamon raisin bread, and you can choose between the following:
Brioche french toast
Cinnamon & brown sugar sauteed apples french toast
Strawberries & cream french toast
Bananas foster french toast
Berry sweet french toast
Valentine french toast
Stuffed french toast w/ mascarpone cheese & mangos & strawberries
Fig jam & ricotta cheese stuffed french toast
As you can see, you can't go wrong with any of those options! I got a salad and omelette to balance out this sweet dish.
I also went to Peace Pies in Ocean Beach which is 100% gluten-free, vegan, raw, and organic aka a dream come true! You can't go wrong with any of the desserts – I got a sampler plate because I couldn't decide. I had the rainbow garden salad with the prettiest avocado rose. The loving lasagna is delicious and comes with zucchini noodles, hemp seed pesto, cashew ricotta, marinated veggies, marinara, and cashew cheez. My favorite entree is the magical mango curry wrap with avocado, mango, & mixed veggies wrapped in a coconut tortilla with coconut curry sauce.
I'm definitely impressed with San Diego, and I know that we will be back soon! Still so much to explore and eat 🙂