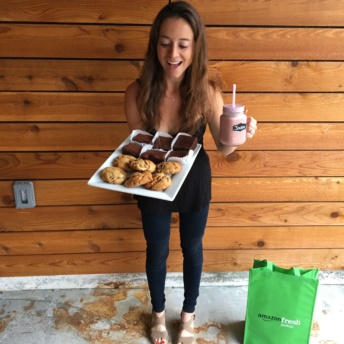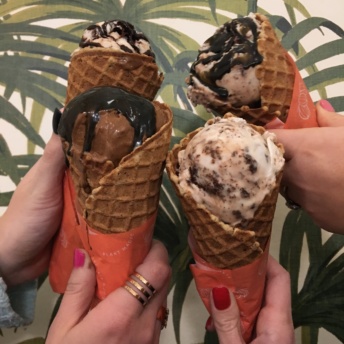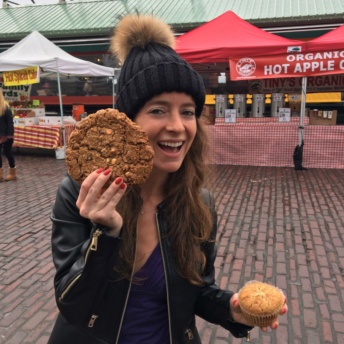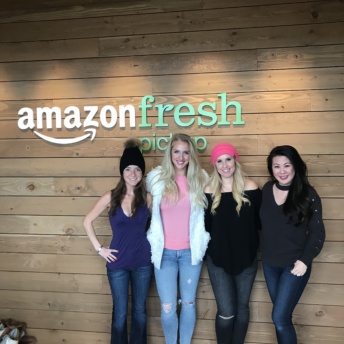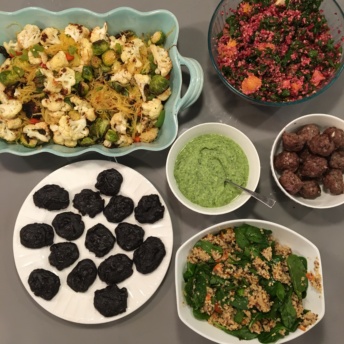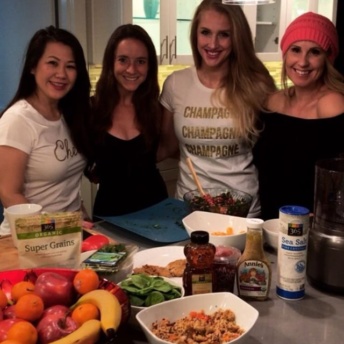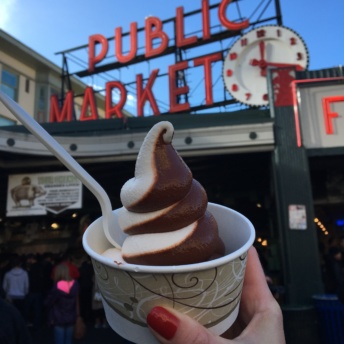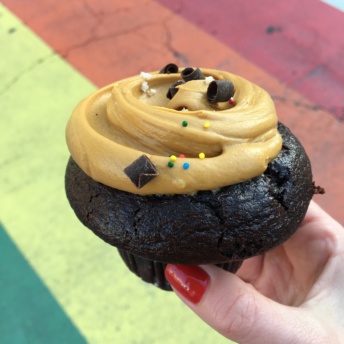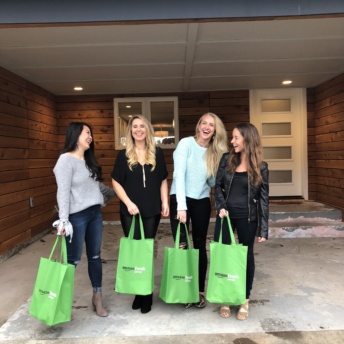 I had the best weekend in Seattle! AmazonFresh sponsored a few of us to enjoy Seattle with them, and I'm grateful that they did. I've been meaning to go to Seattle for awhile now. It lived up to the hype! It only drizzled a couple times. And I was in heaven with all the gluten-free food options 🙂
#girlbosses:
I spent the weekend with three other influencers & #girlbosses -Portia of Obsessed by Portia, Jessica of Happily Hughes, and Tiffany of I Am Style-ish. The four of us clicked instantly! Portia and Tiffany are both from Seattle, and Jessica is from Atlanta. We stayed at a beautiful Airbnb in Queen Anne.
Our Home:
The house was outfitted with some of our favorite foods from AmazonFresh, and I felt right at home. I'm very impressed with AmazonFresh! I'm all about companies that make it easy to follow your gluten-free diet or any other dietary restrictions you may have. As an AmazonFresh member, you can order a wide range of groceries delivered straight to your doorstep. This includes fresh fruits, vegetables, meat, seafood, baked goods, dairy, frozen foods, pet supplies, baby items, beauty products, meal kits, and more. We ordered from AmazonFresh multiple times throughout the weekend – it was easy and convenient!
Day 1 – Lunch:
The girls and I went to lunch at Bounty Kitchen in Queen Anne and enjoyed big salads. I enjoyed the 'on the wagon' detox salad w/ red leaf lettuce, kale, radicchio, almonds, dried cherries and blueberries, beets, hemp seeds, cucumber, chervil, basil, parsley, and maple cayenne lemon vinaigrette. I also had to a get a stack of GF griddle cakes with apple compote and apple butter. My kind of combo!
Then for dessert, we had peanut butter s'mores cookies and fudge brownies from The Cookie Counter. I couldn't get over how soft and good these cookies were! One of the best cookies I've ever had, and after the fact I found out that they're vegan too. Definitely impressed! I was eating them all weekend.
Day 1 – Dinner:
For dinner, we ate at Plum Bistro in Capitol Hill, which is a 100% vegan restaurant. Seattle certainly knows how to make vegan food. Everything we ordered was amazing! We ate:
Charred Broccolini w/ Sweet Red Peppers, Garlic, Sea Salt, Black Pepper, Lemon
Avocado Grapefruit & Edamame Salad w/ Baby Kale, Celery, Blood Orange, Citrus Vinaigrette
Veggie Monster Pizza w/ Marinara, Pesto, Sweet Peppers, Onions, Mushrooms, Broccoli, Vegan Cheese, Fresh Basil, Parsley, Ribboned Kale (request GF pizza)
Spicy Cajun Mac 'N' Yease (request GF version)
Then we walked to Frankie and Jo's for dessert. It's a gluten-free plant-based ice cream shop! They even have gluten-free ice cream cones. Their maple-vanilla waffle cone batter is homemade using pure maple syrup, oat flour, and a hint of brown sugar. I was in awe. I ended up getting their chocolate mint brownie ice cream, and it was so good!
Morning Runs:
One of my favorite ways to explore a new place is to run through it. On Saturday morning, I ran along Waterfront Park which is a public park with a boardwalk. I also ran by the Seattle Great Wheel – it's a giant Ferris Wheel. On Sunday morning, I took a slightly different route and ran through Olympic Sculpture Park. This park features several sculptures spread across nine acres. Both runs really gave me a feel for Seattle, and I loved it!
Day 2 – Pike Place Market:
If you're in Seattle, you have to go to Pike Place Market! It's one of the oldest farmers' markets in the US. Pike Place Market has several food and craft stalls. At Pike Place Fish Market, we watched employees throw fish to each other! I've seen this in movies before so it was cool to see in person.
When I heard how many gluten-free baked goods Cinnamon Works offers, I knew I had to go! They mix, bake, and store all gluten-free items separately. Even though I was there at 11am, they had already ran out of their famous gluten-free cinnamon rolls. I will have to go back for their cinnamon roll another time. Instead I got their cinna-swirl muffin and monster cookie. The cookie was the size of my head! Their glutenous cookies are even bigger – they're half a pound.
Day 2 – Lunch:
We ate lunch at The London Plane, a cafe in Pioneer Square. They didn't have too many gluten-free options since most of their menu revolves around their thick homemade bread. But my cauliflower dish was satisfying and had lots of flavor. It was just what I needed after my pre-lunch dessert 😉
AmazonFresh Pickup Tour:
We received a couple AmazonFresh deliveries at our house so far, and now it was time to tour the AmazonFresh Pickup SODO location. I assumed that behind the scenes, it would look like a typical supermarket. However, it was much more advanced. AmazonFresh relies on a scanning system. The scanner tells the employees which items it should include in each order and each item's precise location. Rather than having a dairy aisle, produce aisle, snack aisle etc, all of the food is strategically mixed together so employees can pick up the desired items as efficiently as possible.
We each got to use the scanner to pick up our AmazonFresh order which was pretty fun. If you're an AmazonFresh member, you can place your order and expect it to be ready for you in as little as 15 minutes. You can even wait in your car in their Pickup parking lot, and an employee will retrieve your order for you. Talk about convenience! It's perfect for when you're heading home after work, when you have kids in the car with you and don't want to bring them shopping, and really anytime. We can all spend less time food shopping and more time doing what we want (or need) to do!
Day 2 – Dinner:
All four of us cooked dinner using food from our AmazonFresh Pickup order. This is what we made:
Avocado chocolate cookies – made by me
Cranberry orange quinoa salad – made by Portia
Salmon quinoa bowls – made by Tiffany
Greek meatballs with avocado tzatziki – made by Jessica
The food was delicious, and the company was even better! I love cooking for people that don't typically eat gluten-free and surprising them with how good gluten-free food can be. Both of the dishes I made were also paleo. Spaghetti squash, cauliflower, and Brussels sprouts are three of my favorite vegetables, and I make this dish all the time. My avocado chocolate cookies take only six ingredients, and they're so pure! We demolished the whole batch that night.
The four of us talked for hours, staying up past 1am. I love finding people that you immediately connect with. The girls and I want to do another trip together soon! We're thinking Atlanta or LA 🙂
Day 3 – Lunch:
Our last group meal was at Miller's Guild at Hotel Max in Denny Triangle. We each had some sort of egg dish for lunch. I had the grilled chicken Cobb salad with blue cheese, fresh vegetables, roasted apples, and eggs. The girls drove back to the house, and I went on my own to explore Seattle until my flight.
Dessert Tour:
I always do some restaurant research before going to a new place. I like to be prepared and know that I will be able to have delicious and safe gluten-free options. And it just so happened that a lot of the places I jotted down as solid eateries were dessert places! Leave it to me to make my own dessert tour 🙂
Cookies and Muffins:
My first stop was Three Girls Bakery in Pike Place Market. You can get gluten-free sandwiches if you request gluten-free bread. Since I just had lunch, I opted for a chocolate almond macaroon.
Next, I went to Macrina Bakery which is a few blocks away from the market. They always have a couple gluten-free baked goods available. I chose the fresh fruit muffin which was a muffin filled with seasonal fruit and topped with cinnamon sugar. They also offered a GF biscuit and orange currant scone.
As I was going to the first two bakeries and posting about them on my Instagram Stories, one of my friends told me I had to go Le Panier. So I went back to Pike Place Market to check it out. This bakery does have a lot of glutenous breads and desserts. However, their macarons and meringues are gluten-free so I went for the hazelnut macaron. You can never go wrong with anything hazelnut-flavored!
Ice Cream and Cupcakes:
And then I spotted frozen yogurt in the market… If you know me, then you know that I can never turn fro-yo down! I had the chocolate vanilla frozen yogurt swirl from Shy Giant Frozen Desserts – they certainly made a perfect swirl.
I still had time before heading to the airport so I continued to walk around the city. Exploring new places is fun for me. As I walking down Pike Street, I spotted a gluten-free sign in the window of a bakery. I had to go inside! The bakery was called Cupcake Royale, and they had a few gluten-free cupcake options. I decided on the salted caramel cupcake with chocolate cake, caramel buttercream, and chocolate curls. It was delicious! After googling them later, I learned that they were on Cupcake Wars, and they were voted Seattle's best cupcake. I'm glad I made it in!
Seattle Restaurants:
Here's a direct link to a list of the Seattle restaurants I've been to and reviewed:
Seattle in the Summer?!:
I loved Seattle so much that I'm already planning my next trip back! Maybe this summer?! See ya soon, Seattle!
This is an AmazonFresh sponsored post. All opinions are my own.