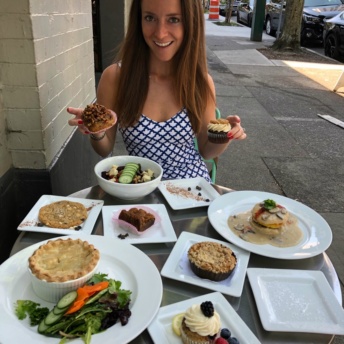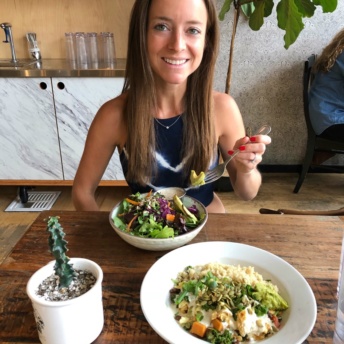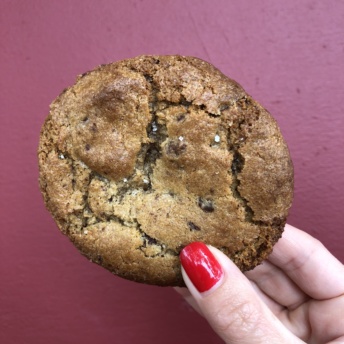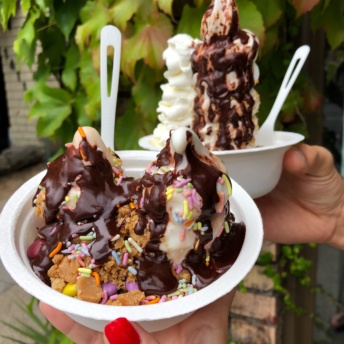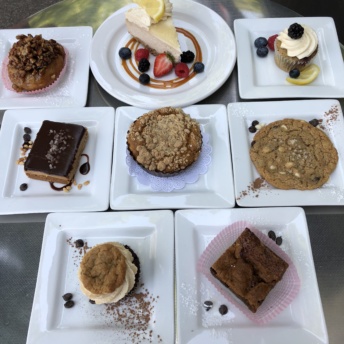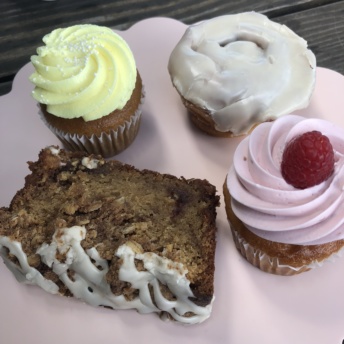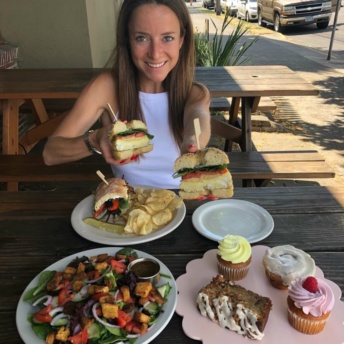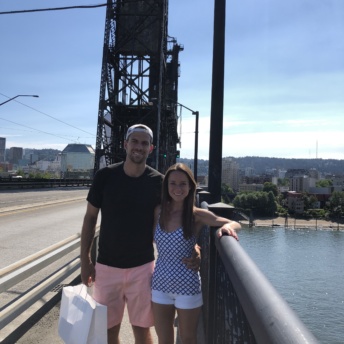 I've been wanting to visit Portland ever since I moved to LA! It definitely lived up to the hype. Such an amazing food scene and so many great gluten-free options! I love how it's a smaller city with a chill vibe. I planned this trip as a birthday gift to Brendan. He had just gotten back from his ten day rowing trip to China so it was perfect timing for us to enjoy Portland together 🙂
Day 1: Lunch in Southeast Portland:
I ran along the waterfront all three mornings which is always one of my favorite ways to explore a new place. I also love walking around to get to know a city/town. Brendan and I ended up walking about 8 miles each day, just getting to and from restaurants.
Our first stop was Harlow which has a 100% gluten-free kitchen, and then a few beers on tap aren't gluten free. It had a decent line but it was worth waiting since the food was fresh and delicious. They serve a variety of vegetarian options with bowls, scrambles, soups, and baked goods. We got the:
Outlaw scramble with choice of farm fresh eggs or smokey tempeh or seasoned jackfruit scrambled with chipotle black bean chili, dark greens, spinach, guacamole, pepitas, scallions, cilantro & jalapeño cashew chz, served with quinoa
Urban bowl with mixed greens, steamed greens, olive oil, kimchi, sea vegetables, avocado, carrots, scallions, sunflower seeds & za'atar with your choice of sauce
Day 1: Dessert in Southeast Portland:
Next, we stopped by Ground Breaker Brewing which is a 100% gluten-free brewery and gastropub! They serve comfort food such as fried chicken, salads, sandwiches, mac & cheese, pizza, and dessert. Their beer is delicious, and I loved their chocolate chip cookie – get it warmed up!
I was pumped for Eb & Bean which makes local, organic frozen yogurt! All of their frozen yogurt flavors and sauces are gluten-free, and the toppings are labeled to indicate if they are gluten and/or vegan. Gluten-free sugar cones are available upon request, but I recommend getting a cup so you can add allll the toppings you want! You guys know that I love froyo, and this place was definitely amazing! I got the:
salty butter caramel frozen yogurt
hazelnut praline frozen yogurt (non-dairy made with almond milk)
GF vegan cookie dough
almond toffee crumbles
candy coated milk chocolates
dye-free carnival sprinkles
hot fudge
Day 1: Dinner in Southwest Portland:
We saw Pastini across the street and decided to have a light dinner there since I knew they had some good gluten-free options. They have a solid happy hour menu where a bunch of items are $4 to $6 if you get a drink. I got the gluten-free Caesar salad (request without croutons). They also offer gluten-free spaghetti and ziti pasta. If I wasn't already full, I definitely would have gotten the gluten-free tiramisu too 🙂
Day 2: Bakery in Downtown Portland:
I'm so impressed with Petunia's Pies & Pastries which is a 100% gluten-free and vegan bakery in Downtown Portland! They have a never-ending menu, and everything was incredible! I could go back dozens of times and still get something different each time, which I love. It's hard enough to just do gluten-free or just do vegan, but Petunia's knocks it out of the park with gluten-free vegan options, without sacrificing flavor. Petunia's has dozens of pastries, pies, cakes, babycakes (aka cupcakes), bars, cookies, cheesecakes, and homemade ice cream, in addition to savory breakfast and lunch items.
My three favorite baked goods were:
pecan sticky bun
cookie monster babycake: chocolate cake with salted double chocolate chunk cookie dough, cookie dough buttercream, & a cookie on top
salted caramel cookie bar: like chocolate chip cookie dough in bar form, with a hint of banana, caramel & sea salt
I also loved the:
cinnamon swirl coffee cake
lemon blackberry poppyseed babycake
salted double chocolate chunk cookie
lemon cheesecake: graham cracker crust & lemon cheesecake topped with lemon curd
Buster bar: peanut butter cookie crust, peanut buttercream filling, chocolate ganache, sea salt
We enjoyed a few items from the breakfast and lunch menu as well:
roasted beet salad with mixed greens, roasted beets & carrots, cucumber, cashew cheese, citrus vinaigrette
chunky vegetable pot pie: lentil, yam, carrot, celery, green bean, peas, mushroom & flaky piecrust, served with green salad
breakfast sandwich: fresh baked biscuit with housemade veggie sausage patty, tofu egg, & cheddar
Day 2: Mexican Food in Downtown Portland:
Brendan loves Mexican food so I was happy to see that Portland has a Mexican restaurant with a gluten-free kitchen! Verde Cocina has four locations in the area, and they even indicate the paleo and vegan options on the menu. Their kitchen does not use any gluten ingredients, but there are a few beers on tap that aren't gluten free. They offer gluten-free beer so we got an IPA from Ground Breaker Brewing.
We ordered the:
guacamole with fresh, chunky avocado, salsa, corn tortillas, & tortilla chips
market salad with mixed greens, jicama, seasonal fruit, roasted beets, & toasted pepitas in a tangy fruit vinaigrette
chilaquiles with two eggs scrambled with pieces of corn tortillas, fresh grilled veggies, white-garbanzo bean medley, ranchero salsa, & queso fresco
paleo bowl with grilled veggies, chimi-verde salsa, & chicken
cheesecake
Day 3: Bakery in Southeast Portland:
You guys know that I love finding 100% gluten-free bakeries! I've heard amazing things about New Cascadia Traditional Bakery which is a 100% gluten-free bakery in Southeast Portland! If you're looking for delicious gluten-free bread, then this is the place to go! They make over a dozen types of breads, bagels, and rolls which is quite impressive. They also offer a breakfast and lunch menu, and a bunch of baked goods. We enjoyed the following:
bagel sandwich with everything bagel, aioli, egg patty, organic greens, tomato, cheese
roasted veggie sandwich with roasted seasonal veggies, greens, Portland Creamery chevre and house made sunflower seed pesto on rustic baguette
green salad with organic spring mix, tomatoes, cucumbers, red onion, house made croutons, creamy balsamic vinaigrette
cinnamon roll
coffee cake loaf
vegan triple lemon cupcake (seasonal)
vanilla bean cupcake with raspberry buttercream (seasonal)
I loved it all especially the cinnamon roll, coffee cake loaf, and bagel sandwich! It was the perfect meal to cap off our Portland trip.
Portland Restaurants:
Here's a direct link to a list of the Portland restaurants I've been to and reviewed:
I had so much fun in Portland! I definitely want to come back to explore more eateries and hike around Oregon. Where should I go next?!