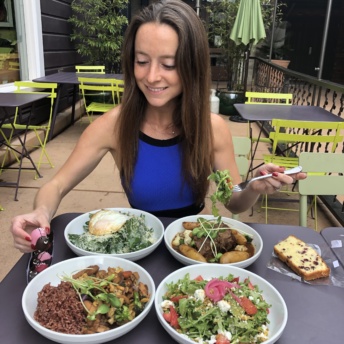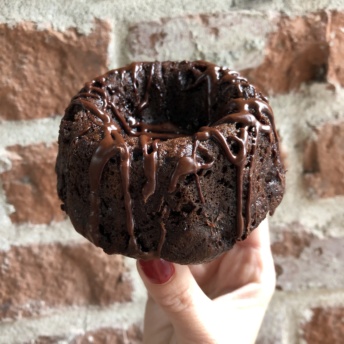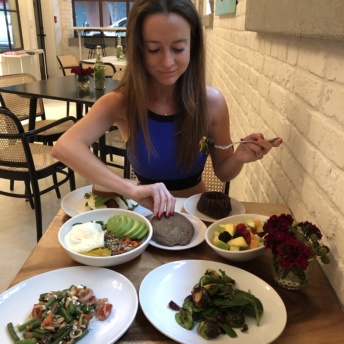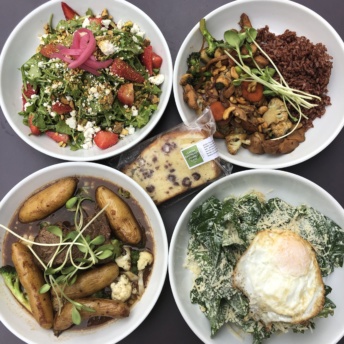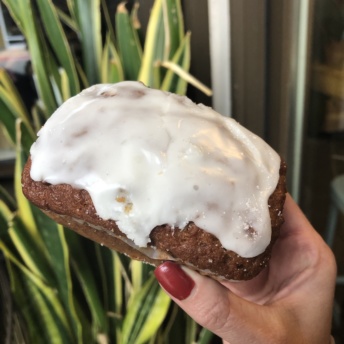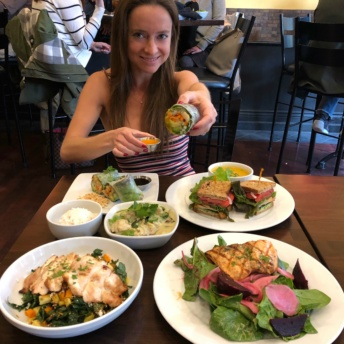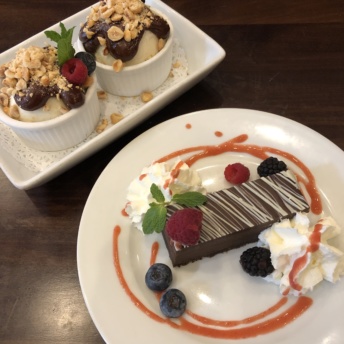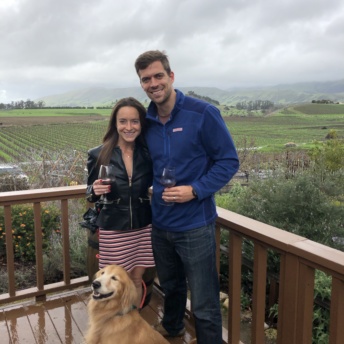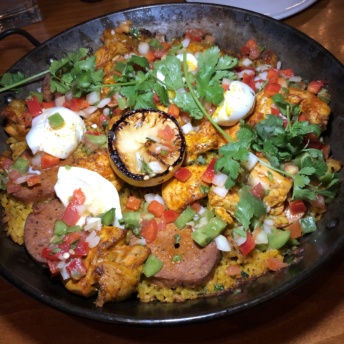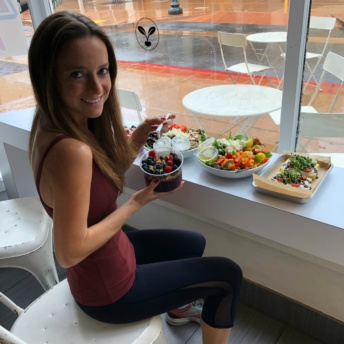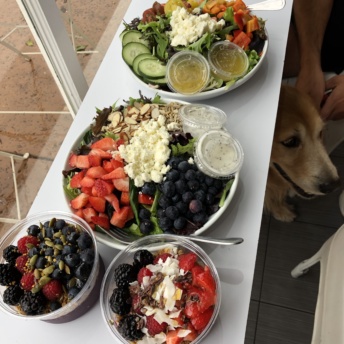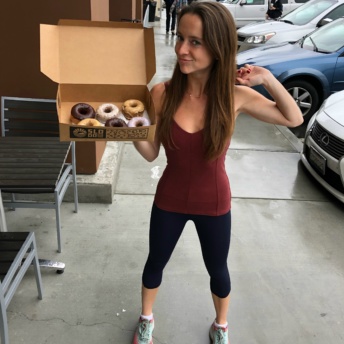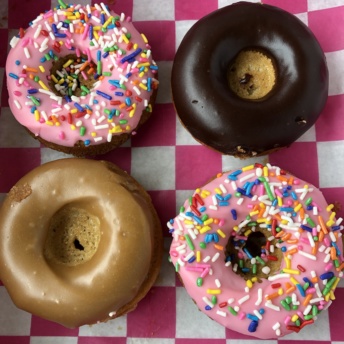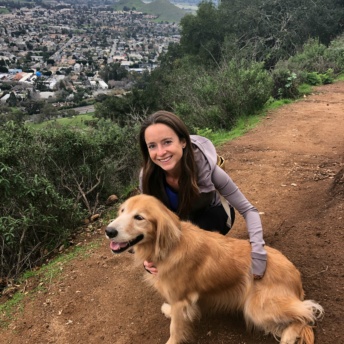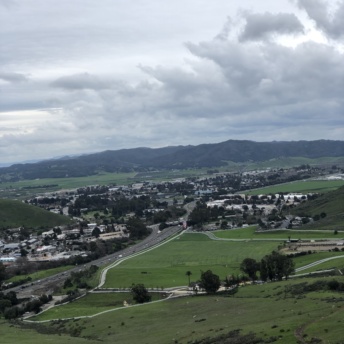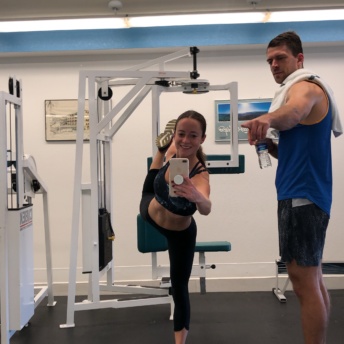 We had such a fun long weekend getaway in San Luis Obispo! It's a relaxed town, focused on the outdoors and arts. There's an abundance of towns in California to check out, and I'm so glad we finally got to explore San Luis Obispo! SLO is halfway between Los Angeles and San Francisco – it was a three-hour drive for us from LA. It did rain this weekend which isn't typical for SLO but we still had so much fun exploring and eating the town! We stayed at The Sands which is a pet-friendly hotel so we were able to bring our golden retriever Odie with us. We love bringing him on our trips, and he loves coming with us 🙂
Breakfast at Nourish:
Our first stop in SLO was Nourish, a healthy eatery featuring fresh and local food for breakfast and lunch. The menu indicates which options are gluten-free. Gluten-free bread is available upon request – just don't get it toasted because no dedicated GF toaster. If you just get one item, you need to get the chocolate bundt cake with chocolate coconut oil glaze! It was moist, fudgy, and such a good treat after a late breakfast! We shared the following:
Egg sandwich with local farm eggs, house cured bacon, heirloom tomato, goat cheese, spicy greens (request GF bread)
Fresh fruit salad
Seasonal composed salads & veggies such as Brussels sprouts and green beans
Nourish bowl with red lentils, spinach, yams, chutney, quinoa (request GF version)
GF chocolate bundt cake with chocolate coconut oil glaze
GF chocolate chip cookie
Lunch at Mint + Craft:
We explored Downtown SLO, checking out the cute shops and made our way to Mint & Craft! They celebrate all things handcrafted here with over 300 artisanal products and have an amazing breakfast, lunch, and dinner menu. Mint + Craft's menu indicates which options are gluten-free, can be made gluten-free, vegan, and dairy-free. Gluten-free bread is available upon request – but again, don't get it toasted because no dedicated GF toaster. We shared a few salads and bowls – my favorite was the strawberry & arugula salad. They have a few packaged gluten-free baked goods such as lemon raspberry pound cake and chocolate chip cookies as well. We enjoyed the following for lunch:
Strawberry + Arugula Salad with baby arugula, goats milk feta, pistachios, pickled red onion, strawberry-yogurt dressing
Spinach Caesar Salad with Bloomsdale spinach, lemon-garlic-anchovy dressing, parmesan, fried egg (request w/o bread crumbs)
Cashew Chicken Bowl with lemongrass chicken, cashews, market vegetables, tamarind sauce, red rice
Beef Short Ribs with confit pee wee potatoes, market vegetables, cabernet jus
GF lemon raspberry pound cake
GF chocolate chip cookies
Assorted chocolates
Dessert at Scout Coffee:
Scout Coffee makes craft roasted coffee and delicious gluten-free pastries such as:
GF carrot apple loaf
GF sea salt brownie
We were impressed with both desserts! If I had to choose just one, I would have to say the carrot apple loaf but you can't go wrong with either of them.
Hiking:
After lots of food, we were ready to hike! We hiked Cerro San Luis Lemon Grove Loop which is walkable from Downtown SLO. There is a large white "M" on the east face of Cerro San Luis that you can see from town! Students from Mission Central Catholic High School apparently placed this "M" on this mountain in 1966. It was cool to be able to hike all the way up to the M – it seemed far away but didn't take that long.
If it wasn't raining on the day we left, we would have also hiked Johnson Ranch. It's right off of Highway 101 between San Luis Obispo and Pismo Beach so it's on the way home. There are many other trails in SLO as well – we will have to come back!
Dinner at Flour House:
I heard that the gluten-free pizza at Flour House is delicious but I didn't end up having any since I was concerned about the cross contamination. Their GF pizza dough is cooked in same oven as gluten pizza, and the restaurant couldn't put the GF pizza on a tray so I didn't feel comfortable eating it. Flour House does have some gluten-free options such as salads, cheese board, and at least one fish or meat entree. We had the following:
Pere e noci salad with chopped romaine, crispy speck, pear, walnuts, gorgonzola dressing
Spinaci e fragole with spinach, strawberries, almonds, balsamic honey dressing
Formaggi: chef's selection of assorted cheeses (request w/o bread)
Tagliata di manzo: sliced beef fillet encrusted with thyme & sea salt, arugula, grape tomatoes, parmigiano reggiano, balsamic reduction
Lunch at Novo:
We had a delicious lunch at Novo Restaurant & Lounge which serves global cuisine in a beautiful atmosphere. You can choose to sit at their creekside patio, intimate bar & lounge, or downstairs cellar. Gluten-free and vegan options are indicated on menu, and they have gluten-free bread available upon request. I highly recommend starting with the avocado-shrimp spring rolls, and you need to get the flourless chocolate torte for dessert! I want to go back here for Sunday brunch because I heard that their gluten-free French toast is a must. We enjoyed:
Fresh avocado-shrimp spring rolls with rice noodles, julienned vegetables, cilantro, roasted peanuts (request GF version)
Kale salad with Tuscan kale, quinoa, diced shallots & sweet potatoes, feta, dukkah harissa vinaigrette
Grilled salmon salad with Bloomsdale spinach, roasted beets, pickled vegetables, fresh dill, mustard vinaigrette
Tandoori chicken wrap with marinated chicken thigh, lettuce, vine-ripened tomatoes, red onion, cucumber, fresh mint, cilantro, mayo (request GF bread)
Thai green chicken curry with coconut milk curry, market greens, serrano chiles (request GF version)
Flourless chocolate torte with strawberry coulis, fresh whipped cream, freeze dried raspberries
Novo sundae with vanilla bean and Brazilian coffee ice cream, chocolate ganache, toasted hazelnuts
Wine Tasting:
We spent Saturday afternoon wine tasting at two vineyards in SLO! It was a gorgeous drive to the vineyards, and they're fairly close to town.
First, we went to Wolff Vineyards which has 125 acres overlooking Edna Valley. Wolff Vineyard is family owned and operated, and this vineyard is stunning! I couldn't get over the view with all the greenery – it's truly a panoramic view. As we wine tasted, Odie had so much fun greeting all the guests and making friends 🙂 Dogs are welcome in the tasting room.
Next, we went down the road to Baileyana, Tangent & True Myth which is also a family wine company. Their tasting room is at the historic Independence Schoolhouse built in 1909. Dogs are not allowed inside the tasting room, but you can grab a table and chairs on the porch like we did. Or if it isn't raining, there is plenty of outdoor seating and a lawn area for blankets or your own chairs. They have two Bocce ball courts too.
I didn't realize how reasonably priced it is to go wine tasting. It's $12 per person for five tastings at Wolff Vineyard which is refundable with purchase of one bottle of wine. It's $15 for six tastings at Baileyana, Tangent & True Myth which is waived with a $50 wine purchase. They have more deals if you join their wine club too. Cheers!
Dinner at Luna Red:
We ate dinner at Luna Red which has a globally-inspired menu with a variety of tapas, tacos, paella, and more! Almost everything is gluten-free or can be made gluten-free, and their menu indicates which items are gluten-free, vegan, and dairy-free. We shared a bunch of dishes and loved them all. The paella was amazing, and I loved the crema catalan for dessert. We had the following:
Bacon wrapped dates with chorizo & can add manchego or blue cheese (request that this dish is baked since it can be fried at times too)
Birria braised beef taco with roasted red pepper, onion, cilantro
Al pastor taco
Vegetable taco with cauliflower, winter squash, romesco
Mixed greens with onion, cucumber, tomato, sherry vinaigrette blue cheese, spiked pepitas
Roasted beets with whipped feta (request w/o crackers)
Charred broccoli with manchego & carrot radish relish
Paella de la luna with saffron, chicken thigh, chorizo, soft cooked eggs
Crema catalan which is a Spanish-style custard with caramel dust and berries
Cocktails at Nightcap:
After dinner, Brendan and I stopped by Nightcap which is an exclusive cocktail lounge at Granada Hotel & Bistro. It was fun to watch the bartender create exquisitely crafted cocktails for us and the other people there. Nightcap has a cool mirror ceiling too 🙂
Brunch at Seeds:
I loved our brunch at Seeds! They source their ingredients from local vendors that mainly use California farmers. Everything is so fresh and tasty, and their plating is stunning. You truly eat with your eyes here! It's a juice bar with a variety of acai bowls, chia pudding, salads, smoothies, frose, and toast. You can request certified GF granola for the acai bowls and chia pudding. Gluten-free bread is also available upon request – just don't get it toasted because no dedicated GF toaster. We brunched on some salads, bowls, and toast:
Greens 1: mixed greens, poppy seed dressing, blueberries, strawberries, sliced almonds, sunflower seeds, feta
Greens 3: mixed greens, vinaigrette, black pepper, cucumbers, cherry heirloom tomatoes, bell peppers, feta
Bowl 2:

Base: acai, almond milk, banana, strawberry
Fruit: blackberry, blueberry, raspberry
Seeds: bee pollen, pepita

Bowl 6:

Base: almond milk, banana, blueberry, peanut butter, pitaya
Fruit: raspberry, blackberry, strawberries
Seeds: cacao coconut

Toast 6: garden herb, can add avocado, balsamic glaze, burrata cheese, heirloom tomatoes, micro arugula, pink salt
Donuts at SloDoCo:
SloDoCo has perhaps the BEST donuts I've ever had! The donuts were moist with lots of glaze, and I was in heaven! I may or may not have eaten all four flavors at once – they were THAT good. Their gluten-free donuts are baked not fried, and the gluten-free flavors rotate. We loved these GF flavors:
Maple donut
Dark chocolate donut
Blueberry donut
Lavender donut
Donuts at Surfside Donuts in Pismo Beach:
On our way home, we stopped by Surfside Donuts in Pismo Beach which is a ten minute drive from San Luis Obispo. I had to stop by Surfside Donuts when I found out that they made gluten-free donuts, baked in their own oven! And yes, I ate more donuts this day than any other day in my life – worth it! We had the:
Chocolate donut
Maple donut
Strawberry sprinkle donut
San Luis Obispo Restaurants:
Here's a direct link to a list of the San Luis Obispo restaurants I've been to and reviewed:
We definitely want to come back to San Luis Obispo and explore more in the surrounding towns as well. There's lots more food to be eaten and hikes to be taken! If you want more info on places to stay and things to do, you can check out Visit SLO. I definitely recommend visiting SLO – such a great way to retreat from city life 🙂