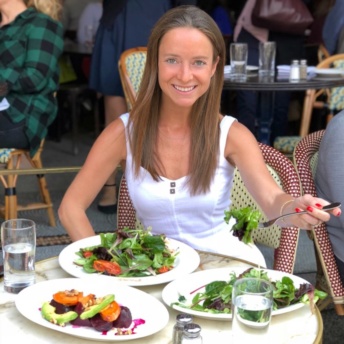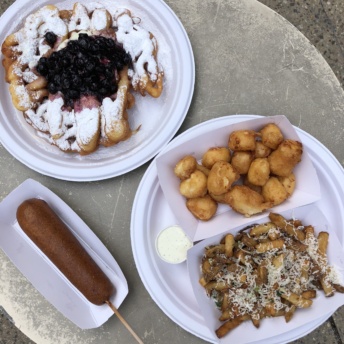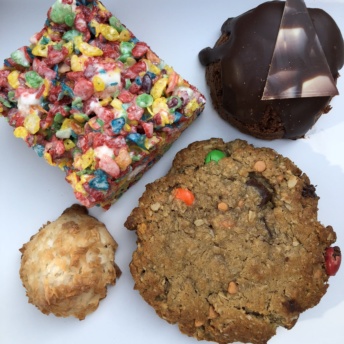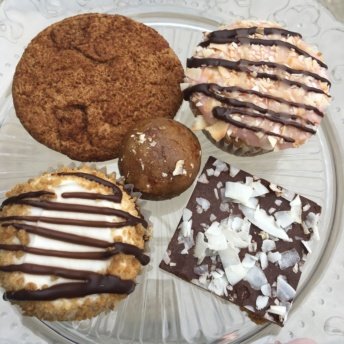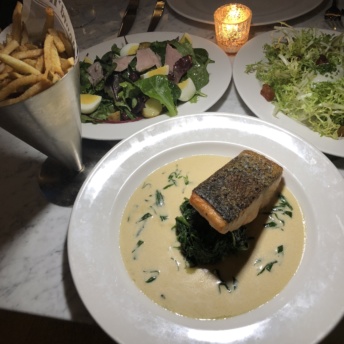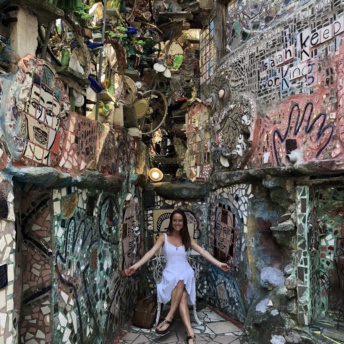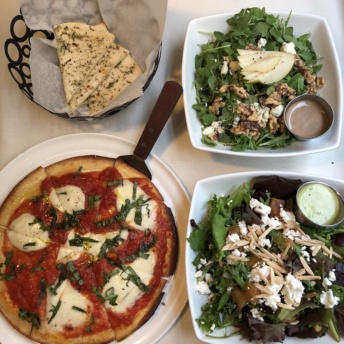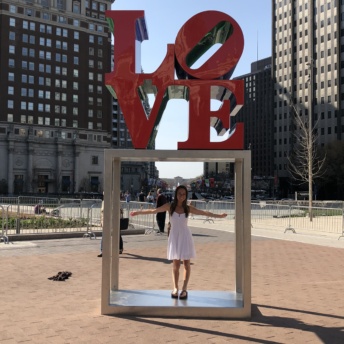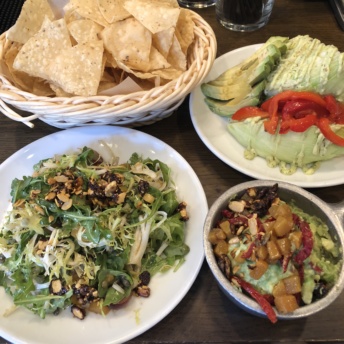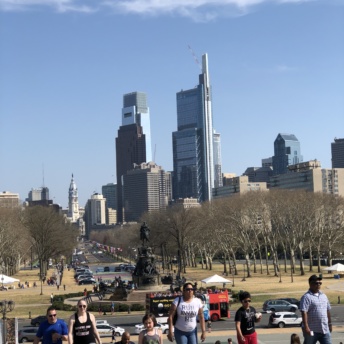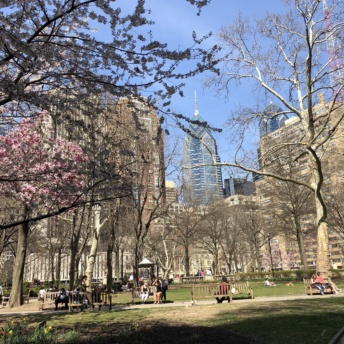 I went to Philadelphia for the first time in May 2017, and even though I was only there for 24 hours, I left with a good feeling about the city! It's a clean city with lots of fun eateries, green parks, and beautiful buildings. I knew that I wanted to come back to really explore! I'm glad that I got to spend the past few days touring and eating Philly 🙂
Staying in Rittenhouse Square:
On Thursday evening, I arrived at The Sonesta Hotel in Rittenhouse Square. I quickly dropped my bags off and headed downstairs for dinner at Ruth's Chris Steakhouse. I had a couple salads and lobster tail, and went to bed excited to explore the city!
I think I brought the LA sunshine to the East Coast! It was sunny and 60 to 80 degrees which made me excited for my morning runs. I ran along the Schuylkill River Trail and by Boat House Row on Friday and Saturday morning. I love the trail, and it was nice to see lots of people out running, walking, biking, and rowing.
Post-run on Friday, I ate lunch at French cafe Parc Restaurant in Rittenhouse Square. I had an omelette with spinach and greens, and the roasted carrot & beet salad with goat cheese mousse, avocado, and toasted walnuts. It was fun to eat outside along Rittenhouse Square and people-watch as I ate.
Desserts at Reading Terminal Market:
I get excited to find good gluten-free friendly bakeries when I travel – you know I love my desserts! After lunch on Friday, I headed to Reading Terminal Market which is one of America's largest and oldest public markets. The market has a diverse selection of locally grown produce, locally sourced meats and poultry, seafood, cheeses, baked goods, and confections. I did my research beforehand and knew that I would be able to find lots of gluten-free desserts at the market. You can read my blog post on Dining Out Gluten Free for tips on eating out and more.
First, I checked out Beiler's Bakery  which has individually wrapped gluten-free baked goods. Unfortunately, their famous donuts are not gluten-free but they do offer some good gluten-free options.
I was eager to eat at Fox & Son since it's 100% gluten-free and serves fried food items which are rare to find as gluten-free. The funnel cake was one of the best things I ate all weekend! I haven't had funnel cake since before I was gluten-free so it was such a treat. Other options I tried were the cheese curds, garlic & parmesan fries, and a vegetarian corndog.
Flying Monkey Bakery really impressed me with their flourless desserts! I didn't get to try their vegan banana coconut chocolate chip cookie but I ate all their other gluten-free baked goods, and WOW! The Monster cookie with peanut butter, M&M's, butterscotch, and chocolate chunks was my favorite. The chocolate made it gooey, and the variety of flavors made it the best combination. My next favorite dessert there was the fruity pebble treat. I need to try to recreate this in my kitchen! The flourless chocolate cake with ganache and coconut macaroons were also delicious. I left the market full and happy 🙂
My Dessert Tour Continues:
As I walked through the Italian Market, I stopped by Taffets Bakery which is a 100% gluten-free bakery. They prepare old-world-style breads, including focaccia & baguette, plus treats. When I visited, they seemed to offer more bread than baked goods. If you're looking for a variety of gluten-free breads, then you've come to the right place.
I checked out The Bakeshop on 20th in Rittenhouse Square later that day. When I stopped by, they only had one gluten-free option: the breakfast cookie. But I was told that they usually have a couple more gluten-free items. It's probably best to stop by earlier in the day if you can.
I highly recommend Sweet Freedom Bakery – if you only go to one bakery in Philly, go here! I went here last year and was extremely impressed. It's 100% gluten-free, in addition to being 100% vegan, dairy free, kosher, peanut free, soy free, corn free, and refined sugar free! They have a variety of cupcakes, cakes, cookies, loaves, muffins, donuts, bread, and more.
Dinners:
My mom arrived Friday night to spend the rest of the weekend with me in Philly! We ate dinner at wine bar Root Restaurant in Fishtown. I loved the atmosphere, and it was nice to have a light dinner after my intense dessert tour! They don't have a huge gluten-free selection but we did enjoy wine, a cheese plate and a couple salads: the kale & escarole salad with egg and Caesar dressing (request without breadcrumbs), and the apple salad with Napa cabbage, walnuts, winter roots, and burnt honey (request without farro).
On Saturday night, we ate dinner at Chez Ben at Old City's Renaissance Downtown Hotel. They have excellent cocktails, and we shared a couple salads, a salmon entree, and a side of fries. Their fryer is only used for the fries so it's safe from cross contamination. We ended our meal on a sweet note with the chocolate pot de creme.
Sightseeing:
On Friday, I walked through the Philadelphia Magic Gardens which is a beautiful art museum. It is the largest work created by mosaic artist Isaiah Zagar.  Zagar created this outdoor art installation with non-traditional materials such as folk art statues, found objects, bicycle wheels, colorful glass bottles, hand-made tiles, and thousands of glittering mirrors. It's definitely worth the visit!
I happened to walk by the Love Park which is the location of the LOVE sculpture and the entrance to the Benjamin Franklin Parkway. It's a fun photo op and has a great view behind it.
On Saturday, my mom and I hopped on the Hop-On, Hop-Off Big Bus. Even though sightseeing buses are a bit touristy, it is an amazing way to learn about Philly and hit up all the spots. One of my favorite stops was the Rocky Steps at Philadelphia Museum of Art. It was fun to run up the steps 🙂 Be sure to grab a picture of the city while you're on the steps – it has such a pretty view! I also explored the Liberty Bell, Independence Hall, and Philadelphia City Hall, to name a few.
Lunches:
We loved our lunch at Bar Bombon on Saturday which serves 100% plant-based Puerto Rican cuisine. Most of the menu is naturally gluten-free or can be made gluten-free. One of my favorite dishes is buffalo cauliflower tacos with avocado, green goddess dressing, and black bean puree. If you like guacamole and veggies, then you will enjoy the harvest guacamole with butternut squash, sun-dried tomatoes, maple balsamic drizzle, and spiced pepitas. Be sure to make a reservation or come early if you want to snag one of the coveted outdoor tables!
For our last meal, we ate at Barra Rossa which has an amazing gluten-free menu! They have gluten-free pizza, pasta, bread, salads, sandwiches, and paninis. My mom and I shared a Margherita pizza, the pear salad, and beet & goat cheese salad, and they gave us bread as well. It was the perfect ending to a deeeelish stay in Philly!
One of my fave lunch spots is P.S. & Co in Rittenhouse Square which is 100% gluten-free, vegan, and organic. They serve a variety of salads, cakes, and more. Another good lunch spot is Pure Fare which is also in Rittenhouse Square. They have a large assortment of salads, sandwiches, and desserts. Two of my favorite desserts there are their grain-free chocolate chip cookies and avocado chocolate chip cookies. If you're on-the-go and want a quick lunch, I recommend Just Salad and Sweet Green for customizable salads, and Snap Kitchen for already-prepared healthy dishes and snacks.
Philly Restaurants:
Here's a direct link to a list of the Philly restaurants I've been to and reviewed:
I had such a fun (and delicious) trip to Philly! Where should I go next?!