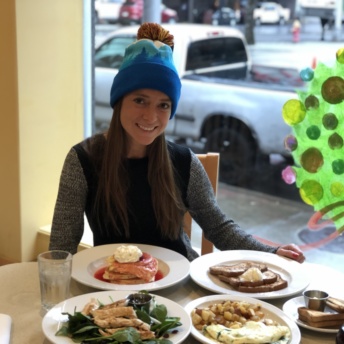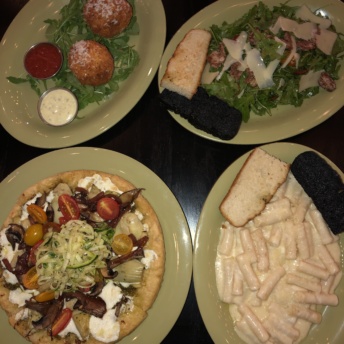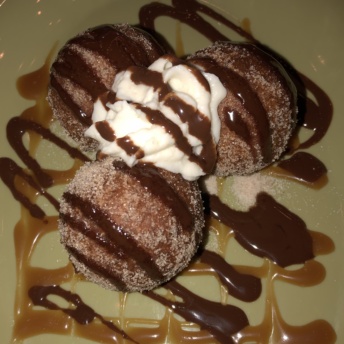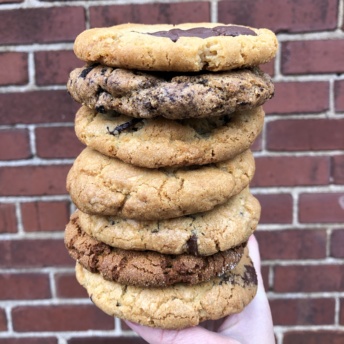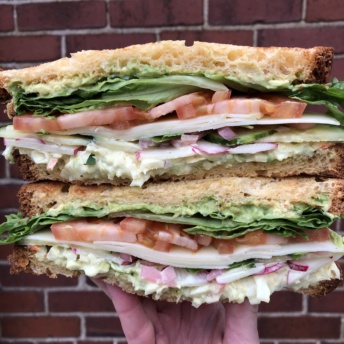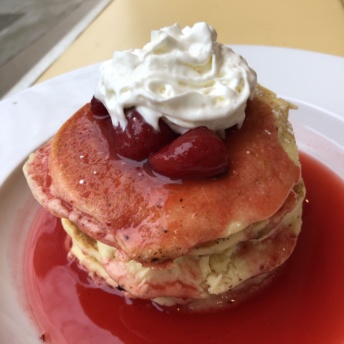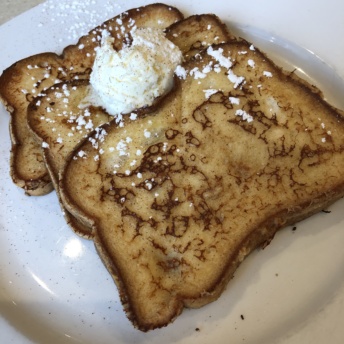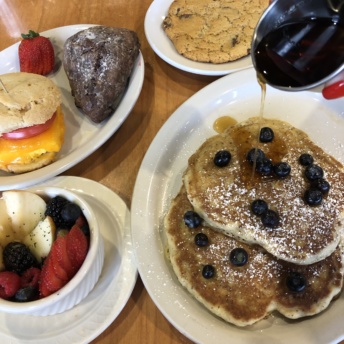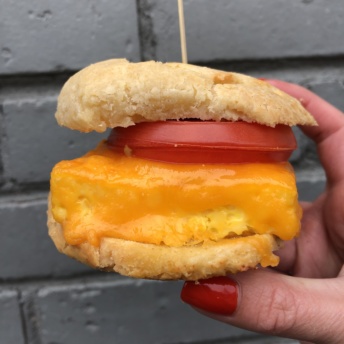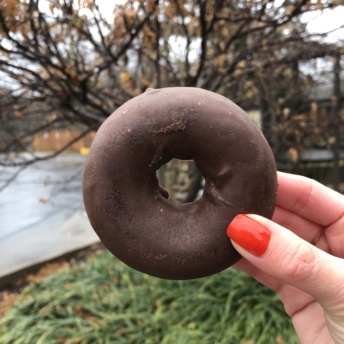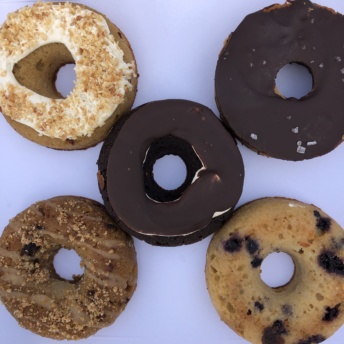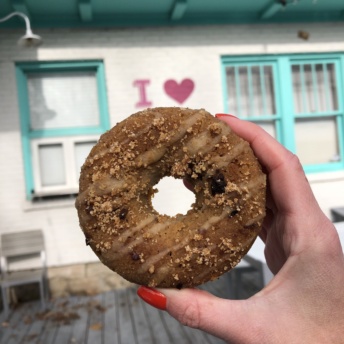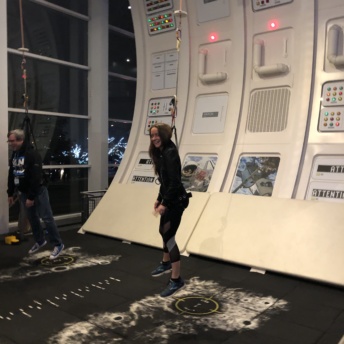 I've been meaning to go to Nashville for awhile so I was excited when I won a trip there! glutenfreefollowme.com won the 2018 Bluehost Spotlight Award, and part of the prize was a trip to Nashville to attend WordCamp. I had a fun long weekend, exploring and of course eating a lot 🙂
Dinner at Mangia Nashville:
Mangia is only open Monday to Thursday 4-10pm so I made sure to make it my first stop when I landed in Nashville Thursday evening, and I'm definitely happy I did! Everything on the menu can be done gluten-free including pizza, pasta, focaccia bread, sandwiches, and desserts. They have a designated gluten-free fryer, plates, cutting boards, and more to ensure no cross contamination. All gluten-free items are served on green plates. Here's what I ordered:
Arancini with two carbonara risotto balls, choice of sauce
Arugula salad with baby arugula, roasted cherry tomato, Grana Padano, candied pecan, lemon balsamic vinaigrette
Verdura pizza with basil pesto, fresh mozzarella, balsamic red onion, roasted artichoke, roasted tomato, crimini mushroom, zucchini noodles
Italian mac & cheese
Chocolate dipped cannoli
Led Zeppole which is three vanilla ricotta donuts topped with chocolate ganache, cannoli cream, sea salt caramel
My meal was incredible. I highly recommend everything I ordered especially the Led Zeppole! The donuts were warm and covered in chocolate, cannoli cream, and caramel – I devoured them all way too quickly 🙂 I could eat there several times and still order something different because that many options. I will definitely be back!
Lunch at Little Mosko's:
Little Mosko's is a sandwich shop and bakery, open on weekdays. All of their baked goods are gluten-free and SO delicious! They have a rotating selection of seasonal faves including coffee cake, banana bread, muffins, sweet & savory scones, pound cake, and cookies. All sandwiches can be made with their gluten-free bread as well. The menu changes weekly, and this is what I had:
Veggie sammy with herby hummus, avo smash, provolone, cucumber, radish, sprouts, lettuce, tomato (request GF bread)
Salad of the moment
Cranberry lime white chocolate cookie
Chocolate cherry walnut cookie
Oatmeal macadamia cookie
Chocolate chunk cookie
Brunch at Wild Eggs:
Brunch is my favorite meal, and Wild Eggs does a great one! Wild Eggs has 16 locations across Tennessee, Kentucky, Indiana, and Ohio. They have a gluten-free menu and offer gluten-free bread, pancakes, French toast, and sandwiches. They also have a separate fryer so the potatoes and fries are safe. I enjoyed the following:
Strawberry tall cakes with GF pancakes, strawberries, strawberry compote, and whipped cream
Classic French Toast with GF white bread dipped in brandied egg batter, whipped butter, maple syrup, powdered sugar and cinnamon
Make your own omelet with spinach, broccoli, onions, served with skillet potatoes (request GF bread)
Spin-N-Chicken Salad with baby spinach, red onion, sun-dried cranberries, candied pecans, crumbled goat cheese, grilled chicken breast, hot bacon balsamic vinaigrette
My ideal brunch is a salad and omelette plus French toast or pancakes so that's exactly what I did! I couldn't decide between the French toast and pancakes so I got both, and I'm glad I did 🙂 They're pretty different and you can't go wrong with either but if I had to choose, go with the French toast.
Brunch at The Post East:
The Post East is fun coffee shop with lots of gluten-free baked goods and a delicious weekend brunch menu. Almost everything is gluten-free or can be made gluten-free, and they have lots of vegan options too. The Post East has gluten-free bread, biscuits, scones, pancakes, and waffles. The brunch menu changes every weekend, and here's what I had:
Breakfast sandwich with GF biscuit, tomato, egg, and cheddar
GF vegan pancakes with blueberries
GF chocolate chunk cookie
GF peppermint patty scone
fruit salad
My favorite item was the peppermint patty scone! Some scone can be too dry for me, and I loved how this scone was warm and chocolate-y.
GF Donut from Vegan Vee at The Wild Cow:
I really wanted to go the Vegan Vee because it's an 100% gluten-free vegan bakery in Nashville. Their hours are limited since they're only open Friday, Saturday, and Sunday until 2pm. After brunch at The Post East, I stopped by The Wild Cow because I knew that they carried some of Vegan Vee's baked goods. The Wild Cow is a vegetarian restaurant, and all items are vegan unless if you opt for dairy cheese.  They have gluten-free vegan cupcakes, donuts, and blondies from Vegan Vee's, and I went for the chocolate covered donut. The donut was decent but not great. The donuts I had the next day at Five Daughters Bakery were much better. I would like to try Vegan Vee again if I come back to Nashville to give it a second chance.
Paleo Donuts at Five Daughters Bakery:
I was blown away by the gluten-free donuts at Five Daughters Bakery! They're paleo, grain-free, dairy-free, sugar-free, and SO delicious! These paleo donuts are baked not fried, and the flavors change monthly. They're made with a blend of almond, tapioca and coconut flour and are sweetened with local honey or organic maple syrup. I tried all 5 paleo donut flavors:
GF paleo chocolate chip donut
GF paleo huckleberry donut
GF paleo peppermint patty donut
GF paleo molasses gingerbread donut
GF paleo coconut macroon donut
You honestly can't go wrong with any of them. They're all so moist and flavorful! My favorite flavor is the molasses gingerbread donut. My second favorite flavor is a tie between the coconut macroon donut and peppermint patty donut. The chocolate chip and huckleberry flavors are also delicious. I recommend getting them all and sharing them between a few people so you can try them all, or do what I did and get them all for yourself 😉 This bakery has 5 locations in Nashville, Atlanta, and Florida.
Exploring Nashville:
I stayed in the Downtown / The Gulch Area. I'm glad I stayed there because it was walking distance to everywhere I went. It's a fun area with some restaurants and shops. Wordcamp was at Nashville Music City Center, which is next to the County Music Hall of Fame & Museum and Music City Walk of Fame Park. I checked out the Tennessee State Capitol and Bicentennial Capitol Mall State Park. There's always music playing on the streets especially on Broadway. I also liked walking around 12 South. Centennial Park has The Parthenon which is right by Vanderbilt University.
I went to the Adventure Science Center Friday night for the Wordcamp party, and it was a cool experience. It's a non-profit science museum with over 175 hands-on interactive exhibits with themes including biology, physics, visual perception, listening, mind, air and space, energy and earth science. My favorite part was the Moonwalk and Eva Experience. I got to see what it feels like to walk on the moon in zero gravity. While in simulated weightlessness, I tried to walk to the other side of the exhibit but kept popping up off the ground. If you have children, I recommend bringing them here or just go yourself!
Nashville Restaurants:
Here's a direct link to a list of the Nashville restaurants I've been to and reviewed: