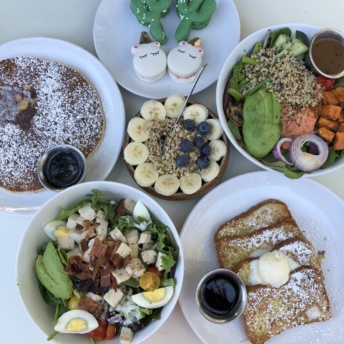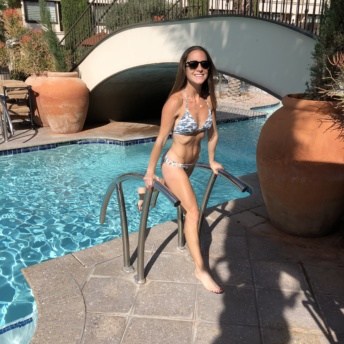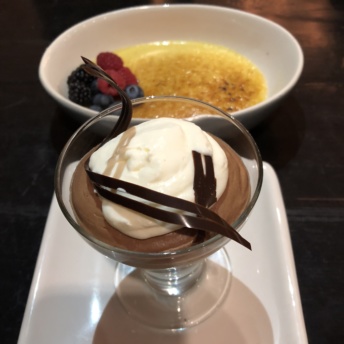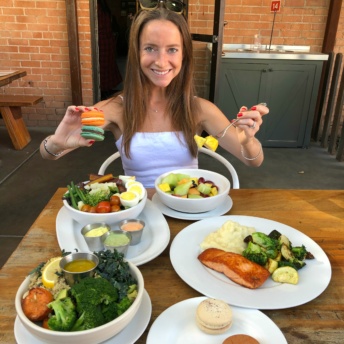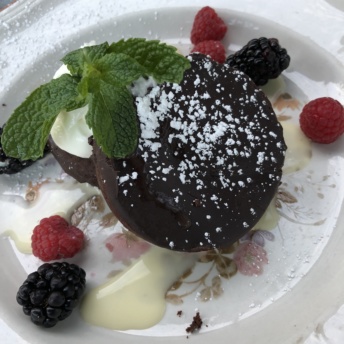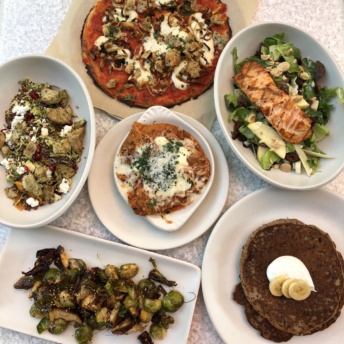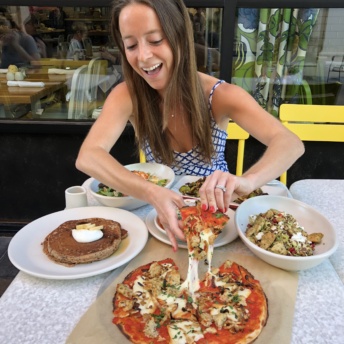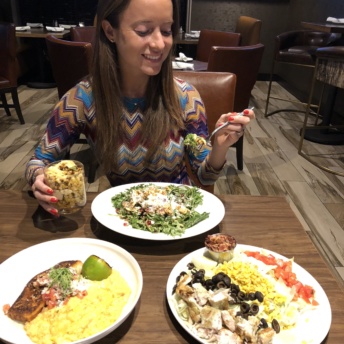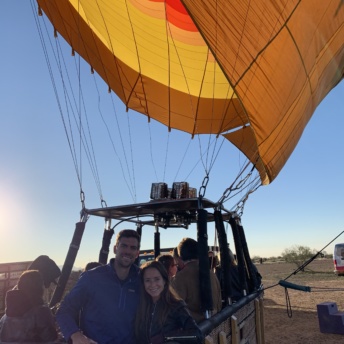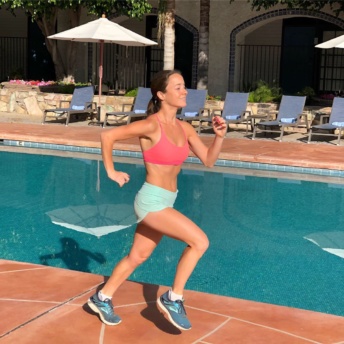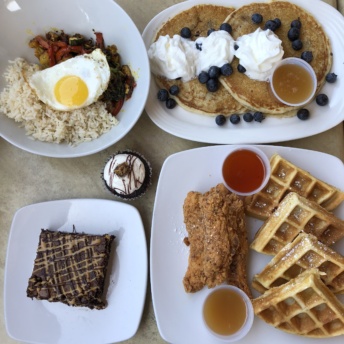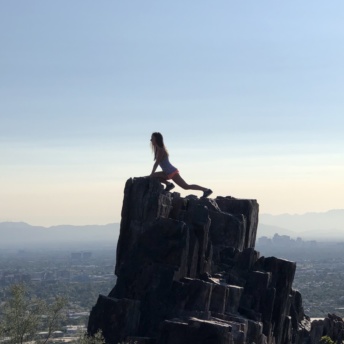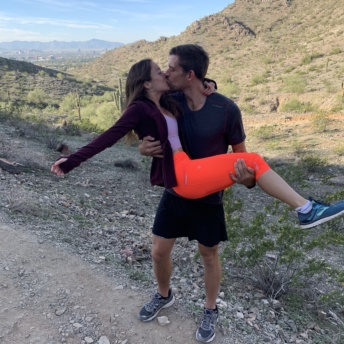 From adventure to relaxation…and of course the gluten-free food! Phoenix, Arizona is an incredible city to visit and spend a vacation. I first went to Phoenix in May for my friend's bachelorette party and wanted to come back to explore more of this amazing city! On my second visit I made sure to bring Brendan. We spent a long weekend exploring and experiencing Phoenix, but we still feel like we've only scratched the surface of what this awesome city has to offer. Visit Phoenix shares all you need to know about things to do, events, hotels & resorts, restaurants, and more!
Hiking:
We love to hike, and Phoenix has a bunch of hiking trails scattered throughout the city! We hiked the Quartz Ride Trail on Friday which has lots of beautiful wild flowers and cactus on the trail. We decided to hike a more challenging route on Sunday and hiked up to Piestewa Peak. Piestewa Peak is 2,610 feet, and it's the second largest point in the Phoenix Mountains, after Camelback Mountains. It's a fairly rocky trail and requires "bouldering" to reach the peak. It feels like you're hiking on the StairMaster for most of it but it's worth it for the views, not to mention the great workout! Be sure to bring water though! It's easy to become dehydrated on these demanding hikes in the dry climate.
Brunch at Luci's at the Orchard:
Our first meal was at Luci's at the Orchard, and it is my kind of spot! It's a gourmet market and cafe in a historic Phoenix ranch home. They serve breakfast all day, salads, omelettes, and homemade gelato in gluten-free cones at Splurge. They offer gluten-free pancakes and French toast, and I asked them to cook it separately in its own pan to prevent cross contamination. We agreed that it was one of the best French toasts we've ever had! And you have to get the unicorn and cactus macarons – almost too cute to eat! We shared the following:
Flapjacks with butter & syrup (request GF pancakes & ask them to cook separately in its own pan)
French Toast with powdered sugar, syrup, & butter (request GF bread & ask them to cook separately in its own pan)
Acai Superfood Bowl with bananas, blueberries, granola
Traditional Chopped Cobb Salad with field greens, romaine lettuce, cherry tomatoes, avocado, hard-boiled eggs, bacon, blue cheese, grilled chicken, buttermilk dressing
Unicorn and cactus macarons
Pumpkin spice gelato with Reese's peanut butter cups
Desert Botanical Garden:
After brunch, we explored the Desert Botanical Garden which has more than 50,000 desert plants across 140 acres of trails. The butterfly exhibit was very cool. When we walked into the building, we were surrounded by butterflies! There are so many that you have to be careful where you step as to not hurt them!
Hotel #1 – The Scottsdale Resort at McCormick Ranch:
We stayed at The Scottsdale Resort at McCormick Ranch for our first two nights, and it's an impressive resort! We stayed in a Stillman Executive Suite which has a bedroom, two bathrooms, two living rooms, and a large conference table. If you watched my Instagram Story, then you saw that we had our first annual Gluten Free Follow Me board meeting there ;). This suite has a private patio overlooking one of the pools as well. We also hung out by the second pool, and I loved the waterfalls there. The Scottsdale Resort has a 36-hole golf course, and there's a 7-mile biking/jogging trail next to the resort which I love, so it's easy to be active here.
I had a massage at the Luna Spa, a high-end spa connected with the hotel, which felt amazing. You know I LOVE my massages.
We ate dinner at Kitchen West, located in the hotel, which serves western American cuisine. My favorite part of the meal was the chocolate mousse for dessert – it's a must! We had the:
Mole meatballs with cilantro carrot slaw (awesome that these were gluten-free since meatballs usually aren't GF)
Roasted cauliflower with black pepper & garlic hummus and olive oil drizzle (request without bread)
Heirloom tomato & fresh burrata with bacon, shaved parmesan, balsamic vinaigrette (request without biscotti)
Farmer's vegetable salad with organic greens, crooked sky farm fresh vegetables, creamy tarragon & herb vinaigrette (request without biscotti)
Chocolate mousse with fresh whipped creme
Vanilla creme brûlée with fresh berries
Phoenix Public Market:
On Saturday, we explored the Phoenix Public Market in downtown Phoenix which is an open-air farmer's market. The market has lots of local produce, grass-fed meat, fresh eggs, jams & honey, peanut butter, gluten-free & vegan treats, and other local products. We ate brunch next door at the Phoenix Public Market Cafe. The cafe doesn't have gluten-free bread, and the fryer is not gluten-free so I avoided the sandwiches and anything fried but there were still plenty of options to keep me satisfied. The food was very fresh, and it was my kind of lunch – fruit, eggs, salad, protein, and macarons! We enjoyed the following:
Fresh seasonal fruit bowl
Eat the rainbow with farmers market vegetables, mixed greens, served with 3 dipping sauces, hard-boiled eggs
Superfood salad with kale, quinoa, broccoli, avocado, sweet potato, almonds, raw apple cider vinaigrette, chicken
Roasted salmon with market vegetables, garlic mashed potatoes, lemon & olive oil
Assorted macarons in flavors such as ginger hibiscus, chocolate, orange sesame, and green tea chocolate
After brunch, we explored The Churchill. It's a sustainable hangout, home to ten small local businesses. The building is made from repurposed shipping containers which is pretty cool. Brendan and I sat in the courtyard for awhile, enjoying the live music, football on TV, and corn hole.
Dinner at Taco Guild:
We ate dinner at Taco Guild which is a gastropub with lots of gluten-free options. This restaurant is located in a building that used to be a church, which creates a unique atmosphere. That night, they had live music and multiple televisions at their large bar. They have a gluten-free menu available upon request, and you can get tacos with corn tortillas & lettuce cups. Note that the fryer is not gluten-free so avoid anything fried such as the chips. I had a margarita there, and it was one of the best margaritas I've ever had! The kale salad was even better than expected – the berries and dressing really added to it. I always love when restaurants offer lettuce wraps for tacos. And you need to get the flourless chocolate cake – so rich and good! Here's what we got:
Fresh made guacamole with minced jalapeno, cilantro, lime, red onion, tomatoes, caramelized pineapple-mint (request raw veggies instead of chips)
Street corn with grilled corn on the cob, habanero butter, chipotle mayo, cotija cheese
Guild chicken taco with annatto braised chicken, grilled corn, avocado, cotija cheese (request w/o red bean pico)
Grilled seasonal vegetable taco
Kale salad with seasonal fruit, cotija cheese, spicy pepitas, roasted Anaheim vinaigrette
Chicken enchiladas with annatto-braised chicken, corn tortillas, jack cheese, green chile & tomatillo sauce, red beans, rice
Flourless chocolate cake
Brunch at True Food Kitchen:
One of my fave restaurants is True Food Kitchen so I had to go to their original and flagship location when I was in Phoenix! The menu changes seasonally, and they have gluten-free pita, buns, and pizza available upon request. I almost always get the pizza and seasonal ingredient salad because it's that good. It was my first time having the banana pancakes and spaghetti squash casserole, and I definitely recommend them! The pancakes smell AND taste amazing, and the spaghetti squash is so light & flavorful. And if you go around this time of year, you need to get the squash pie! We shared these dishes:
Roasted Brussels sprouts with Asian mushroom, miso sesame vinaigrette, chili thread
Seasonal ingredient salad with Brussels sprouts, butternut squash, cauliflower, white bean, pomegranate, toasted mulberry, horseradish vinaigrette, chicken
Fennel chicken sausage pizza with crushed organic DiNapoli tomato, roasted fennel, scamorza (request GF pizza)
Spaghetti squash casserole with organic tomato, caramelized onion, zucchini, fresh mozzarella
Banana pancakes with quinoa, greek yogurt, maple syrup
Squash pie with graham crust & coconut whipped cream
Hotel #2 – Embassy Suites by Hilton Scottsdale Resort:
We stayed at Embassy Suites by Hilton Scottsdale Resort for our last two nights in Phoenix. It's located in the heart of Scottsdale, within walking distance to Old Town and lots of shopping & restaurants. All 312 suites here have a private bedroom, spacious living room, two TV's, wet bar with microwave, refrigerator, coffee maker, and an extra sink. We used the fitness center, and they also have two pools and a tennis court. Embassy Suites offers a complimentary full breakfast and a complimentary evening reception daily from 5:30-7:30pm where you can enjoy free drinks and appetizers. They even have a gluten-free beer!
On Sunday night, we ate dinner at their restaurant Granada Bar & Grill. It's an urban American concept, located on the top floor of the hotel. It's a great place to watch a sports game and enjoy a drink in the lounge. We had:
Chorizo street corn with lime, chili aioli, cilantro (request w/o chips)
Chop salad with egg, corn, bacon, tomatoes, chicken, olives, blue cheese dressing, chicken
Baby kale Caesar salad with spiced almonds, pomegranate, cotija cheese, sour apple, lemon scented quinoa
Blackened salmon
Grilled broccolini with parmesan and fried egg
Vanilla creme brûlée
Chocolate sorbet
Hot Air Balloon Ride:
If you haven't taken a hot air balloon ride yet, I definitely recommend it! Hot Air Expeditions picked us up at our hotel and drove us deeper into the desert. We watched the inflation of the balloon and joined 15 other people in a massive hot air balloon. We floated 3,000+ feet in the air and within a few feet of the desert floor. During our hour-long flight, we had a gorgeous view of the Sonoran Desert and spotted landmarks, plant life, and local wildlife. Before landing, we saw a coyote running alongside us! The ground crew followed our balloon, and upon landing we were served champagne and breakfast in the desert. I told them ahead of time that I couldn't have gluten so rather than the quiche and cheese wheel, I was given a fresh fruit cup and gluten-free protein bar. It was such a fun morning!
Lunch at Flower Child:
Our last meal in Phoenix was at Flower Child, and I love how veggie-centric it is. They have a bunch of locations in Arizona, California, and Texas. Their menu indicates which options are gluten-free, vegan, and vegetarian which makes it easy to order! The veggie plates and desserts are fresh and flavorful. I love the number of gluten-free desserts they offer! We shared the following:
Skinny Cobb salad with romaine, arugula, red cabbage, avocado, tomato, cucumber, crunchy corn, pickled onion, smoked almond, gorgonzola vinaigrette, chicken
Organic kale salad with pink grapefruit, organic apple, black currant, smoked almond, white cheddar, apple cider vinaigrette
Avocado hummus with sweet corn, radish, clementine & pumpkin seed (request GF pita & raw veggies)
Yuzu brussels sprouts
GF mac & cheese
Indian spiced cauliflower
Roasted butternut squash
Lemon olive oil cake
Chocolate chip cookie
Pumpkin truffles
100% Gluten-Free at Jewel's Bakery and Cafe:
And you need to go to Jewel's Bakery and Cafe! It's 100% gluten-free so it's the best feeling to walk in and be able to eat anything and everything! Jewel's has many delicious options especially for breakfast and dessert. I stopped by on my way to the airport in May, and it was definitely worth it. I enjoyed the:
Chicken & waffles with honey sriracha & buttermilk syrup
Blueberry pancakes with buttermilk syrup
Shawarma bowl with cauliflower, broccoli, zucchini, bell pepper, lemon rice, feta, tzatziki
Peanut butter dream brownie
Cookie dough cupcake filled with edible dough
Phoenix Restaurants:
Here's a direct link to a list of the Phoenix restaurants I've been to and reviewed:
Our trip to Phoenix was a blast! I recommend visiting around November to April when it's upper 60s to low 80s during the day. It does get a little chilly at night so don't forget to bring a coat. We had great weather and lots of fun 🙂