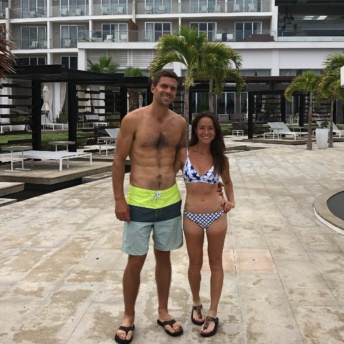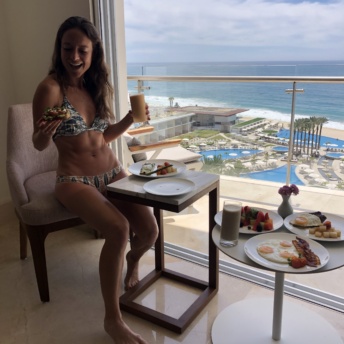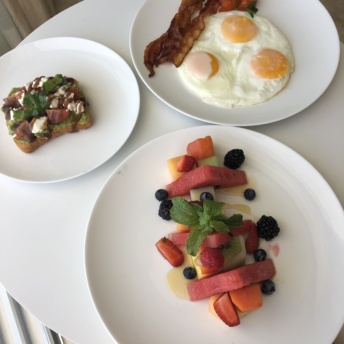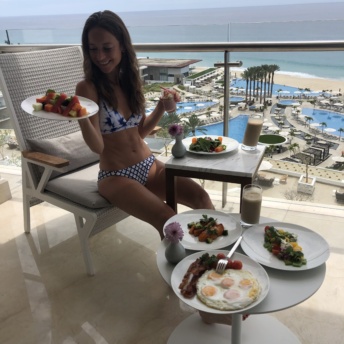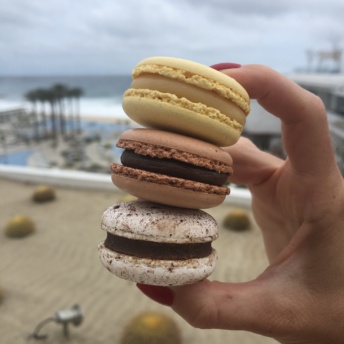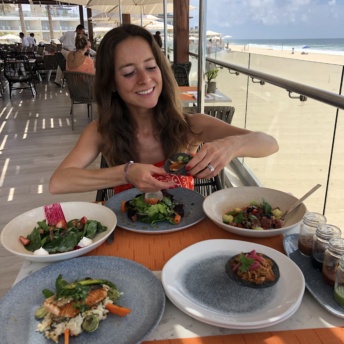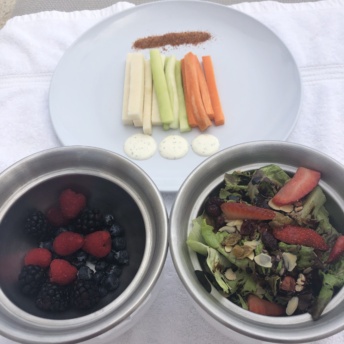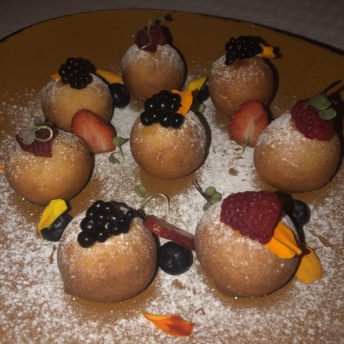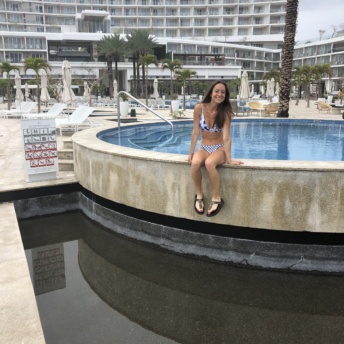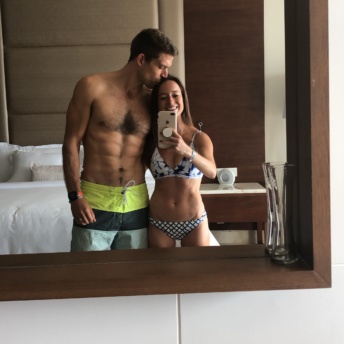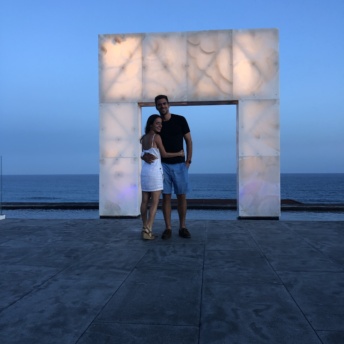 Brendan and I celebrated our third wedding anniversary with a romantic and relaxing trip to Cabo, Mexico! We stayed at Le Blanc Spa Resort Los Cabos which is a luxurious all-inclusive resort. It was the perfect way to end the summer 🙂
Le Blanc:
Le Blanc takes luxury to the next level and thinks of every detail. They provide complimentary transportation to and from the airport. Upon arrival to the resort, Brendan and I were greeted with flutes of coconut milk. As we checked in, they placed a heated neck wrap on us. I immediately felt any stress melt away.
All guests are assigned a personal butler, and the butler is there to make your stay extra special. Our butler showed us to our room which was on the ninth floor with a stunning view of the pools, resort, and beach. We had the Royale Deluxe Honeymoon stateroom, and it came with a king bed, peaceful rain shower, pedestal tub, and much more. Your butler is there to help you with anything you need including unpacking luggage (this reminded me of Ramona from RHONY!), making restaurant reservations, and drawing a bath. Our butler surprised us on our last evening with a warm bath with rose petals around the rim and bath salts. He left us a happy anniversary card and delicious chocolates. The room also includes a pillow menu, a variety of bath salts, aromatherapy options, and handcrafted soaps.
There are eight restaurants at Le Blanc with a variety of cuisines such as seafood, French, Italian, Lebanese, Asian, and Mexican. We ate at all of the restaurants except for Lumiere (the fanciest option and the only one with a dress code). We needed one more night! Le Blanc has four beachfront pools – we loved spending the afternoons lounging and cooling off in the pool. Someone from the spa came by the pool daily, offering a cucumber cooling eye mask and face massage which I happily took part in 🙂 We walked on the beach in the afternoon as well.
Brendan and I worked out at the gym each day where they have a wide range of cardio machines and weights. They have multiple classes at the gym including Pilates, group training, outdoor cardio Pilates, Zumba, aqua spinning, total workout, TRX straps, energy cycling, dance fit, abs clinic, and fitball workout. We didn't make it to the spa but they do have complimentary hydrotherapy. For an extra charge, you can also choose from several spa services such as massages and beauty treatments.
Eating Gluten-Free at Le Blanc:
I felt completely at ease eating gluten-free at Le Blanc. Before being seated or when we called for room service, they immediately asked if we had any allergies or dietary restrictions. Once I say that I'm gluten-free, all of my food is prepared with different equipment and they take extra precautions to avoid cross contamination. Almost everything is gluten-free or can be made gluten-free upon request. Le Blanc has gluten-free bread, pizza, pasta, chips, and fries, and they even were able to make gluten-free doughnuts for us on our last night! It was such a treat 🙂
Room Service:
Complimentary 24-hour room service is my kind of room service! The room service menu is vast with options for breakfast, salads, sandwiches, entrees, snacks, and desserts. We ordered breakfast/lunch twice and ate it outside on our balcony with the view of the resort and beach.
The minibar is included! It was probably my first time indulging in a mini-bar. They have chocolate bars, potato chips, nuts, liquor dispensers, wine, champagne, and they refill it daily. I kept eating the peanut M&M's 😉
I enjoyed the:
Seasonal fruit platter
Egg white omelette with spinach, mushroom, cherry tomato, potatoes
Avocado on bread with balsamic vinegar, tomato, feta cheese (request GF bread)
Eggs, sunny-side up
Greek salad with bell peppers, tomato, cucumber, feta, EVOO, oregano
Tossed salad with mixed greens, cranberries, pecans, cherry tomato, cucumber, balsamic vinegar
Roasted sweet potato with coconut oil, sautéed broccoli, toasted almonds
Strawberry panna cotta with white chocolate ganache & strawberry crumble
Lunch at Blanc International:
On our first day, Brendan and I had a late lunch at Blanc International. It was a buffet so I put together a big plate of assorted salads, vegetables, berries, and grapes. Their buffets are amazing – they have a daily breakfast buffet and then occasionally a buffet for lunch. The following day, we went back to Blanc International for a second lunch, simply because we both wanted a lobster roll from the a la carte menu 😉 Brendan had the regular lobster roll, and they made a gluten-free version for me. I also ate the Italian salad with mixed greens, goat cheese, caramelized nuts, and apples.
Dessert at Blanc Cafe:
If you followed along on my Instagram Stories, then you know that we ate dessert from Blanc Cafe multiple times a day! We definitely became regulars here! I always had the:
Macarons: passion fruit, chocolate, banana
Apple muffin
Double chocolate chip cookie
Dinner at Blanc Asia:
We ate dinner at Blanc Asia on our first night. I don't even remember the last time I had sushi so this meal was such a treat! Be sure to avoid the ponzu sauce, and ask for gluten-free soy sauce. The sushi was amazing! We ate the following:
California roll
Takosuasia with spicy aioli, tuna, salmon aka tacos with rice paper
Cucumber roll
Vegetable roll
Buta no hara with pork belly, sweet potato purée, creamy garlic, vegetables, hoisin sauce
Yakiniku with flat iron steak, chair siu sauce, vegetables, kimchi
They do have a gluten-free dessert option (coconut tapioca with soy milk & coconut sorbet) but I wanted to go back to Blanc Cafe for the macarons and apple muffin 😉
Lunch at Blanc Ocean:
On our second day, Brendan and I enjoyed lunch at Blanc Ocean. This restaurant is located on the edge of the beach so you have an incredible view of the beach and waves. Blanc Ocean has gluten-free tacos and lots of seafood and Mexican options. We had the:
Tuna tiradito with pineapple aguachile & ginger: citrus cured tuna, red onion, cilantro, serrano pepper, cucumber and avocado-mint purée
Mixed greens salad with spinach, arugula and fresh basil, marinated tomatoes, fresh mozzarella cheese, grilled tuna in pumpkin seed crust
Barbacoa taco with guacamole, fluid tomato gel, charred onion
Salmon taco
Grilled salmon with ancho pepper honey, served with roasted pineapple purée and sautéed vegetables
Lunch at Blanc Pizza by the Pool:
Blanc Pizza makes delicious gluten-free pizza! It's prepared in a dedicated gluten-free oven with its own equipment and utensils to prevent cross contamination, aka music to my ears! They also have gluten-free bread and pasta available upon request. And being able to eat gluten-free pizza by the pool? Heaven! Also, make sure that you try the baked brie! I love the balsamic reduction. When you're at the pool, you can order from both the Blanc Pizza menu and pool food menu. Across three days, I enjoyed the following:
Crudites with jicama, cucumber, and carrot sticks served with ranch dressing
Mesclun salad with tossed greens, strawberries, nuts, toasted flaxseeds, almonds, cranberries, golden raisins, balsamic vinaigrette
Mixed berries
Vegan bowl with cucumber, arugula, broccoli, avocado, radish, Granny Smith, cilantro vinaigrette
Chopped salad with kale, butterhead lettuce, carrot, cashews, honey-ginger vinaigrette
Baked brie with peach jam, toasted pine nuts, balsamic reduction, pistachios
Traditional margarita pizza with mozzarella di bufala and fresh basil (request GF pizza)
Dinner at Blanc Italia:
We ate at Blanc Italia on our second night which serves Italian and Mediterranean food! They have gluten-free bread and pasta available upon request. We had:
GF bread with olive oil & balsamic
Asparagus three ways: steamed, raw, and sautéed in butter with a poached egg
Smoked salmon with greens, Granny Smith and orange
Penne pasta with homemade tomato sauce & basil (request GF pasta)
Roasted rack of lamb with asparagus & spinach
Panna cotta with berries
Dinner at Mezze:
On our last night, Brendan and I ate at Mezze which serves Lebanese food. They recommend letting them guide you thru the menu. I'm glad we did this – they kept bringing out delicious food! We enjoyed this unique cuisine. I ate:
GF bread
Lebanese burrata served over roasted beets & za'atar
Salata el-raheb with eggplant, tomato, bell pepper
Grape leaves stuffed with lamb & rice
Cabbage leaves stuffed with lamb & rice
Shish touk (chicken) over fresh tomato & spinach with spearmint toum
GF doughnuts stuffed with chocolate sauce and caramel (available if you ask ahead of time)
Activities in Cabo:
In 2014, I went to Cabo with Brendan, my mom, and my brothers. We stayed at another resort and did lots of activities together! I recommend checking out The Arch of Cabo San Lucas. This arch is a distinctive rock formation at the southern tip of Cabo, and it's the most famous landmark in Cabo. It's a popular tourist spot, and there are usually sea lions nearby. We took a glass bottom boat to The Arch, Lover's Beach, and Divorce Beach which was really fun.
My family and I swam with dolphins, which I've wanted to do ever since I knew what a dolphin was! We went horseback riding along the beach. We rode ATVs and even spotted humpback whales during our ride! Other activities you can do here include: snorkeling, scuba diving, paddle boarding, jet skiing, deep sea sport fishing, and kayaking.
Cabo Restaurants:
Here's a direct link to a list of the Cabo restaurants I've been to and reviewed:
Our long weekend in Cabo was amazing! If you're looking for a romantic and/or relaxing vacation, then I definitely recommend!