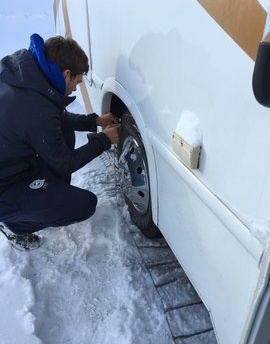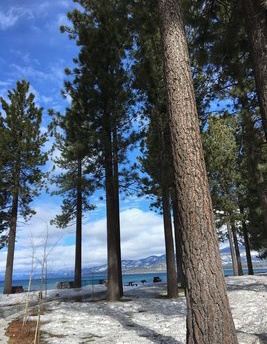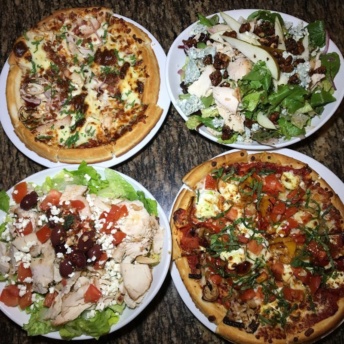 As you probably know, my husband Brendan and I love to travel! I love exploring new places, and of course discovering gluten free friendly eateries to eat on the way! Now that we are on the West Coast, there are SO many places we want to uncover. A couple weeks ago, we decided we should take advantage of the President's Day long weekend since Brendan had that Monday off from work. We ended up getting an RV for a few days and driving from Santa Monica to Yosemite to South Lake Tahoe to San Francisco 🙂 We had never driven an RV before but thought it would be a fun adventure!
​It can be challenging to travel with celiac or any food allergy/sensitivity/intolerance, and that is why I do a lot of research before going on a trip so I can be fully prepared. Since we had the RV, I knew we would have a fridge so I brought greens, tomatoes, hard-boiled eggs, mustard, balsamic, oranges, paleo bread, cauliflower pizza, veggie chips, and bars. We would eat this food on Friday and Saturday, and then I set up a few restaurant stops in South Lake Tahoe and San Francisco on Sunday, Monday, and Tuesday.
It took us a few hours to leave LA because there was so much traffic. Usually traffic can be pretty annoying but to be honest, we felt so carefree about the whole situation. We were on vacation. We didn't have to set up any hotels since we were sleeping in the RV so we didn't have to be at a certain place by a certain time.
One of best parts about traveling in an RV is there is a bathroom onboard! I drink a lot of water and always have to use the bathroom. I'm usually a passenger on road trips and hate being the reason for stopping the car. It was really nice to have the bathroom at our disposal. We had a few periods of stand-still traffic and witnessed countless people getting out of their cars in pouring rain and snow to pop a squat. Luckily, we didn't have to do that! I thought someone might ask to use our RV bathroom but no one did.
Another major perk is you can turn the RV's generator on and charge your phone! We were always using the map on our phones for direction, and I was of course documenting our trip on social media which always kills my battery.
So you can sleep in the RV overnight but where do you park the RV?! Brendan found out that 80% of Walmart's allows RVs to stay in their parking lot overnight. It's a win-win for everyone: RVs have a free place to spend the night, and Walmart gets goodwill without spending any money. Walmart has such big parking lots so a few RVs parking there do not make a difference. We spent Friday night and Monday night in a Walmart parking lot. We ended up spending money at both Walmart's before packing up for the night so it's another perk for Walmart.
Our first stop was Yosemite National Park! After living in New York City for over five years, I appreciate nature even more. ​The views in Yosemite are stunning, and it's hard to capture everything in a picture but I did my best 🙂
We took some pictures at Yosemite Falls, El Capitan, and Bridalveil Fall. We spotted hiking trails so ended up hiking for a few hours. I love finding the hidden non-touristy parts. It's great to get that typical tourist pic in front of a well-known place but it's also fun to go away from all the tourists and find your own path. Our day in Yosemite had some rain but thankfully not while we were hiking.
On Saturday night, we started the drive up to Lake Tahoe. The roads were pretty narrow and windy. We would go an hour without seeing any homes or people, and then a very small town would pop up with a few buildings – a bar, general store, and maybe a gas station. This happened a couple more times, and then we ended up stopping for gas. If you do this trip, remember that you can drive hours without seeing a gas station so try to fill up when you can.
We had to decide if we wanted to spend the night at a nearby Walmart or keep driving and stay at one of the campsites on the way. Brendan was the driver so I let him decide. We kept driving which meant we would be stopping at a campsite since there weren't any more Walmart's on this route. We were using a free campsite website but didn't realize that most of the campsites were closed during the winter…
I fell asleep for 30 minutes and woke up to massive amounts of snow! It was difficult to see the roads, and Brendan was driving carefully. I put the campsite addresses in my phone's map but the first few we tried to find were covered in several feet of snow and closed. Again, we drove hours without seeing any homes or towns. We would finally pass a road every 30 minutes or so and get excited thinking we could stop there for the night. However, they all had signs that you would be fined and towed if you parked without a permit. We found out later that these are SNO-PARKS, and it's only $5 to get a daily permit online! By the time it was 1AM, we had passed about ten closed campsites and three SNO-PARKS. We ended up stopping at a SNO-PARK that had about eight other RVs parked there. We didn't see any signs for needing a permit but I'm assuming there was a sign, and it was covered by snow. If you travel to Lake Tahoe in the winter with an RV, I definitely recommend getting a $5 SNO-PARK permit and/or map out the Walmart's.
Before we left for our trip, the RV company said we could rent snow chains from them for $20. I'm so glad we did this because there were several times that it was required for all vehicles to have snow tires or chains. Personnel were on the side of the road checking each vehicle which was another reason for traffic. If you buy snow chains there, it's a lot more than $20. Brendan put our snow chains on Sunday morning before making the final trip into Lake Tahoe. ​
South Lake Tahoe is so pretty! I swear, these pictures have #nofilter – the sky was just perfect. Most of our warm clothing is still in Connecticut because we didn't think we would need our winter boots and gear in LA. Our first day there wasn't too cold but the second day was colder with more snow and slush so I do recommend wearing boots if you go in the winter 🙂
​
We ate at Azul Latin Kitchen for dinner on Sunday and then Base Camp Pizza Co for lunch on Monday. Both are in Heavenly Village which is the ski village, and they have many delicious gluten free options. It was a real treat after eating out of the RV fridge for a couple days.
We parked our RV for the day and night at a casino next to Heavenly Village and didn't have to pay. It was even walking distance to the restaurants we ate at. So yes, we didn't have to pay a dime to park this trip!
If you followed along on my Instagram Story, then you know we hit a TON of traffic leaving Lake Tahoe. The first mile took us four hours! I still don't really understand how it took that long but it seems like the traffic was caused by a popular long weekend, wintery conditions, and the personnel checking that each vehicle had snow tires or chains. I'm thankful that we had the RV so we could stretch, charge our phones, use the bathroom, and eat leftovers from the fridge, rather than just staying put in a car.
We spent Monday night at a Walmart in Sacramento and then dropped off our RV Tuesday morning outside of San Francisco. We purposely booked an evening flight so we could spend the afternoon in San Fran! We had a delicious lunch at 100% organic restaurant The Plant Cafe Organic. We walked around Fisherman's Wharf and Marina, jumping into shops when it rained. Then, we enjoyed an early dinner at 100% gluten free & dairy free eatery Seed & Salt.
This was such a fun trip! I really enjoyed traveling on a flexible schedule and spending a full five days with Brendan. It was the off-season so the weather may not have been ideal but that also meant it was less crowded than it would be in the summer. I definitely want to do more trips like this! Where do you think I should go next?!