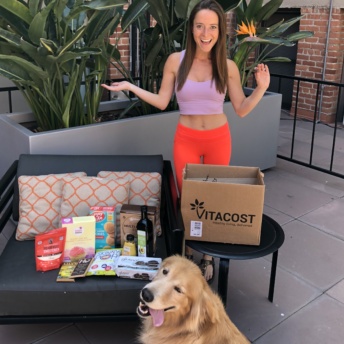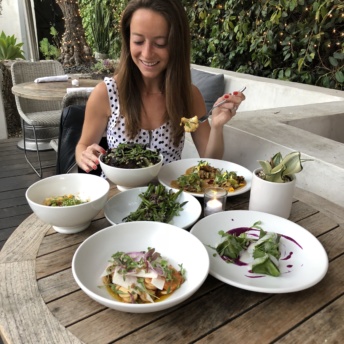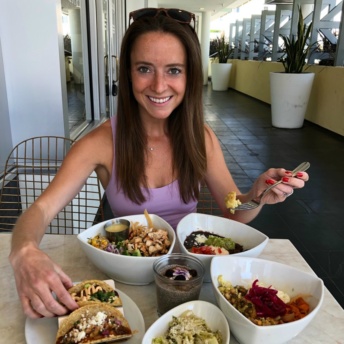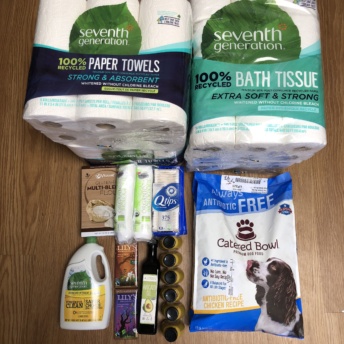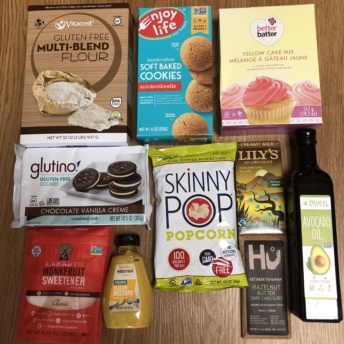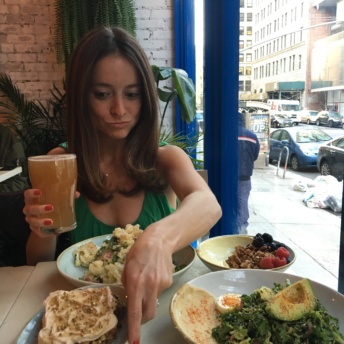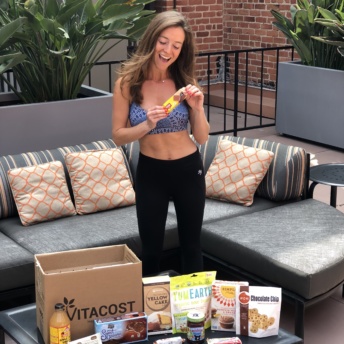 Happy Celiac Awareness Month! In honor of Celiac Awareness Month, I'm sharing more about my gluten-free journey and what living with celiac disease is like for me. I'm excited to partner with Vitacost this month and share the love of my favorite gluten-free foods with you! Vitacost is an online store for organic, non-GMO, gluten-free, cruelty-free, & allergen-friendly items. They seriously have everything from food to vitamins to pet food to personal care products. Vitacost has generously offered to give away TEN of my favorite gluten-free products to YOU. Stay tuned for the giveaway on my Instagram, Twitter, and Facebook on Tuesday May 2nd. More details below 🙂
How My Gluten-Free Journey Began:
Six years ago, my sports doctor had all of his patients take a food intolerance test, and gluten came up in my test results. I was like, "what's gluten?!" Looking back, my diagnosis made a lot of sense because I would get sick at least once a week in college. In college, I would eat stir fry on Sundays (using gluten-filled soy sauce) and always felt nauseous. I would get sick after eating my favorite sandwich at Cosi and thought it was food poisoning. I went to the Emergency Room at a nearby hospital a few times because I couldn't keep any food or water down.
I had these reactions throughout college but no one ever brought up gluten as a reason for my sickness. I normalized these reactions because they had unfortunately become commonplace for me. Gluten sensitivity/intolerance and celiac disease were not as wide-spread as they are now. Looking back, it seems silly that I never pressed doctors on what was making me sick, but gluten wasn't in the forefront of my mind or their minds. I was incredibly overwhelmed when I finally found out that gluten was making me sick. I didn't even realize I was sick! I went to a few gastroenterologists and found out I didn't just have a gluten intolerance – I also had celiac disease.
How My Life Changed:
I was incredibly overwhelmed when I found out that gluten was making me sick. My diagnosis forced me to rethink what I was eating because I had to immediately cut gluten out of my diet. My first thought was that I had just bought a Costco-sized box of Quaker Oat's instant oatmeal packets which I kept in my desk at work (oats need to be certified gluten-free in order to be safe).
I did a ton of research on what foods had gluten in them, what foods were gluten-free, and all the grey areas in between. The gluten-free diet has become much more popular in the past couple of years, but it wasn't as prevalent six years ago so it was challenging. I wished there was ONE guide that had everything I needed to know about following a gluten-free diet.
A few years ago, I started to post about some of the gluten-free foods I was eating on Instagram. Surprisingly to me, my posts were met with great reception. People I had never met were asking me for more tips on gluten-free friendly eateries, products, and recipes, and I was more than happy to continue to make these discoveries. I was getting so many questions that I knew I needed to put all this information in one place rather than just Instagram. In September 2014, I taught myself how to make a website, and I launched glutenfreefollowme.com! I wish I had something like Gluten Free Follow Me to guide me through my new gluten-free diet six years ago, but I'm glad I can be a guide for others now!
Gluten-Free Isn't That Hard Now:
Looking back, I would tell myself that being gluten-free is not as hard as you think! When you first find out that you can't have gluten, it's incredibly overwhelming. But when you realize how many amazing options there are (especially nowadays), you really don't have to worry. You WILL be able to eat delicious AND safe food.
At the time, my celiac diagnosis seemed like the worst thing ever. However, I'm grateful for it now. Knowledge is power, and I'm healthier because of it. Going gluten-free lead me to start Gluten Free Follow Me. If I hadn't become gluten-free, I would probably still be working in finance in New York City. My quest to find gluten-free foods developed into a full-time passion, and I couldn't be happier with how it all turned out!
My Vitacost Order:
I'm grateful for companies like Vitacost that make it easy to live a gluten-free life. I filtered for gluten-free food on Vitacost, and 6000+ products came up! The options are endless. You can also filter by dairy free, egg free, corn free, kosher, lactose free, low glycemic, milk free, MSG free, BPA free, ayurvedic, non-GMO, organic, paleo, peanut free, plant-based, preservative free, raw, shellfish free, soy free, sugar free, tree nut free, vegan, and vegetarian. Besides food, Vitacost offers items under vitamins & supplements, beauty & personal care, babies & kids, sports & fitness, herbs & botanicals, natural home, and pet health. It's basically a one-stop shop for all your needs – I'm hooked!
Online shopping for food is way too fun. We all know I love my sweets so I ordered my favorite gluten-free baking mixes, cookies, chocolate, and gum. I noticed that Vitacost has their own brand for lots of items. I ordered their gluten-free flour, milk chocolate bar, and yellow cake mix to start. Popcorn is a good snack when I want something salty. I use avocado oil when roasting vegetables and cooking other dishes so I stocked up on that. And I go through mustard pretty quickly since I add it to my lunch salads – don't judge me for getting six of them 😉
I restocked our bathroom with mouthwash, makeup remover, razor cartridges, Q-tips, cotton rounds, and toilet paper. I also ordered paper towels and dishwasher detergent for our kitchen. I was excited when I found out that Vitacost carries these home and personal care products! Before using Vitacost, I would lug them home from the store while walking Odie. Now I can just order them online and have them delivered to my doorstep – much more convenient for me. Odie is happy about all the dog food options, and I'm glad that I don't have to carry his heavy food!
Fave Products Giveaway:
I'm excited to give away TEN of my favorite gluten-free products on Vitacost to one lucky winner! These ten items are foods that I either use daily or love to eat as a treat/snack.
We are giving away the following:
What are your favorite products on Vitacost?! Let me know, and maybe I'll try them out on my next order 🙂 Good luck with the giveaway, and I hope that you guys get to enjoy the benefits of Vitacost like I do! We're also doing another ten-product giveaway in June and July, so if you don't win May's giveaway then you have another shot!
This is a Vitacost sponsored post. All opinions are my own.