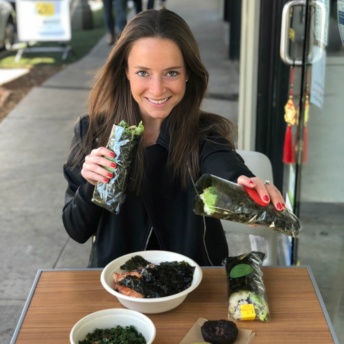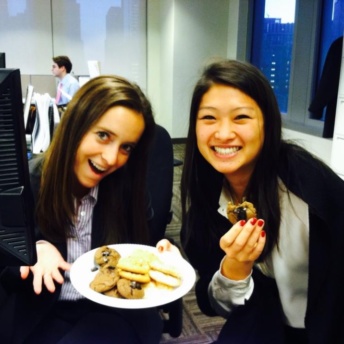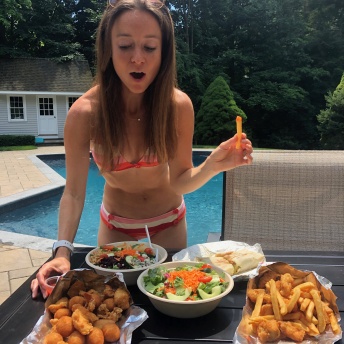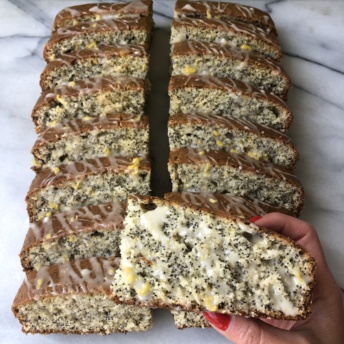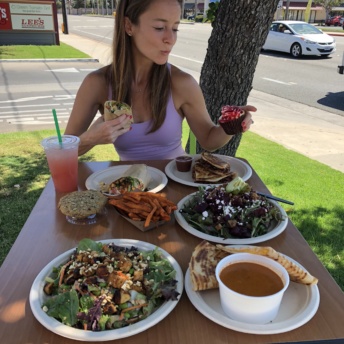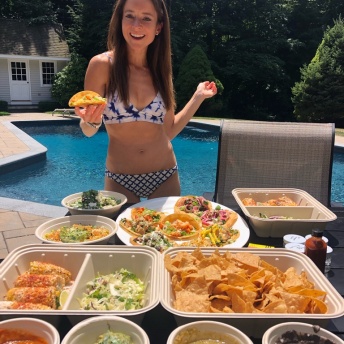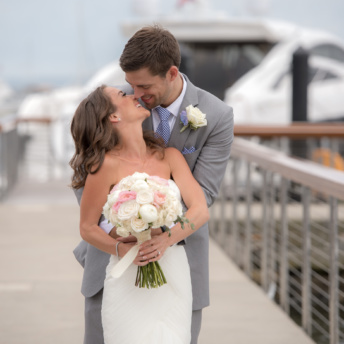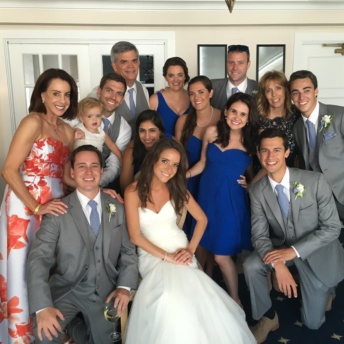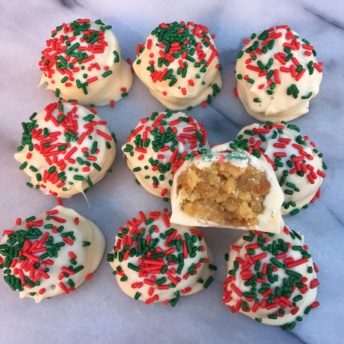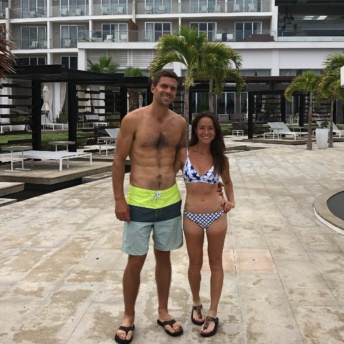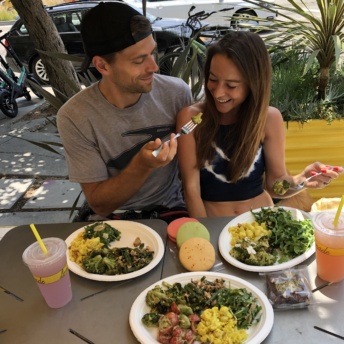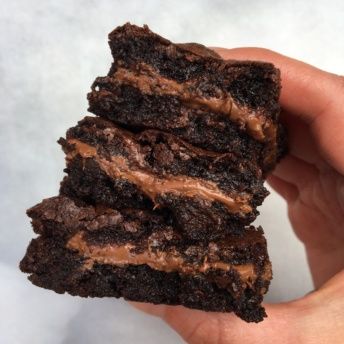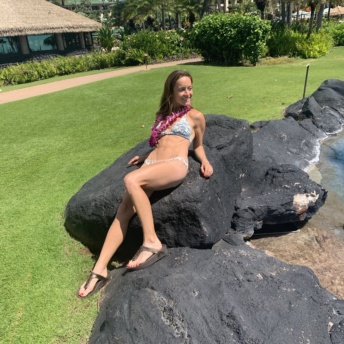 If you've been following me for a while, then you know that I didn't always do Gluten Free Follow Me full-time! Keep reading to hear the full back story, and what it's like to go from an intense finance job to being an entrepreneur working from home.
Working in the Corporate World:
I graduated from Georgetown University in May 2011. After graduation, I worked at a corporate bank in New York City for six years. I started off in a three-year analyst program, and then became an Assistant Vice President.
When I was working in the corporate world, I had to have "face time" with my team to prove that I was at work, working hard. Even if I didn't have something pressing to do, I had to be there. My hours ranged from 9am-6pm or 8am-9pm, depending on the year. In my first year, I didn't take one vacation day! It was my first real job, and I guess I felt uncomfortable asking for time off. There weren't other analysts on my team so I didn't want to leave the team without any help. Of course I later learned that it's perfectly normal to take a vacation.
Most of the bank's senior people had offices with windows, and the rest of us sat in cubicles in an open floor layout. My cubicle location changed almost every year since I was in a rotation program. Each year, I had at least one person I became super close with since we sat next to each other and/or were on the same team. We ate together, shared snacks, and talked about everything. There's a reason that people hire other people they would mesh well with – you typically spend more time with people at work than at home!
Working More Does Not Mean Working Smarter:
Some people have this idea that the longer they're in the office, the better they're doing at their job. I don't think that being there the longest means that you're doing the best work. I think the smartest people figure out how to do their job well in the most efficient way. I'm all about time management and getting stuff done competently.
I know of some firms that offer lunch and snacks to their employees which may seem like a cool perk. It is generous of the firm, and it means that you don't have to spend money on food. But it also means that it's frowned upon for the employees to leave the office for lunch. They want you there all the time.
Take a Break:
If you're doing the same thing for 12 or so hours in a row, you're probably not doing your best work. You need to take breaks. At certain offices, it can be looked down to take breaks. I think that everyone deserves at least a 30 minute break in the middle of the day. Whether you want to use this time to walk around, call a friend, grab food, read a book, scroll on Instagram – anything that's different from what you're doing for the rest of the day. Get up, stand up, and take a breather. Do it for your mental sanity and physical health!
Sadly, a lot of people don't like their jobs. And if you're spending 8 to 12 hours a day doing a job you don't like, then you most likely aren't that happy. I think that's why so many people in my generation take on a second job or hobby on the side that they're passionate about. If you're able to turn your passion project into your full-time gig, that's awesome. If not, it's totally fine to have something as your hobby. You need that outlet.
How Gluten Free Follow Me Started:
Within a few months of starting my corporate job, I learned that I had celiac disease. At that time, gluten-free living was not as mainstream as it is today. I had to do a ton of research on what foods had gluten in it, what foods were gluten free, and all the grey areas in between. At the time, I thought it would be extremely helpful if there was ONE guide that had everything I needed to know about following a gluten free diet. This manual did not yet exist so I did a ton of research and learned how to maneuver being gluten free at restaurants and in my own kitchen.
While working at my corporate job, I almost always took a lunch break, even if it meant that I just walked outside for 30 minutes. Without realizing it at the time, Gluten Free Follow Me subconsciously started during these lunch breaks! During lunch, I would walk around the city and try to find gluten-free friendly places for lunch or snacks. That was my "me-time" where I could do something unrelated to my job. I kept adding to my long list of restaurants I wanted to eat at. I would check them out either during lunch if it was close to my downtown office or on the weekends if it wasn't.
In March 2014, I started to post about some of the gluten free foods I was eating on Instagram. Surprisingly to me, my posts were met with great reception. People I had never met were asking me for more tips on gluten free friendly eateries, products, and recipes. I was more than happy to continue to make these discoveries. I was getting so many questions that I knew I needed to put all this information in one place rather than just Instagram.
In September 2014, I launched glutenfreefollowme.com after teaching myself how to make a website! I wish I had something like Gluten Free Follow Me to guide me through my new gluten free diet six years ago, but I'm glad I can be a guide for others now 🙂
Side Gig to Full-Time:
I never meant for GFFM to become anything, and definitely not my career. It happened so organically since I was just trying to find safe and delicious food to eat! It stemmed from my passion, but it also took hard work and dedication for it to become what it is today. When I started posting on social media and launched glutenfreefollowme.com a few years ago, my family and friends never really understood what I was doing or why I was spending all this time focused on GFFM. They laughed when I took photos of my food. I did it as discreetly and quickly as possible in an effort to try to avoid the weird looks.
Now, no one says anything about me taking pictures of my food! It may be easy to see how the journey happened, but it wasn't in the moment, so I'm glad I believed in myself and kept at it! Don't let anyone sway you from your passion or hobby. Only you know what you're passionate about, and the reason you're good at it is because you're so passionate about it.
I don't recommend for everyone to turn their passion or hobby into a career, but if it works out financially then it may be worth it to take the plunge! Another thing to note – I get asked a lot how to get more followers, and that shouldn't be your main goal. If you're in the social media space, then yes, having a lot of good followers can be part of it but that shouldn't be why you're doing it. Your passion will shine through your work and can then translate into success. Don't start a blog or an Instagram account with the sole purpose of making money. It's obvious, and you won't come across as authentic. It's also incredibly unlikely that you will make any money at first. That comes later, if at all.
Leap of Faith?:
To an outsider, it may seem like I took a leap of faith to jump from my stable corporate job to working for myself out of my apartment in a new city. I actually could have left my full-time corporate job earlier than I did. But I figured if I could do both jobs at the same time and not go too crazy, then I might as well do them both as long as I can.
In order to take that leap of faith to turn your side-gig into your full-time job, each person may have their own gauge. It could be to make a certain amount of money, to have a certain amount of money saved, or to reach a certain number of clients. You should have small term and long term goals and truly understand your mission. Understand what you're getting yourself into and understand what you have to do to get there. I recommend talking to other people in the same space and seeing what it's like for them. Make sure that you're in a semi-stable place. I think it's important to be stable but also make yourself happy.
Keep in mind that free-lancers and bloggers don't have a consistent check coming in every couple of weeks. You might make a lot one week and nothing the following week. You have to be okay with that instability and have confidence in your future. I don't recommend turning your side gig into your full-time job too soon because that can backfire. I know someone who did that – he ended up having to hustle way too hard to make ends meet, and then the passion disappeared. It became a typical job where he didn't make that much money which left him without money and passion. You need at least one of those. He ended up going back to the corporate world.
In 2016, I did have a crazy schedule since I was doing both jobs. I would go to my corporate job all day and then Instagram food events after work. At 10pm, Brendan and I would workout together at the gym. This schedule sounds insane to me now – I can't even imagine working out that late. But it was the only time I could fit it in, and I didn't want to wake up before 6am to workout. On the weekends, I spent time working on GFFM – trying new products, creating recipes, and reviewing restaurants. I don't know how I fit it all in but I made it work, and my hard work paid off in the end.
Where To Live Post-Cubicle Life:
In August 2016, Brendan and I got married. We knew that after we got married, we would move somewhere outside of NYC. Brendan was tired of New York, and after living there for six years I was fine with leaving. Brendan loves to row, and there isn't a good place to row in NYC which was another reason he wanted to leave.
A couple years earlier, we had considered moving to the suburbs in Connecticut which meant that we would have commuted into NYC for our jobs. We almost bought a condo in Old Greenwich but I'm glad that we didn't end up doing that. We toyed with moving to Boston – we liked that it wasn't a huge city and had good rowing for Brendan but it is definitely cold there! In July 2016, we visited Colorado and Southern California to see which area we preferred. We explored Denver and Boulder, and then Santa Monica, Santa Barbara, Ventura, Huntington Beach, and Newport Beach.
We loved all these cities. In the end, we decided on Santa Monica. It had perfect weather. It was walkable and had the feel of a town but was still a part of Los Angeles. I fell in love with Santa Monica when I ran along the beach from Venice to Malibu. Brendan knew he could find a finance job in LA, and he could row at a nearby club. After living in NYC, it would have been hard for me to live in a smaller town like Santa Barbara or Ventura at this stage in my life.
Brendan and I knew that if we didn't move to the West Coast now, we probably never would. It can be tough for two people to find a job in a new city or state at the same time. This was the easiest it was going to be for us since only Brendan would be looking for a job. I knew that our move to LA would signify me doing GFFM full-time. Once we moved to California, Brendan found a job right away so it all worked out. I'm SO thankful that we took the plunge!
The Switch:
Before moving to Santa Monica, I did talk to my corporate job about working from their Los Angeles office. But they really didn't want me to since my team worked out of the New York office. I was honestly fine either way. On December 15, 2016, I officially left my corporate job and did GFFM full-time! 
If you had told me when I was in college that I would be working as a blogger at age 28, I would have laughed in your face! That wasn't even a consideration. I always wanted to work in finance. Many people from my hometown Greenwich worked in finance, along with my peers at Georgetown University. I don't even know why I wanted to do it, but I knew it was what I wanted to do.
Even though I don't work in finance anymore, I will say that I learned so much from that job. It was great for me to have that office experience. I learned how to work with different people and how to take on a leader role and follower role on a team. I realized what I liked and didn't like about my job. Microsoft Excel and PowerPoint became second nature to me. If I didn't know something, I googled it and taught myself. I quickly learned how to figure things out on my own. Personally, I'm glad I had this work experience and didn't go straight from college to being a blogger. It made me even more self-sufficient and good at problem-solving.
Not Just One Path to be a Blogger:
When I graduated from college in 2011, my peers went into finance or went to medical or law school. The typical banker, doctor, lawyer jobs. Sure there were other jobs besides those three generic ones, but I certainly didn't know anyone graduating college and becoming a blogger. We didn't really have social media when I was in college. I started a Twitter account during finals senior year. And ironically, I was one of the last of my friends to get an Instagram! A lot has changed in the last six to seven years.
I've had people ask me what I majored in to become a blogger. Well, I majored in Finance and International Business so blogging definitely wasn't an intended path! If you want to be a blogger, I don't think it matters what you major in. Many of the bloggers I know majored in English or Communications and did a PR job before becoming a full-time blogger. Choose your major based on what interests you at the time. You can always spin what you studied in a positive way.
Working From Home:
I'm a structured and organized person. That's one of the reasons that I'm able to successfully work from home. I personally like having everything in my life overlap. Working from home allows me to make recipes, answer emails, take care of my dog, all at the same time. I don't have to wear suits daily like I did before. Working from home lends itself to a great deal of flexibility. It works for me because I motivate myself and know how to structure my day.
I've had a few people in my old finance world ask me when I'm getting a GFFM office. For me, it just doesn't make sense. Why would I pay double rent (apartment + office), just to have another space to do my work? And I would need to go back to my kitchen to create recipes so it isn't logical. I like how my apartment doubles as my office. Everything is here, and I don't need to commute!
I enjoy having my personal life and work overlap, but I do understand that that grey area can be tricky. I've gotten better at shutting off my work mode when my husband Brendan gets home from his office job. When I first starting doing GFFM full-time last year, I would sometimes answer emails as we watched TV together. I've learned that it's better for our relationship to dedicate those couple of hours to us and to be completely present.
Typical Day:
I love how I can work from anywhere, whether it's at home or elsewhere. I have a flexible schedule so I can decide when it's time to work and when it's time to break. Every day is different but I typically start my day with a workout. I wrote a blog post on My Workout Routine if you want to read more about that. I answer emails when I'm at the gym so I'm still working while I work out. I'm all about killing two birds with one stone!
My finance lifestyle stayed with me in that I will answer all emails that need to be answered within 24 hours. I appreciate timely responses from people so I do the same for them. And I like having one less thing on my to-do list. Then when I'm done with my workout (and hopefully all my emails!), I can move onto recipe creation, photo shoots, business calls/meetings, events, or whatever else is happening that day. I never get bored and truly enjoy what I do. I get to use my creative and business sides, and I'm grateful for my current lifestyle.
Productivity:
As my own boss, I definitely feel more productive. It's tough being in an office where someone is always looking over your shoulder. There's a fear that you're not doing something right, and you're always looking for someone else's approval. Some people need the pressure on them to complete a project but others thrive off their personal motivation.
I don't have a team under me. I do everything. So there isn't time for me to just sit around and do nothing. If you're working at an office, there could a team lunch or a birthday celebration which isn't necessarily work. People may be procrastinating their work or reading gossip sites or the news. Just because you're at work, doesn't mean you're doing work.
However, working from home doesn't work for everybody. If you need the structure and outside accountability, then maybe working in an office is better for you. There's nothing right or wrong about being that type of person. It's more important to recognize what works best for you and to follow through with that style.
Work Can Be Good!
I feel like there's a common misconception that work has to be hard and dreadful. And that working more means working harder. I don't think that you need to come home from your job and say, ah work was so tough today. That doesn't need to be our mantra. We can say, I had a really great day! Saying that you had a great day shouldn't be looked down on. It shouldn't be "cool" to hate your job and be too busy. We shouldn't idealize hating what we're doing.
I work hard but I love what I do. I never complain about my job. Everyday I tell myself how thankful I am to be where I am. I hope that you're able to find a job or hobby that ignites a passion inside you. You deserve it!