Sweet Potato, Spinach, and Apple Quinoa Bowl
Ingredients
1 lb of sweet potato, cut into chunks
1 cup red quinoa
1 tbsp apple cider vinegar
1-2 tsp dijon mustard
1-2 tsp honey
20 pecans, cut into pieces
1 apple, sliced
2 cups baby spinach
1-2 oz feta, crumbled
olive oil
salt & pepper
Preparation
Preheat the oven to 425 degrees.
Toss sweet potatoes in 2 tbsp olive oil and salt & pepper and lay on parchment-lined baking sheet.
Bake for 15 minutes or until browned & tender, tossing halfway through.
In a medium saucepan over medium-high heat, add 1 tsp of olive oil and the quinoa.
Cook, stirring, for 1 minute.
Add 1 ¾ cup water and ¼ tsp salt to pan.
Bring to a rolling boil.
Reduce heat to low and cook, covered, for 15 minutes.
Remove pot from heat and let stand, covered, for 5 min (don't lift the lid).
Fluff the quinoa gently with a fork.
Make the dressing by whisking together vinegar, mustard, honey, 3 tbsp olive oil, and salt & pepper.
Arrange the quinoa, sweet potatoes, apple slices, spinach, pecans, and feta, and then drizzle with dressing.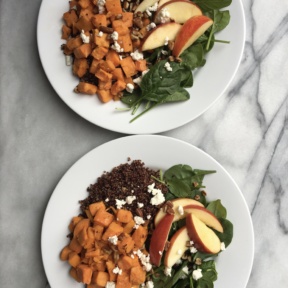 Dish Type:
Entrees, Vegetables, Fruits