Stuffed Breakfast Peppers with Sausage
Total time
1 hours 0 mins
Ingredients
1 tablespoon olive oil
3 large bell peppers cut in half with cored and seeds removed
1 tablespoon water
¼ cup red onion finely diced
1 (5-7 oz) package Jones Dairy Farm All Natural Golden Brown Breakfast Sausage Links sliced
1 cup sliced mushrooms
5 large eggs
1 cup loosely packed baby spinach leaves
salt and pepper to taste
Preparation
Preheat oven to 375˚F.
Coat bottom of 9x13-inch oven safe casserole dish with ½ tablespoon olive oil.
Place peppers into casserole dish.
Add water to bottom of pan and cover casserole dish tightly with foil.
Bake peppers for 30 minutes, or until fork-tender.
While peppers are baking, add remaining ½ tablespoon olive oil to medium skillet over medium-high heat.
Once oil is heated, add onion and cook until softened, about 3 minutes.
Add sausage and mushrooms and cook until mushrooms have softened, about 5 minutes.
Add eggs to skillet and toss to scramble.
Add spinach to skillet and cook until wilted, about 2 minutes.
Season with salt and pepper.
Let cooked bell peppers rest for 10 minutes before handling them.
Once they've cooled slightly, carefully divide egg mixture amongst bell peppers and serve warm.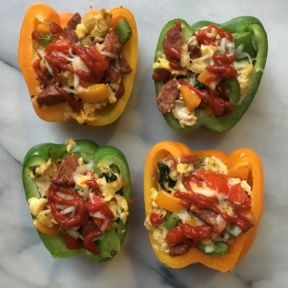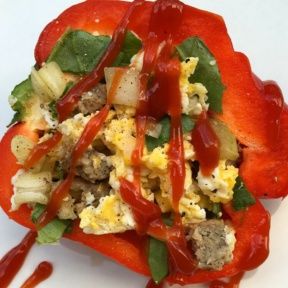 Dish Type:
Breakfast, Vegetables, Eggs