Red Velvet Cupcakes
Ingredients
FOR THE CREAM CHEESE FROSTING:
½ cup butter, room temperature
8 oz cream cheese
2.5 to 3 cups powdered sugar (I used Vitacost certified organic powdered sugar) 
1 tsp vanilla extract
Preparation
Preheat oven to 350 degrees, and line a muffin pan with cupcake liners. Makes about 24 cupcakes.
In a large bowl, combine the butter, eggs, buttermilk, apple cider vinegar, and vanilla extract, and mix well.
Add the cane sugar, and mix well.
Add the cocoa powder, salt, and baking soda, and mix well.
Add the flour, and mix well.
Add the red food coloring, and mix well. 
Divide the batter evenly among the cupcake liners.
Bake for 18-20 minutes.
Let the cupcakes cool.
To make the frosting, beat the cream cheese, butter, and vanilla until fluffy. Then add in the sugar, and mix well. Can mix by hand or in a blender. 
Frost the cupcakes with frosting.
Can sprinkle some leftover red velvet cake on top of frosted cupcakes - ½ to 1 cupcake should do.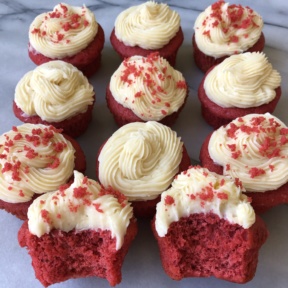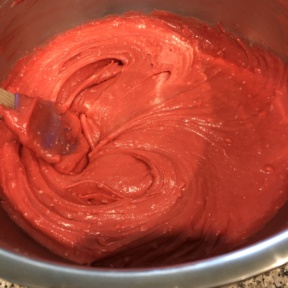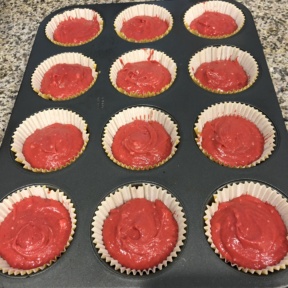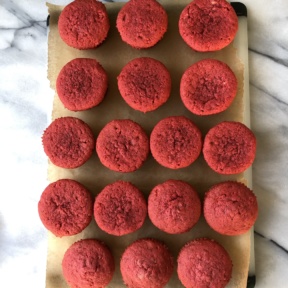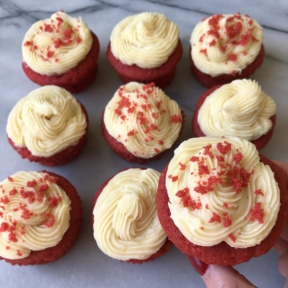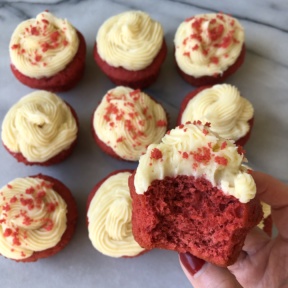 Occasion:
Valentine's Day