Raspberry Cheesecake
Total time
1 hours 10 mins
Ingredients
FOR THE CRUST:
1.5 cup GF graham cracker crumbs (one 7.5 or 8 oz box of graham crackers)
6 tbsp butter, melted
FOR THE CHEESECAKE FILLING:
16 oz cream cheese, softened
½ cup granulated sugar
¼ cup sour cream
2 eggs
1 tsp pure vanilla extract
12 oz raspberry jam 
FOR THE TOPPINGS:
Preparation
Grease the bottom and sides of 9 inch non-stick springform pan with a bit of butter, and then line the bottom with parchment paper.
In a medium-sized bowl, combine the graham cracker crumbs and melted butter to make the crust.
Lightly press the graham cracker crumb mixture into lined pan so the bottom is completely covered. 
In a large bowl, combine the cream cheese, sour cream, and sugar, and mix well. Add the eggs to the bowl and vanilla extract to the bowl, and mix well. Fold in raspberry jam. 
Preheat oven to 350 degrees. Place pan on baking sheet. This protects the bottom of the crust from burning, and makes it easier to move the pan in and out of the oven.
Spoon cream cheese mixture on top of graham cracker crust. Smooth the mixture well so it completely covers the crust. 
Bake for 50 to 60 minutes, or until edges are slightly golden and the center no longer wobbles.
Remove the cheesecake from oven, and let it cool completely before refrigerating. 
Put the cheesecake in the fridge so it can chill for at least a few hours before cutting into them. I like to chill the cheesecake overnight.
If you use a springform pan, then unlatch the pan, gently lift away the sides, and slide the cake onto a platter. Or you can simply leave the cake on its base instead of attempting to slide if off. To easily cut the cheesecake, heat a knife under hot water for a minute and then wipe knife dry. Cut into the cheesecake, and wipe knife clean after each cut. After I removed one slice, I was able to carefully remove the entire cheesecake from the pan. 
When ready to serve, top cheesecake with raspberries. Store cheesecake in fridge, if you don't eat it all!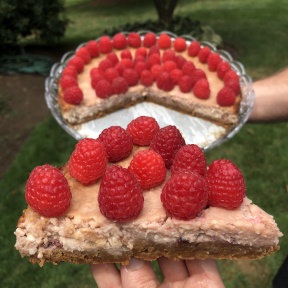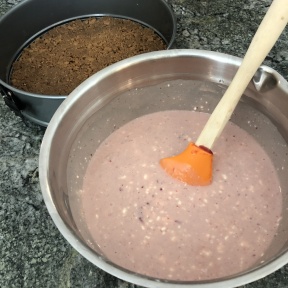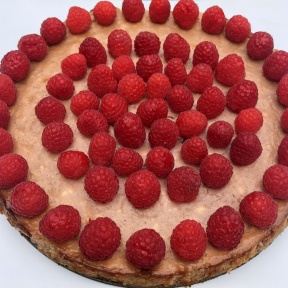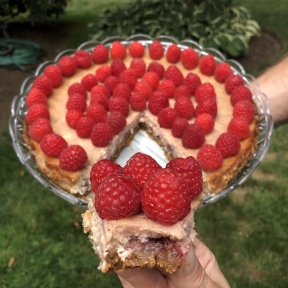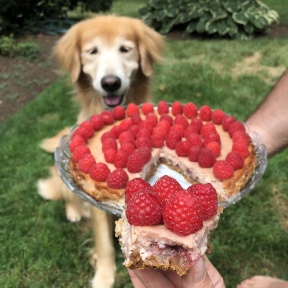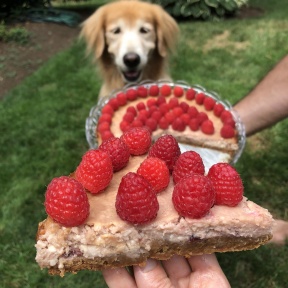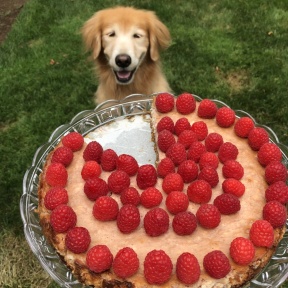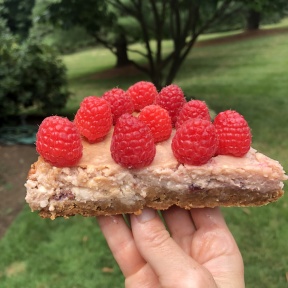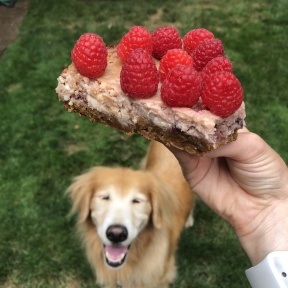 Occasion:
Fourth of JulyMemorial DayValentine's Day