Baked Brie with Berries and Honey
Ingredients
1 round wheel of brie (I used a 4.4 oz wheel of goat cheese brie)
honey
a few strawberries, sliced
a few blackberries
a few walnuts
dippers such as GF crackers & bread
Preparation
Preheat oven to 350 degrees. 
Coat a small cast iron skillet with oil or cooking spray. I used a 6.5 inch cast iron skillet. 
Place the Brie on a cast iron skillet. Bake for about 15 minutes but keep an eye on it starting at the 10 minute mark. The Brie should be softened but not completely melted.
Remove the skillet from the oven. I sliced the brie to make 1 triangle so more cheese oozed out.
Drizzle honey all over the Brie. Top with sliced strawberries, blackberries, and walnuts. 
Serve with GF crackers, GF bread, or other dippers of your choice.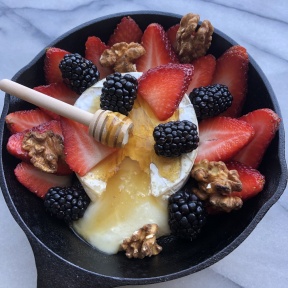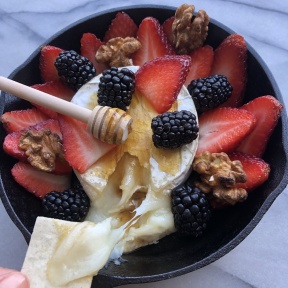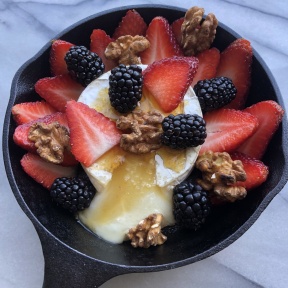 Occasion:
Fourth of JulyMemorial DayValentine's Day