Flourless Chocolate Peanut Butter Chip Cookies
Ingredients
1 egg
1 cup peanut butter
⅓ cup brown sugar
¼ cup cocoa powder
1 tsp baking soda
½ tsp pure vanilla extract
¾ cup peanut butter chips
Preparation
Preheat oven to 350 degrees.
In a medium bowl, combine the eggs and peanut butter.
Add in the brown sugar, cocoa powder, baking soda, and pure vanilla extract. Mix together. 
Fold in in peanut butter chips.
Roll cookie dough into one inch balls, and place them on a parchment-lined baking sheet. Makes about 24 cookies.
Bake for 10 minutes.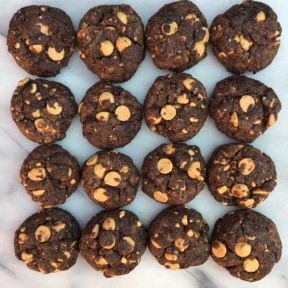 Dish Type:
Dessert, Cookies