Reese's Crustless Cheesecake
Total time
1 hours 10 mins
Ingredients
4 packages (8 oz each) of cream cheese, softened
1 cup granulated sugar
4 eggs
1 tsp pure vanilla extract
toppings such as whipped cream, Reese's, and chocolate sauce
Preparation
Preheat oven to 325 degrees.
In a large bowl, combine cream cheese, granulated sugar, and pure vanilla extract.
Add eggs. Mix well.
Add batter to pan. 
Bake at 55 min or until center is set
Refrigerate cheesecake for at least 4 hours or overnight. 
Add whipped cream, Reese's, and chocolate sauce as desired.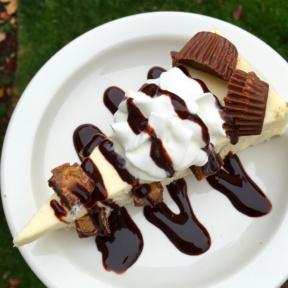 Dish Type:
Dessert, Cakes