Almond Butter & Jam Cupcakes
Ingredients
FOR THE CAKE:
2 cups of GF flour

½ cup softened butter

¾ cup cane sugar

2 eggs

1 cup milk

½ tsp salt

2 tsp baking powder

1 tsp vanilla extract
FOR THE FROSTING:
½ cup softened butter

2 cups powdered sugar

3 tbsp milk

¼ cup strawberry jam
Preparation
Preheat oven to 375 degrees, and line cupcake liners in a muffin pan.
Makes 20-24 cupcakes.
Mix butter and sugar in a bowl and then mix in eggs.
Add flour, baking powder, and salt.
Add milk & vanilla.
Add Barney Butter.
Stir well, and divide evenly between cupcake liners.
Bake for 18-20 minutes. 
Cool the cupcakes and then transfer to a wire rack.
Make the frosting by combining Barney Butter, butter, sugar, and milk, and mix well.
Frost the cupcakes with almond butter frosting.
Top each cupcake with a spoonful of strawberry jam.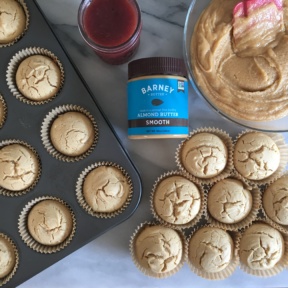 Dish Type:
Dessert, Cupcakes