Chocolate Chip Facon Cookies
Ingredients
Jack's Gourmet facon
1 cup butter, softened
1 cup brown sugar
¾ cup granulated sugar
1 ½ tsp pure vanilla extract
2 eggs
2 ½ cups GF all-purpose flour
1 tsp baking powder
1 tsp baking soda
½ tsp salt
2 cups of chocolate chips
Preparation
Preheat oven to 325 degrees.
Cook facon and once cool, cut the facon into ¼ inch pieces.
In a large bowl, combine butter, brown sugar, granulated sugar, and pure vanilla extract.
Add eggs to bowl. Mix well. 
Add flour, baking powder, baking soda, and salt to bowl. Mix well. 
Fold in chocolate chips and facon.
Roll cookie dough into balls, and place cookie dough balls on parchment-lined baking sheet.
Bake for about 10 minutes.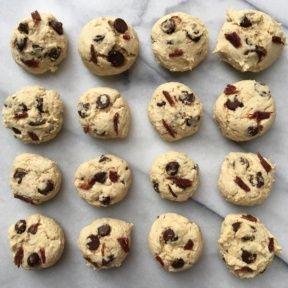 Dish Type:
Dessert, Cookies